Texas Senate committee advances bills restricting certain drag shows
Proposed legislation from Sen. Bryan Hughes, R-Mineola, would criminalize explicit performances where children are present and strip libraries of state funding for hosting any event featuring performers in drag. Critics say the bill is discriminatory and unconstitutional.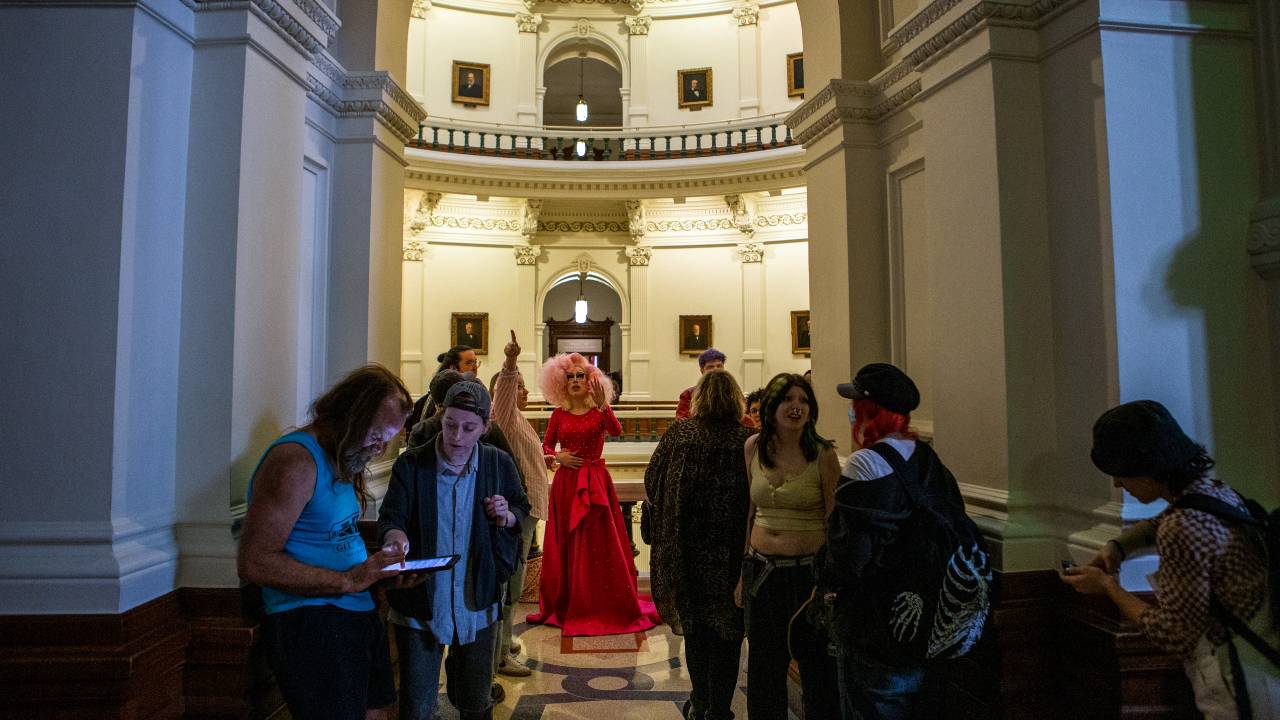 This article originally appeared in The Texas Tribune

It's been a long day for Robyn Valentine.
Standing in a packed Capitol hallway, the Corpus Christi-based drag performer could be spotted with her pink wig, stage makeup and baby blue clown outfit that comes with a ruffle collar and tulle sleeves. The look had taken about three hours to put together.
"I woke up at about 1 in the morning, just so I could get ready to be in drag," she said.
For her, being in drag has always come naturally.
"I have always felt drawn to femininity," she said. "Drag shows me an outlet in which I can embrace being a feminine gay male, but also doing so in an artistic way."
It's also business. Valentine has been a drag entertainer for over a decade, and in recent years she's been performing live and hosting her own shows. And following the COVID-19 economic closures, she said one of her biggest focuses has been working with local businesses — something that has "created a sense of community."
But now, she worries that Republican legislation designed to limit certain drag performances — on top of rising threats to and protests against these shows — could take away most of what she has built. So it was a no-brainer for her to drive four hours from the coast to Austin in the early morning to fight these bills, which she said target a minority group instead of protecting children, as the bill authors say.
"I came here because the attacks on the LGBTQIA+ community are not going to stop," Valentine said. "I do fear for the future and what it could mean for my community and my own personal safety, which is why we need to draw a line in the sand now."
Several other drag performers said they felt the same way as they gathered Thursday around the rotunda and eventually inside the Senate chamber — many of whom came decked out in higher heels, bigger wigs and brighter outfits — to make their voice heard on Senate Bill 12 and Senate Bill 1601. Four days later, the Senate State Affairs Committee voted to send both bills to the full chamber on a 6-2 vote along the partisan line. These proposals would have to pass both the Senate and the House before it could become law.
"I do get nervous. I do get scared. I've even had to cancel a show because I've had severe anxiety about it," said Brigitte Bandit, an Austin-based drag performer who donned a bright pink floor-length gown and a big pink wig. "But ultimately, what am I going to do? Hide? I can't hide. I have to be able to continue fighting for these things in being present and being visible."
During the Thursday committee hearing, dozens of drag performers and their allies testified against these bills, outnumbering the the bills' supporters. Opponents of the legislation also said the Republican-led efforts to criminalize certain drag performances were attacks on Texans' First Amendment rights, while others said the legislation took away Texas parents' rights to decide what content or culture their children are exposed to.
On the other side, the smaller contingent of the bills' supporters say the legislation is needed to protect children from sexually explicit materials.
Filed by Republican state Sen. Bryan Hughes of Mineola, SB 12 would impose a $10,000 fine on business owners who host drag shows in front of children — if those performances are sexually oriented. The bill defines a sexually oriented performance as one in which someone is naked or in drag and "appeals to the prurient interest in sex." The U.S. Supreme Court defines prurient interests as "erotic, lascivious, abnormal, unhealthy, degrading, shameful, or morbid interest in nudity, sex, or excretion."
Compared to several other Republican proposals that seek to restrict drag shows — including Senate Bill 476 that Hughes previously filed — SB 12 scales down the proposed restriction on drag shows. But performers and their allies said the bill's language is still vague.
"The bill being proposed is being left purposely vague to scare people out of interpretation," Valentine said prior to the hearing. "I've seen many different people propose different interpretations already."
During the Thursday hearing, Democratic Sen. José Menéndez of San Antonio voiced a similar concern about SB 12.
"I am concerned that what this is going to do is just put a target on the backs of certain people in certain businesses," he said.
Hughes also filed SB 1601, which would withhold state funds from municipal libraries that host events in which drag performers read kids' books to children.
These libraries don't receive their operational funding directly from the state, according to a statement from the Texas Library Association. Instead, libraries can get money through competitive grant programs run by the Texas State Library and Archives Commission, the association said — around $2 million is distributed each year. SB 1601 could stop libraries hosting drag shows from being able to receive such grants the year after the events were held, the TLA said.
Baylor Johnson, the marketing and public information program manager for the Austin Public Library, is opposing SB 1601. In the past three years, the Austin Public Library has hosted at least two drag queen storytime programs at the request of members, which he said were age-appropriate and earned positive responses from families.
"Austin Public Library supports a parent's right to make decisions about what kind of learning or entertainment experiences are appropriate for their child," Johnson said. "Would a female librarian donning a Santa hat and beard to read 'Twas the Night Before Christmas' jeopardize the library's state funding?"
The bills' opponents also spoke about the importance of drag shows to the Texas economy, with these events drawing patrons to restaurants and bars to serve as an economic driver for small-business owners. They have also been a key way to raise funds for charities.
Janson Woodlee, who spoke on behalf of the Equality Alliance, an LGBTQ advocacy and philanthropic organization in Central Texas, testified that drag performances were a central component of the organization's annual "Unite The Fight Gala." Woodlee said last year's gala raised over $200,000 for LGBTQ organizations in Texas.
On the other hand, less than a dozen supporters of the bills spoke at Thursday's hearing. They said the legislation is needed to protect children from explicit materials and performances.
"Bringing children around sexual content is a targeted assault on their minds and bodies that should never be tolerated in a civilized society," said Kelly Neidert, a conservative activist and founder of Protect Texas Kids, an organization that protests drag events.
Protect Texas Kids has been part of at least 14 drag event protests since it was founded just before Pride Month last June.
But the bills' opponents said lawmakers are focusing on the wrong issue if they are trying to protect kids. Instead, they implored lawmakers to turn their attention toward gun violence or sexual abuse by church members.
Additionally, they say drag is simply an art form that shouldn't be attacked.
"To restrict drag — an art form — in any way is a direct attack on my fundamental rights as an American and as a performer," said Jay Thomas, an Austin resident who performs in drag as Bobby Pudrido.
William Melhado contributed to this story.
The Texas Tribune is a nonpartisan, nonprofit media organization that informs Texans — and engages with them – about public policy, politics, government and statewide issues.
Texas Senate votes to defund libraries where drag queens read to kids as it tries to limit the performances kids can attend
The Senate expanded the bill targeting drag queen story hours to target all public funding for libraries. The upper chamber also approved a bill limiting other drag performances kids can see.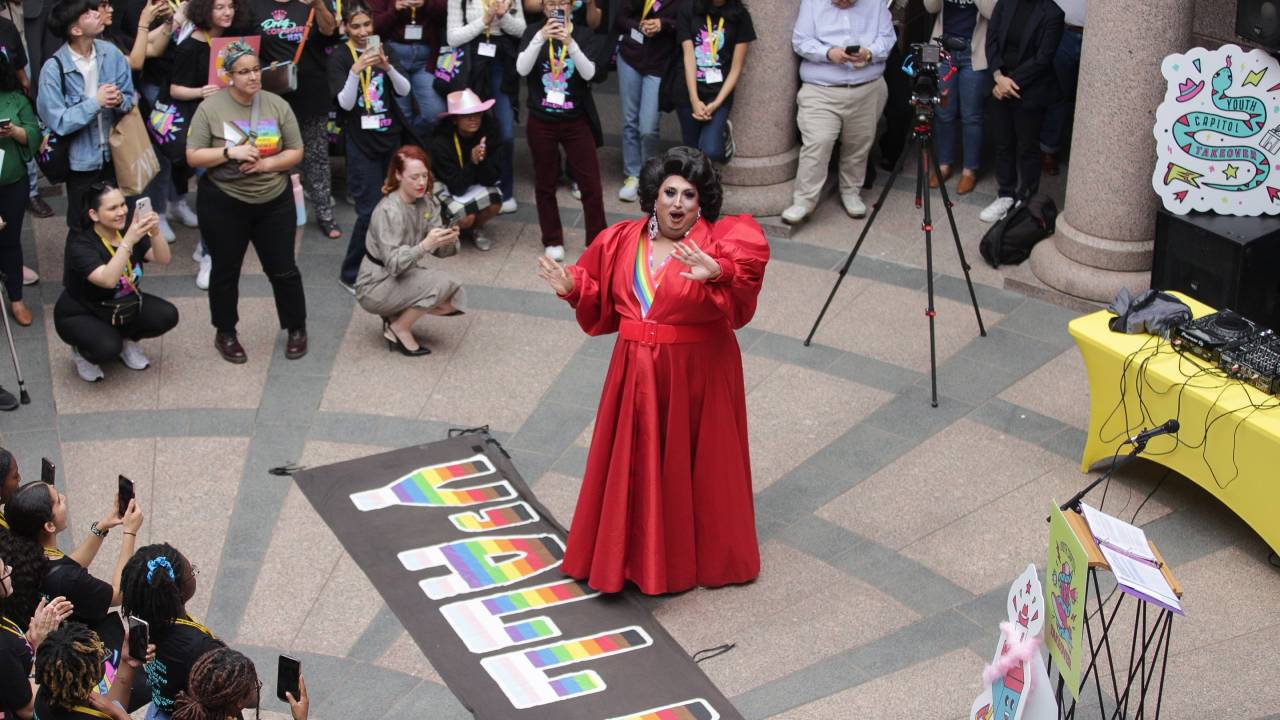 This article originally appeared in The Texas Tribune

The Texas Senate on Wednesday approved two bills aimed at restricting drag performances that children attend or see. One of them, Senate Bill 1601, would defund public libraries where drag queens are allowed to read to children. The other, Senate Bill 12, bars kids from drag shows if the performances are overly lewd and lascivious.
SB 12, which is a priority for Lt. Gov. Dan Patrick this session, was approved in a 20-11 vote. Sen. Royce West of Dallas was the only Democrat to vote yes for SB 12.
SB 1601 was approved in a 19-10 vote on the chamber floor, with West also being the only Democrat to vote in favor of the measure. But the Dallas senator later switched his stance to a no vote, according to the Senate Journal. His office confirmed the change to the Texas Tribune, but didn't provide a reason for it. Sens. Borris Miles, D-Houston, and Robert Nichols, R-Jacksonville, were present but did not vote on SB 1601.
Both bills now head to the House.
For months, Texas Senators have said their bills targeting drag shows are meant to protect children from sexually explicit performances.
Some Democrats, drag performers and businesses catering to LGBTQ Texans have fiercely pushed back against the implication that all drag performances are inherently sexual. They've also said some bills restrict free expression enshrined in the First Amendment as they've testified against bills in legislative hearings and rallied in opposition at the Texas Capitol.
And, bill opponents say, the Republican proposals are helping to fuel an overall backlash against drag — as performers have increasingly seen protests and threats coordinated against them by activists and extremist groups.
"We just need to understand that drag is not inherently sexual, and queer expression is not inherently sexual," Austin-based drag performer Brigitte Bandit told the Tribune last month.
Amid some of the criticism, Republican Sen. Bryan Hughes of Mineola, who was the architect of some of Texas' most conservative legislation in 2021, narrowed his legislative push to restrict drag shows. And this week, he secured formal Senate approval for his SB 12, which prohibits kids from seeing sexually drag shows only if they're sexually explicit.
But the Senate also approved SB 1601, which could cut public libraries' major source of funding if they let drag performers read to children. SB 1601 does not tie its financial penalties to the performers' behavior — and essentially targets all libraries' drag queen story hours, which are aimed at promoting literacy and encouraging children to read.
"It's a very short bill, very straightforward bill," Hughes said this week.
Hughes didn't explicitly say what SB 1601 would protect kids from. Instead, during the bill's Senate and committee debates, he brought up an example of the Houston public library hosting a registered sex offender as one of its storytime program's drag queens because the library didn't do a background check as evidence for backing the bill.
On the other hand, drag performers and their allies pointed out during the bill's committee hearing that kids are more likely to be harmed by gun violence or sexual abuse perpetrated by church members.
Lawmakers, most of whom are Republicans, are pushing a bevy of bills during this legislative session that threaten to upend the lives of many LGBTQ Texans. The Senate last week approved a bill that would prohibit transgender kids from updating their birth certificate so that it matches their gender. GOP lawmakers want to limit classroom instruction, school activities and teacher guidance about sexual orientation and gender identity in schools. And also on Tuesday, the Senate gave final approval to a proposed ban on transgender kids accessing puberty blockers and hormone therapy.
Republican Sen. Drew Springer of Muenster successfully broadened SB 1601 to bar libraries from receiving any public money the year following any events in which drag performers read to kids. This means facilities violating the proposed restriction could lose revenue streams from their local governments — a crucial part of their budgets.
The Texas Library Association declined to comment on the expanded version of SB 1601.
Several Democratic lawmakers attempted to add a clause limiting the bill to only drag shows that exhibit a prurient interest in sex, mimicking the language that Hughes has pushed for in SB 12. But that effort failed.
"It's always good for us to try to work together and try to accept amendments. I think we agree that we will not sacrifice the effectiveness of a bill just to achieve unanimity," Hughes said Wednesday.
During a Senate committee hearing last month, Baylor Johnson, an Austin Public Library spokesperson, said the drag story time events hosted by his employer were age-appropriate and well-received by families.
The vote on SB 1601 immediately followed that of SB 12, which restricts drag performances in private business and public spaces. SB 12 bars kids from lewd drag shows and is a scaled-back version of other legislation that would have defined anyone in drag as being sexually explicit. Still, dozens of drag performers and their supporters overwhelmingly opposed the measures during the legislative hearing last month.
SB 12 is not an outright ban on drag performances and would not automatically classify all drag shows as lewd. Instead, the bill would levy a $10,000 fine on businesses that host drag shows considered sexually oriented in front of children. Performers violating the proposed restriction would also face a Class A misdemeanor, which could result in up to a year in jail, a $4,000 fine or both. The bill describes sexually oriented performances as including someone who is naked or in drag and "[appealing] to the prurient interest in sex."
The bill, also filed by Hughes, doesn't clarify what prurient means — though the U.S. Supreme Court has defined it as "erotic, lascivious, abnormal, unhealthy, degrading, shameful, or morbid interest in nudity, sex, or excretion."
During the Tuesday debate, Hughes successfully introduced an amendment that scales down the bill's proposed restriction for performances on public property. Under the new version, SB 12 would also apply to any sexually explicit performances — not just lewd drag shows.
"This amendment will accomplish the purpose of making sure that all obscene performances — any sexual performance inappropriate for a child, regardless of who is the performer, regardless of how they're dressed — will be affected by the statute," he said.
SB 12's backers — many of them social conservative groups — say the bill is needed to protect kids from seeing sexually explicit content. During the Tuesday Senate debate on the bill, Hughes echoed that reasoning.
"What adults do is a separate matter — this bill is about protecting children," Hughes said Tuesday.
SB 12 is more narrow when compared to other Republican proposals for restricting drag shows. For instance, Hughes' other proposal, Senate Bill 476, defines drag shows more broadly as individuals wearing outfits or makeup that indicate a gender different from their gender assigned at birth while performing in front of an audience for entertainment.
This wider definition could have covered activities unrelated to drag such as a transgender person singing karaoke with friends in a bar, for example, or an actor wearing a costume as part of a Shakespeare play that involves wearing clothes traditionally associated with a different gender.
Drag performers insist that SB 12 is an attack on their First Amendment rights and say the bill's language is imprecise, opening it up to multiple interpretations. During the Tuesday Senate debate, some Democratic lawmakers also characterized the bill as "overly broad."
"The language in the bill is so purposefully vague that it could encapsulate many forms of queer art and try to shut them down," Austin-based drag performer Lawrie Bird told the Tribune last month.
The bill's opponents added that it would harm restaurants and bars that use drag shows to draw in more customers or charities that host these performances as fundraisers. The measure could particularly impact businesses owned by LGBTQ Texans, they said.
"We are small-business owners in Texas trying to make our living just like everybody else," Bird said. "And we're a huge part of the tourism and entertainment economy here."
During the SB 12 debate Tuesday, Democratic lawmakers peppered Hughes with questions about what kind of performances the bill could ensnare. Democratic Sen. Roland Gutierrez of San Antonio prompted a long back and forth that raised questions about whether various scenarios could be considered sexually explicit. That included Gutierrez' question about whether two men in drag kissing while walking in a Pride parade would be considered sexually explicit under the bill.
Hughes didn't directly answer.
"Prurient interest in sex is well defined by the courts. You know that. Anybody on this floor, you and I both know — and that's my answer," he said. "It's about protecting children."
Gutierrez retorted that lawmakers should focus on gun violence instead if they want to protect kids. The San Antonio Democrat's district includes Uvalde, where the deadliest school shooting in Texas occurred last year. Gutierrez has filed various bills this session seeking to limit access to guns.
"Listen, we could talk about protecting children all day long," Gutierrez said. "You haven't done a whole lot there."
Gutierrez's repeated comments about the lack of traction for his gun legislation drew rebuke from Patrick, who presides over the Senate. At one point, Patrick told Gutierrez that if he didn't keep his remarks limited to the drag performance bill, the lieutenant governor may not continue letting him speak.
As bills focused on the LGBTQ community have moved through the legislature this year, drag performers, transgender Texans and community advocates have also questioned the sincerity of lawmakers' claims that they're trying to protect children. Many say legislators are further stigmatizing people.
"I've had shows canceled. We've had people show up with guns — that's more terrifying to kids than me looking like this right now," said Bandit last month, while donned in a bright pink floor-length gown and a big pink wig inside the Texas Capitol.
The Texas Tribune is a nonpartisan, nonprofit media organization that informs Texans — and engages with them – about public policy, politics, government and statewide issues.
Texas Senate scales back proposed restrictions on puberty blockers and hormone therapy for transgender kids
Senate Bill 14 would now allow trans children who are already receiving some transition-related treatments to continue getting that care. The Senate gave initial approval to the reworked legislation Wednesday.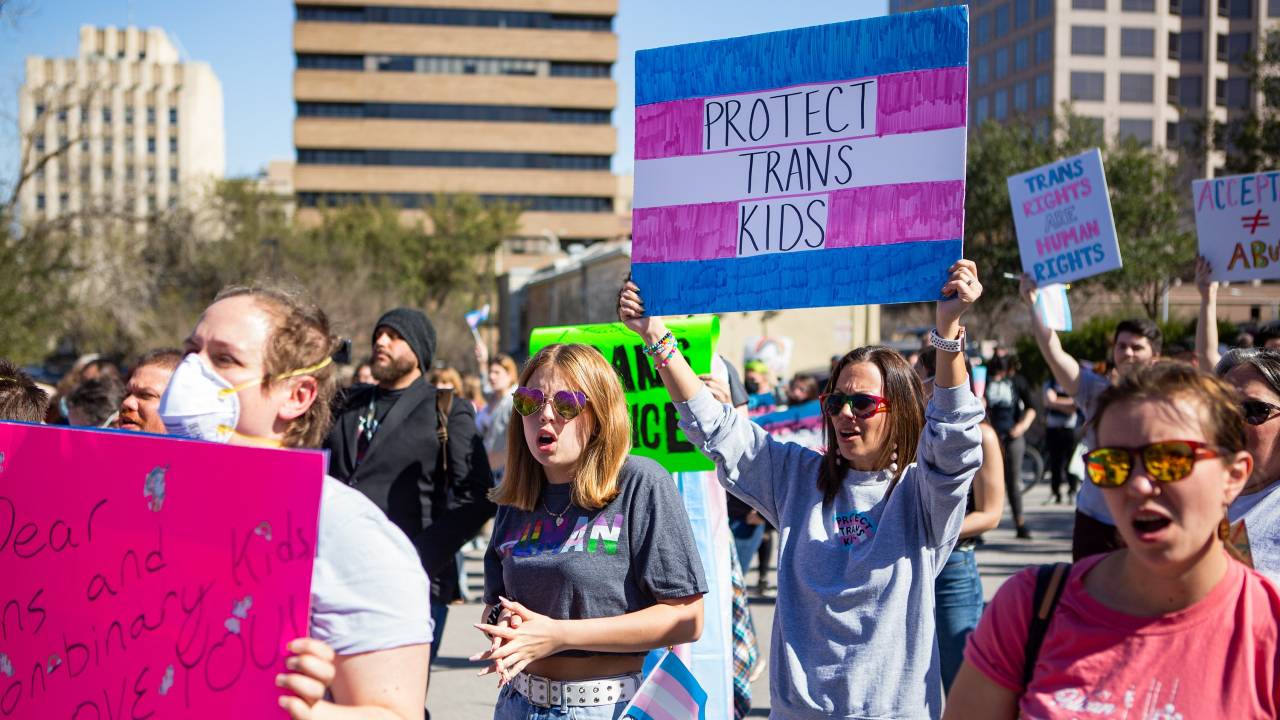 This article originally appeared in The Texas Tribune

The Texas Senate on Wednesday gave initial approval to a bill that would ban puberty blockers and hormone therapy for transgender youth wanting to gender transition if they are not already receiving such care. Major medical groups approve of such care and say it lessens higher rates of depression and suicide for trans youth.
Senate Bill 14 author Sen. Donna Campbell, R-New Braunfels, made a last-minute change on the chamber floor Wednesday that limited the scope of the legislation. The bill previously would have banned several transition-related treatments outright. On Wednesday, Campbell amended the legislation to allow children who are currently receiving puberty blockers and hormone therapies to continue such treatments if the bill is signed into law and takes effect.
That means SB 14 would ban puberty blockers and hormone therapies only for children who are not receiving it by early June.
The bill also bans transition-related surgeries, though they very rarely happen for trans youth. Health care providers also would not be eligible for financial reimbursement through Medicaid and the child health program for such treatments.
Johnathan Gooch, communications director for Equality Texas, said LGBTQ advocates and Texans are "deeply grieved" that SB 14 is advancing. He said it was "prudent" to allow kids already receiving puberty blockers and hormone therapy to continue such treatment but still considered the bill harmful.
"Trans kids of the next generation should not be disadvantaged because fear-mongering politicians decided to listen to their demons rather than their doctors," he said in a statement to The Texas Tribune.
Campbell painted doctors providing transition-related care as opportunists capitalizing on a "social contagion" with treatments that lack sufficient scientific data that could determine whether the care is safe and effective.
But in an hourslong Senate committee hearing about the bill, medical groups testified about the wealth of scientific evidence backing mental health benefits of transition-related care for transgender youth. Trans youth who take puberty blockers are significantly less likely to experience lifelong suicidal ideation than those who want the care and don't get it, according to recent studies.
Over the objections of hundreds of doctors, medical groups and LGBTQ Texans, Republican lawmakers have said the legislation is needed to protect children and that medical studies don't support the benefits of such care.
"This is not science-based practice," Campbell said Wednesday.
During the chamber debate, Democratic Sen. José Menéndez of San Antonio also introduced two floor amendments, including one that sought to ban conversion therapy, which aims to change someone's sexuality. Both measures failed. The Senate voted 19-12 along party lines for SB 14, which is one of Lt. Gov. Dan Patrick's priorities this session.
Under the amended bill, families have a shrinking window to begin this treatment before June 3.
Landon Richie, policy associate with the Transgender Education Network of Texas, said if the bill is "increasing the burden on families who may be in line for appointments to receive this care, but if time runs out before they receive it, they're not going to get care in this state."
Richie said many families don't have the resources to leave the state to get this care, which will significantly restrict what treatment is available to address the mental health challenges trans youth experience.
The bill will make its way to the lower chamber after a final vote in the Senate. In 2021, a bill similar to SB 14 was passed in the Senate but died in the Texas House. But this year, a majority of House members — all of them Republican — have signed on as authors or co-authors to House Bill 1686, which is more restrictive than the new version of SB 14. HB 1686 amounts to an outright ban on transition-related care for kids. HB 1686 was debated Monday, but has not yet been approved by the House Public Health Committee, which includes three openly LGBTQ lawmakers, all of them Democrats.
The House legislation saw overwhelming public opposition, as more than 2,800 people registered against the bill while just under 100 people expressed support. The bill's opponents criticized Rep. Stephanie Klick, a Fort Worth Republican who chairs the committee, for cutting off testimony before hundreds of people could testify against it in person. Though several trans youths and their parents were able to make their case to the lawmakers.
Sunny Bryant, a nine-year-old trans girl from Houston who testified late in the night, said she had to miss school to wait for her chance to speak.
"If you pass this bill and we stay in Texas, I'd grow up looking like my dad and that's a scary thought," she said to laughter in the room. "I want to grow up looking like me — nobody else, just Sunny."
Some parents also spoke through tears about how this legislation, if enacted, would push them out of a state that they have deep ties to so that their kids could continue accessing hormone therapy and puberty blockers.
"I'd have no choice but to leave this state," said Lisa Stanton, mother to Maya Stanton, a 12-year-old trans girl from Houston.
She has a job that could allow her to relocate, but her husband's work is in Texas.
"We have literally been having conversations about whether we will have to separate and move somewhere else and have him just visit us on the weekends," Lisa Stanton said. "This is ruining our lives."
And for some older trans youth, the legislation is already making them rethink where they want to build their future. On the same day as the House committee hearing, Topher Malone, a trans high school senior from Round Rock, received Rice University's notice about whether or not the Houston college had accepted her. But she didn't bother checking to see if she was admitted.
"I don't want to stay here for college anymore, because of what this state government is doing to trans people like me and I can't stand it anymore," Malone testified.
Sen. John Whitmire, D-Houston, arguing against SB 14, said he's built relationships with families of trans youth and urged the Senate to leave decisions about gender-affirming care up to parents. He noted he's been a lawmaker for 50 years, but this issue was only recently debated at the Capitol.
"I would pray that it's not just politics but it's genuine concern for the health and welfare of the transgender children," Whitmire said. "Let's remember that the transgender children are God's creations and we love them."
The bills restricting transition-related health care are among a slew of legislation Republican lawmakers are pushing that could upend several facets of LGBTQ Texans' lives. During this month's hearing on SB 14, GOP activist Steven Hotze went on an anti-trans tirade, calling doctors who provide this type of health care "pedophiles." Menéndez asked Hotze not to lob baseless and incendiary attacks. Menéndez said trans people are "living their true selves."
A new research brief by the Trevor Project, a national LGBTQ youth suicide-prevention organization, found that trans kids who come out before age 13 experience higher rates of discrimination, physical harm and suicide attempts than those who come out after that age.
"Right now, transgender and nonbinary young people in the U.S. are dealing with an impossible duality: visibility and understanding of trans people are at an all-time high, and yet, at the same time, they are witnessing a historic wave of anti-trans political attacks all across the country," Dr. Jonah DeChants, senior research scientist at The Trevor Project said in a statement to the Tribune.
The study found that those whose gender identity is met with a high amount of family support have significantly better mental health outcomes.
"Taking even small steps to support the trans young people in our lives can be, quite literally, life-saving."
William Melhado and Sneha Dey contributed to this story.
Disclosure: Equality Texas and Rice University have been financial supporters of The Texas Tribune, a nonprofit, nonpartisan news organization that is funded in part by donations from members, foundations and corporate sponsors. Financial supporters play no role in the Tribune's journalism. Find a complete list of them here.
The Texas Tribune is a nonpartisan, nonprofit media organization that informs Texans — and engages with them – about public policy, politics, government and statewide issues.
Texas bill advancing in the Senate would block minors from updating gender on birth certificates
Opponents of the bill call it a "power play aimed at making the lives of transgender children as difficult as possible." The chamber is expected to vote on this legislation Wednesday.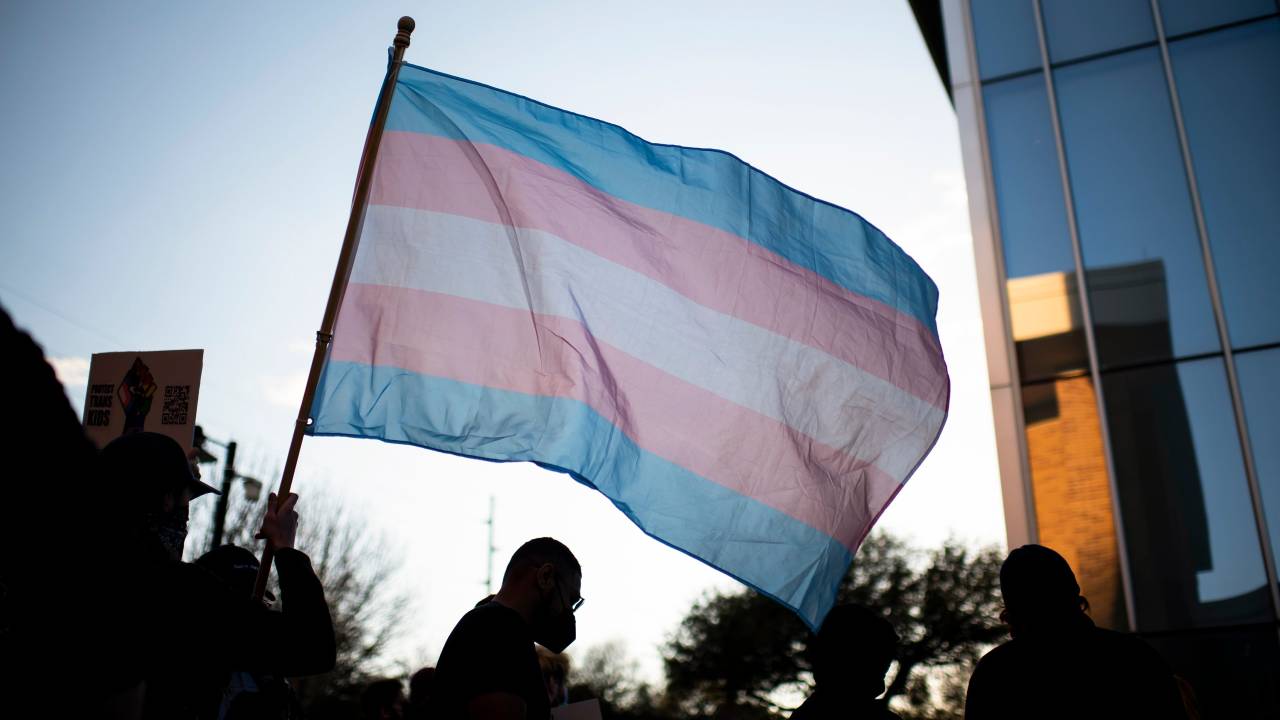 This article originally appeared in The Texas Tribune

A bill seeking to block transgender and nonbinary Texas youth from updating their birth certificate with their gender identity has received its first approval from the Texas Senate.
Senate Bill 162, filed by Republican state Sen. Charles Perry of Lubbock, proposes requiring an individual's sex assigned at birth to be included on their birth certificate and limiting the circumstances in which this information could be changed for minors. The proposal lists very few exceptions.
"Senate Bill 162 prohibits sex listed on the birth certificate of a minor from being amended unless the change is to correct a clerical error or complete the birth certificate if the sex was not listed at the time of birth or if the child is intersex and the sex is later determined," Perry said during the Senate meeting.
The Republican-controlled Senate preliminarily passed SB 162 on Tuesday with a vote of 19-11 after hearing no debate. The bill now awaits its final vote from the full chamber before it could advance to the House.
LGBTQ advocates said the legislation would make it impossible for trans and nonbinary Texas youth to update their birth certificate and subsequently other government documents — such as those required for identification for education, traveling and employment — with their gender identity.
"Birth certificates are a foundational document," Sasha Buchert, a senior attorney with Lambda Legal, testified during the bill's committee hearing. "And when people have identity documents — especially trans folks — that are inconsistent with who they are, it places them at risk of violence, bullying and even harassment."
Beyond these dangers, this proposal could interrupt the process of enrolling in school, participating in extracurricular activities and applying for a passport — according to Ash Hall, a policy and advocacy strategist on LGBTQ rights with ACLU Texas who also testified against the bill at its committee hearing.
The process to change a minor's gender on a birth certificate is lengthy and convoluted, Hall said. Currently, there is no difference in the process for minors and adults requesting a change to the gender marker on a Texas document — such as the sex listed on a birth certificate — according to a guide from the Texas Legal Service Center. The guide recommends that families seek the advice of an attorney for changes to a minor's gender marker.
A court order is required to change gender markers on Texas documents. The decision to allow or deny a gender marker change resides with local judges, who have discretion over what proof is needed to confirm the change before issuing a court order.
Individuals seeking a gender marker change on their documents then present the court order to make changes to IDs, such as birth certificates or driver's licenses.
The proposal would essentially erase trans and nonbinary youth from public life, according to the bill's opponents.
"It's already really difficult for trans people to update their birth certificates, and the vast majority of trans people are forced to live with inaccurate documents [that don't] reflect who we are in the first place," Hall told The Texas Tribune. "It's deeply unnecessary, and it is only meant to harm."
Jacqueline Murphy, a trans woman, testified during the committee's hearing earlier this month that she was able to update her birth certificate as a minor — and that has made it easier for her to acquire identification for college enrollment and employment.
"The benefits for my peace of mind and physical safety cannot be overstated," she said. "I expect the aim of this bill is to undermine the legitimacy of trans identity as a whole, particularly among children. … This is a power play aimed at making the lives of transgender children as difficult as possible."
Hall added this bill includes vague language about designating the sex of intersex children. The bill would require those issuing birth certificates to fill in this field for intersex children "whose sex is later determined." But missing from the legislation, Hall said, is when that determination is made.
"The intersex community, one of the basic rights they're asking for is that their bodies not be operated on as infants when they can't consent and that they get the opportunity to decide what their gender is, instead of having one forced upon them," Hall said. The bill could eliminate the option for intersex children to change the gender initially determined for them.
Meanwhile, SB 162's supporters said the bill is needed to "protect current laws that we have to actually protect biological sex," such as existing restrictions in Texas on trans student athletes' participation at the high school level. Senate Bill 15, which seeks to extend these restrictions to the college level, has also received preliminary approval from the full chamber — and there's already enough support for the proposal in the House.
"It's vitally important to know a person's sex at birth," said Jonathan Covey, policy director for the conservative group Texas Values. "It's particularly important in light of fairness in women's sports competitions."
The bill's backers also support Senate Bill 14, which was heard in the same committee hearing as SB 162 and dominated the meeting. SB 14 seeks to block trans kids from accessing transition-related medical treatments such as puberty blockers and hormone therapies. The ban would also include surgeries, though these rarely happen for youth.
SB 14 is also a priority legislation for Lt. Gov. Dan Patrick, who presides over the Senate. The full chamber is expected to discuss and vote on this legislation this week.
William Melhado contributed to this story.
Disclosure: ACLU Texas has been a financial supporter of The Texas Tribune, a nonprofit, nonpartisan news organization that is funded in part by donations from members, foundations and corporate sponsors. Financial supporters play no role in the Tribune's journalism. Find a complete list of them here.
The Texas Tribune is a nonpartisan, nonprofit media organization that informs Texans — and engages with them – about public policy, politics, government and statewide issues.