Texas Senate votes to defund libraries where drag queens read to kids as it tries to limit the performances kids can attend
The Senate expanded the bill targeting drag queen story hours to target all public funding for libraries. The upper chamber also approved a bill limiting other drag performances kids can see.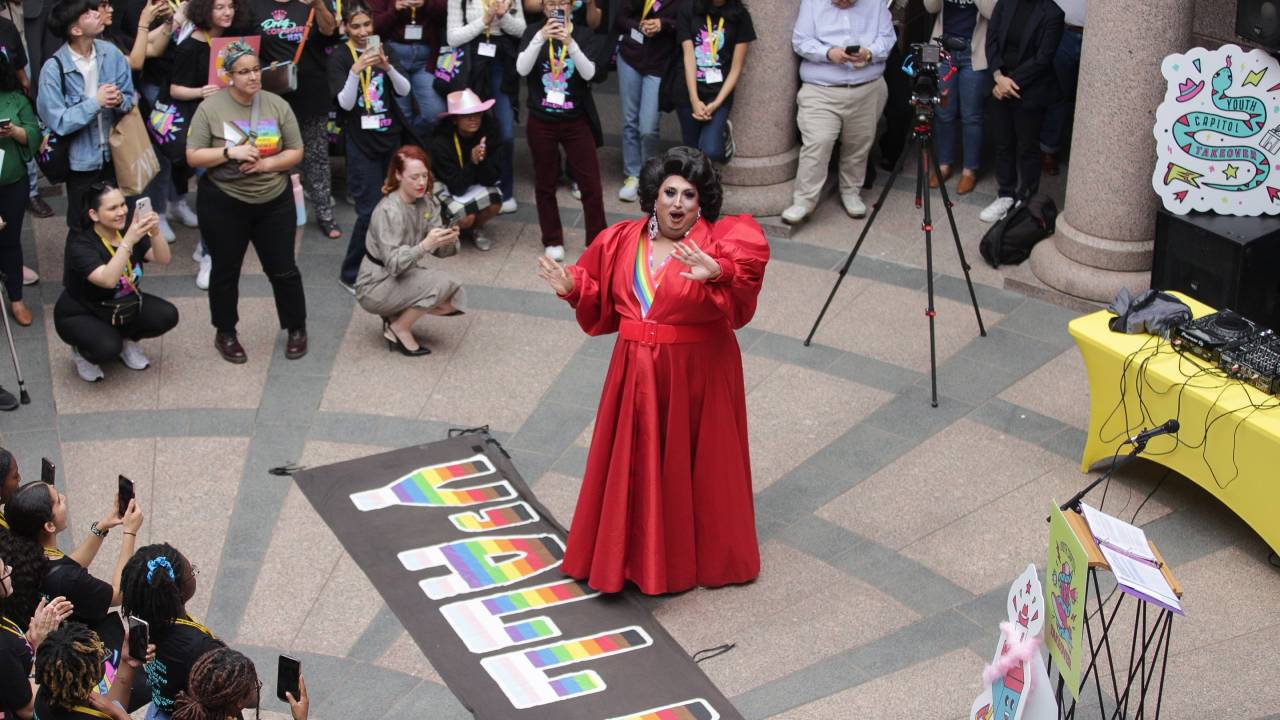 This article originally appeared in The Texas Tribune

The Texas Senate on Wednesday approved two bills aimed at restricting drag performances that children attend or see. One of them, Senate Bill 1601, would defund public libraries where drag queens are allowed to read to children. The other, Senate Bill 12, bars kids from drag shows if the performances are overly lewd and lascivious.
SB 12, which is a priority for Lt. Gov. Dan Patrick this session, was approved in a 20-11 vote. Sen. Royce West of Dallas was the only Democrat to vote yes for SB 12.
SB 1601 was approved in a 19-10 vote on the chamber floor, with West also being the only Democrat to vote in favor of the measure. But the Dallas senator later switched his stance to a no vote, according to the Senate Journal. His office confirmed the change to the Texas Tribune, but didn't provide a reason for it. Sens. Borris Miles, D-Houston, and Robert Nichols, R-Jacksonville, were present but did not vote on SB 1601.
Both bills now head to the House.
For months, Texas Senators have said their bills targeting drag shows are meant to protect children from sexually explicit performances.
Some Democrats, drag performers and businesses catering to LGBTQ Texans have fiercely pushed back against the implication that all drag performances are inherently sexual. They've also said some bills restrict free expression enshrined in the First Amendment as they've testified against bills in legislative hearings and rallied in opposition at the Texas Capitol.
And, bill opponents say, the Republican proposals are helping to fuel an overall backlash against drag — as performers have increasingly seen protests and threats coordinated against them by activists and extremist groups.
"We just need to understand that drag is not inherently sexual, and queer expression is not inherently sexual," Austin-based drag performer Brigitte Bandit told the Tribune last month.
Amid some of the criticism, Republican Sen. Bryan Hughes of Mineola, who was the architect of some of Texas' most conservative legislation in 2021, narrowed his legislative push to restrict drag shows. And this week, he secured formal Senate approval for his SB 12, which prohibits kids from seeing sexually drag shows only if they're sexually explicit.
But the Senate also approved SB 1601, which could cut public libraries' major source of funding if they let drag performers read to children. SB 1601 does not tie its financial penalties to the performers' behavior — and essentially targets all libraries' drag queen story hours, which are aimed at promoting literacy and encouraging children to read.
"It's a very short bill, very straightforward bill," Hughes said this week.
Hughes didn't explicitly say what SB 1601 would protect kids from. Instead, during the bill's Senate and committee debates, he brought up an example of the Houston public library hosting a registered sex offender as one of its storytime program's drag queens because the library didn't do a background check as evidence for backing the bill.
On the other hand, drag performers and their allies pointed out during the bill's committee hearing that kids are more likely to be harmed by gun violence or sexual abuse perpetrated by church members.
Lawmakers, most of whom are Republicans, are pushing a bevy of bills during this legislative session that threaten to upend the lives of many LGBTQ Texans. The Senate last week approved a bill that would prohibit transgender kids from updating their birth certificate so that it matches their gender. GOP lawmakers want to limit classroom instruction, school activities and teacher guidance about sexual orientation and gender identity in schools. And also on Tuesday, the Senate gave final approval to a proposed ban on transgender kids accessing puberty blockers and hormone therapy.
Republican Sen. Drew Springer of Muenster successfully broadened SB 1601 to bar libraries from receiving any public money the year following any events in which drag performers read to kids. This means facilities violating the proposed restriction could lose revenue streams from their local governments — a crucial part of their budgets.
The Texas Library Association declined to comment on the expanded version of SB 1601.
Several Democratic lawmakers attempted to add a clause limiting the bill to only drag shows that exhibit a prurient interest in sex, mimicking the language that Hughes has pushed for in SB 12. But that effort failed.
"It's always good for us to try to work together and try to accept amendments. I think we agree that we will not sacrifice the effectiveness of a bill just to achieve unanimity," Hughes said Wednesday.
During a Senate committee hearing last month, Baylor Johnson, an Austin Public Library spokesperson, said the drag story time events hosted by his employer were age-appropriate and well-received by families.
The vote on SB 1601 immediately followed that of SB 12, which restricts drag performances in private business and public spaces. SB 12 bars kids from lewd drag shows and is a scaled-back version of other legislation that would have defined anyone in drag as being sexually explicit. Still, dozens of drag performers and their supporters overwhelmingly opposed the measures during the legislative hearing last month.
SB 12 is not an outright ban on drag performances and would not automatically classify all drag shows as lewd. Instead, the bill would levy a $10,000 fine on businesses that host drag shows considered sexually oriented in front of children. Performers violating the proposed restriction would also face a Class A misdemeanor, which could result in up to a year in jail, a $4,000 fine or both. The bill describes sexually oriented performances as including someone who is naked or in drag and "[appealing] to the prurient interest in sex."
The bill, also filed by Hughes, doesn't clarify what prurient means — though the U.S. Supreme Court has defined it as "erotic, lascivious, abnormal, unhealthy, degrading, shameful, or morbid interest in nudity, sex, or excretion."
During the Tuesday debate, Hughes successfully introduced an amendment that scales down the bill's proposed restriction for performances on public property. Under the new version, SB 12 would also apply to any sexually explicit performances — not just lewd drag shows.
"This amendment will accomplish the purpose of making sure that all obscene performances — any sexual performance inappropriate for a child, regardless of who is the performer, regardless of how they're dressed — will be affected by the statute," he said.
SB 12's backers — many of them social conservative groups — say the bill is needed to protect kids from seeing sexually explicit content. During the Tuesday Senate debate on the bill, Hughes echoed that reasoning.
"What adults do is a separate matter — this bill is about protecting children," Hughes said Tuesday.
SB 12 is more narrow when compared to other Republican proposals for restricting drag shows. For instance, Hughes' other proposal, Senate Bill 476, defines drag shows more broadly as individuals wearing outfits or makeup that indicate a gender different from their gender assigned at birth while performing in front of an audience for entertainment.
This wider definition could have covered activities unrelated to drag such as a transgender person singing karaoke with friends in a bar, for example, or an actor wearing a costume as part of a Shakespeare play that involves wearing clothes traditionally associated with a different gender.
Drag performers insist that SB 12 is an attack on their First Amendment rights and say the bill's language is imprecise, opening it up to multiple interpretations. During the Tuesday Senate debate, some Democratic lawmakers also characterized the bill as "overly broad."
"The language in the bill is so purposefully vague that it could encapsulate many forms of queer art and try to shut them down," Austin-based drag performer Lawrie Bird told the Tribune last month.
The bill's opponents added that it would harm restaurants and bars that use drag shows to draw in more customers or charities that host these performances as fundraisers. The measure could particularly impact businesses owned by LGBTQ Texans, they said.
"We are small-business owners in Texas trying to make our living just like everybody else," Bird said. "And we're a huge part of the tourism and entertainment economy here."
During the SB 12 debate Tuesday, Democratic lawmakers peppered Hughes with questions about what kind of performances the bill could ensnare. Democratic Sen. Roland Gutierrez of San Antonio prompted a long back and forth that raised questions about whether various scenarios could be considered sexually explicit. That included Gutierrez' question about whether two men in drag kissing while walking in a Pride parade would be considered sexually explicit under the bill.
Hughes didn't directly answer.
"Prurient interest in sex is well defined by the courts. You know that. Anybody on this floor, you and I both know — and that's my answer," he said. "It's about protecting children."
Gutierrez retorted that lawmakers should focus on gun violence instead if they want to protect kids. The San Antonio Democrat's district includes Uvalde, where the deadliest school shooting in Texas occurred last year. Gutierrez has filed various bills this session seeking to limit access to guns.
"Listen, we could talk about protecting children all day long," Gutierrez said. "You haven't done a whole lot there."
Gutierrez's repeated comments about the lack of traction for his gun legislation drew rebuke from Patrick, who presides over the Senate. At one point, Patrick told Gutierrez that if he didn't keep his remarks limited to the drag performance bill, the lieutenant governor may not continue letting him speak.
As bills focused on the LGBTQ community have moved through the legislature this year, drag performers, transgender Texans and community advocates have also questioned the sincerity of lawmakers' claims that they're trying to protect children. Many say legislators are further stigmatizing people.
"I've had shows canceled. We've had people show up with guns — that's more terrifying to kids than me looking like this right now," said Bandit last month, while donned in a bright pink floor-length gown and a big pink wig inside the Texas Capitol.
The Texas Tribune is a nonpartisan, nonprofit media organization that informs Texans — and engages with them – about public policy, politics, government and statewide issues.
Texas' ban on certain drag shows is unconstitutional, federal judge says
Senate Bill 12 would have prohibited performers from dancing suggestively or wearing certain prosthetics in front of children. Critics sued the state, saying it violated the First Amendment.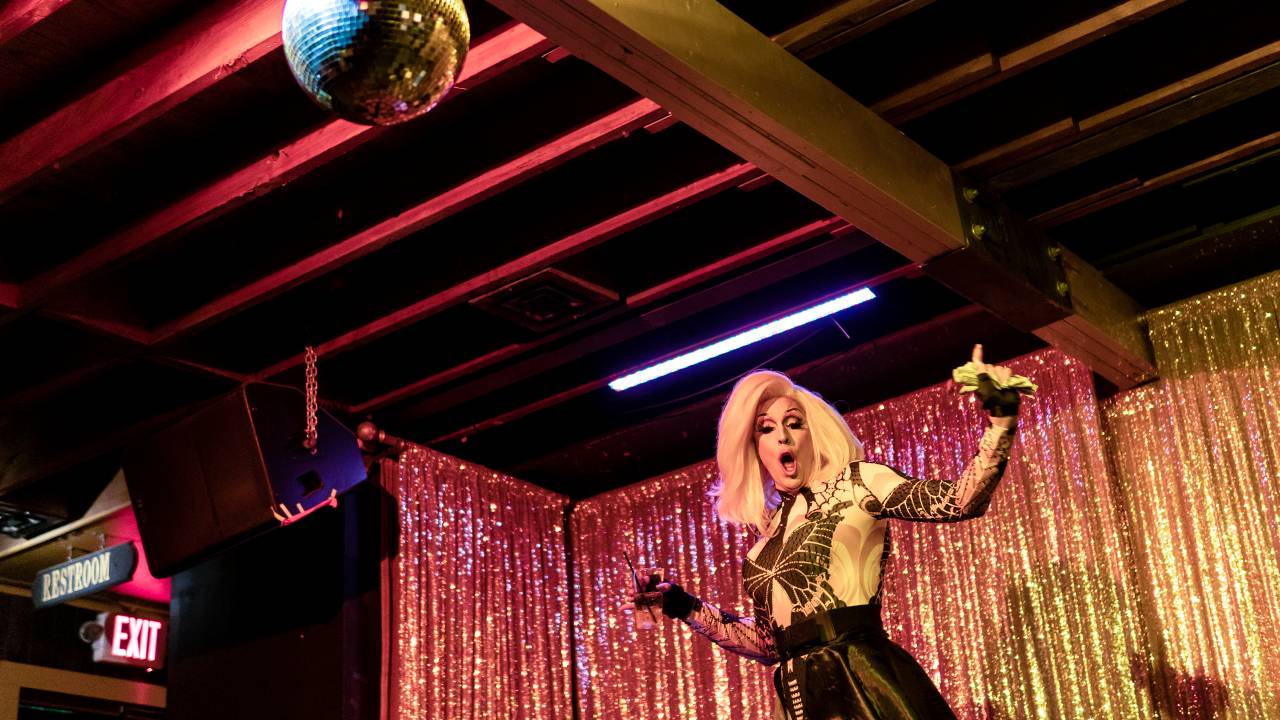 This article originally appeared in The Texas Tribune

Texas cannot enforce a new law that restricts some public drag shows, a federal judge said Tuesday in declaring the legislation unconstitutional.
U.S. District Judge David Hittner found Senate Bill 12 "impermissibly infringes on the First Amendment and chills free speech." The struck-down law prohibited any performers from dancing suggestively or wearing certain prosthetics in front of children.
Hittner ruled that language discriminated based on viewpoint and is unconstitutionally overbroad and vague.
"The Court sees no way to read the provisions of SB 12 without concluding that a large amount of constitutionally-protected conduct can and will be wrapped up in the enforcement of SB 12," the ruling reads. "It is not unreasonable to read SB 12 and conclude that activities such as cheerleading, dancing, live theater, and other common public occurrences could possibly become a civil or criminal violation."
The plaintiffs who sued the state celebrated the order, saying in statements shared by their lawyers that the decision affirmed their rights to express themselves.
"I am relieved and grateful for the court's ruling," drag performer Brigitte Bandit said. "My livelihood and community has seen enough hatred and harm from our elected officials. This decision is a much needed reminder that queer Texans belong and we deserve to be heard by our lawmakers."
Republican state Sen. Bryan Hughes, who authored SB 12, defended the bill and pledged to challenge the ruling. The Texas Attorney General's Office will appeal the ruling, a spokesperson said.
"Surely we can agree that children should be protected from sexually explicit performances. That's what Senate Bill 12 is about," Hughes said. "This is a common sense and completely constitutional law, and we look forward to defending it all the way to the Supreme Court if that's what it takes."
Critics of the bill, though, say that Republican lawmakers and officials this year have incorrectly — and unfairly — portrayed all drag performances as inherently sexual or obscene.
While SB 12 was originally billed as legislation that would prevent children from seeing drag shows, the final version did not directly reference people dressing as the opposite gender.
However, Republican leaders, including Gov. Greg Abbott, made it clear that drag shows were the bill's target — comments and history that Hittner wrote "the court cannot ignore."
Last month, Hittner temporarily blocked SB 12 from taking effect on Sept. 1 after a two-day hearing for a lawsuit filed against the state by a drag queen and LGBTQ+ groups.
LGBTQ+ Texans, advocates, artists and business groups who sued the state, argued that the law discriminates against the content of performances and restricts equally protected free expression that is protected under the First and 14th Amendments.
In Tuesday's 56-page ruling, Hittner noted a survey of court decisions "reveals little divergence from the opinion that drag performances are expressive content that is afforded First Amendment protection."
"Drag shows express a litany of emotions and purposes, from humor and pure entertainment to social commentary on gender roles," the ruling reads. "There is no doubt that at the bare minimum these performances are meant to be a form of art that is meant to entertain, alone this would warrant some level of First Amendment protection."
Other states have passed similar legislation restricting drag performance, which have also been struck down by federal courts.
In June, a federal judge in Tennessee, appointed by former President Donald Trump, ruled a law there was unconstitutional in its effort to suppress First Amendment-protected speech.
Bucking that trend, another Texas federal judge last week issued an opinion that supported drag show restrictions.
U.S. District Judge Matthew Kacsmaryk said that West Texas A&M University President Walter Wendler acted within his authority when he canceled a campus drag show. Kacsmaryk wrote that Free Speech jurisprudence had "not clearly established that all 'drag shows' are categorically 'expressive conduct.'"
Hittner acknowledged his Panhandle counterpart's ruling Tuesday. Hittner pointed to a letter in which Wendler explained his reasoning for banning the show, comparing drag to blackface and a slapstick sideshow.
"The president's sentiment reinforces this Court's opinion that while some people may find a performance offensive or morally objectionable, it does not mean the performance is not expressive or given First Amendment protection," he wrote. "Not all people will like or condone certain performances. This is no different than a person's opinion on certain comedy or genres of music, but that alone does not strip First Amendment protection."
LGBTQ+ advocates welcomed Hittner's decision Tuesday.
"Today's ruling is a celebration for the LGBTQ community and those who support free expression in the Lone Star State," GLAAD President and Chief Executive Officer Sarah Kate Ellis. "Texas now joins an increasing number of states whose discriminatory and baseless bans on drag performances are being recognized as unconstitutional and an attack against everyone's freedoms."
William Melhado contributed to this story.
The Texas Tribune is a nonpartisan, nonprofit media organization that informs Texans — and engages with them – about public policy, politics, government and statewide issues.
Federal judge bars Texas from enforcing book rating law
House Bill 900 requires book vendors to rate all their materials based on their depictions or references to sex before selling them to schools. Vendors say the law aims to regulate protected speech with "vague and over broad" terms.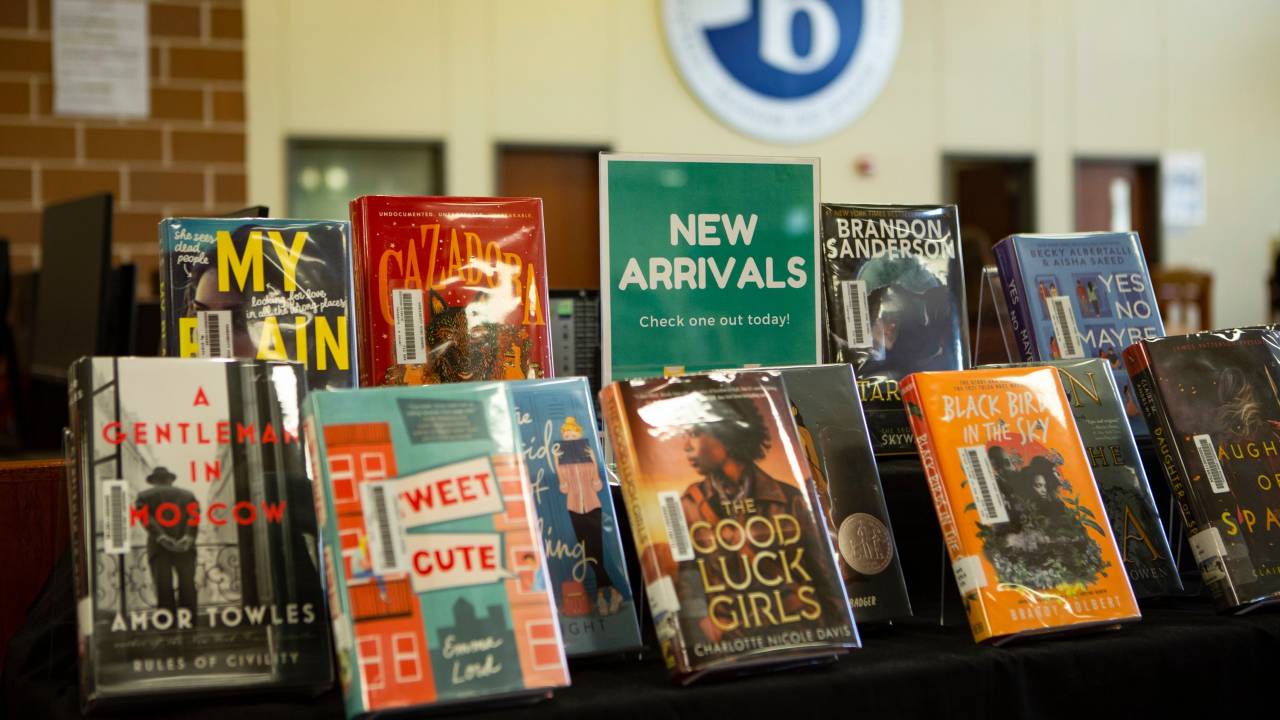 This article originally appeared in The Texas Tribune

A federal judge said Thursday he will stop a new Texas law aimed at keeping sexually explicit materials off of school library shelves on the eve of the law going into effect, according to state attorneys and lawyers for a group who sued over the proposal.
District Judge Alan D. Albright indicated during a hearing that he will grant a temporary injunction sought by a group of book groups and sellers, including two Texas bookstores, who sued the state over House Bill 900 in July, the group's lawyers said in a statement. Albright will issue a written order in one to two weeks; in the meantime, the state cannot enforce the law, according to the statement.
HB 900, which was approved during this year's regular legislative session, requires school library vendors to rate all their books and materials for appropriateness before selling them to schools based on the presence of sex depictions or references. It also requires vendors to rank materials previously sold to schools and issue a recall for those that are deemed sexually explicit and are in active use by a school.
The plaintiffs argue that the law violates their constitutional rights by targeting protected speech with its broad and vague language. The lawsuit further alleges HB 900 would force plaintiffs to comply with the government's views, even if they do not agree with them, and that the law operates as prior restraint, which is government action that prohibits speech or other expression before the speech happens. The vendors say it is impossible for them to comply with the rating system because of the sheer volume of materials they would need to review.
The law also calls for creating state school library standards that prohibit sexually explicit materials, requiring parental consent for students to check out materials classified by vendors as "sexually relevant" and giving the Texas Education Agency authority to review a vendor's rating. If the TEA disagrees with the vendor's rating and gives it a different one, the vendor must use the agency's rating. Vendors who do not will be added to a list of vendors that schools cannot buy library materials from.
During the bill's legislative hearings, librarians and legal experts shared concerns and worries that its language would ensnare books that are not inappropriate and, to the contrary, may be titles important for students whose lived experiences may not be reflected in other literature.
The proposal, from Rep. Jared Patterson, R-Frisco, arrived amid an ongoing debate about what materials are appropriate to be stocked in school and public libraries. Patterson and supporters of such regulations say libraries are infested with inappropriate books that must be vetted and removed.
However, skeptics of that panic and literary advocates counter that the books singled out by politicians often explore sexuality and race, topics that have been swept up in culture-war politics but remain important for youth who may not be comfortable talking about such matters with others.
Despite the concerns, HB 900 sailed through the legislative process before Gov. Greg Abbott signed it in June. It was set to go into effect Friday; however, the law's language suggests the new requirements won't have to be fulfilled immediately.
Most, if not all, of the state's roughly 5.4 million public schoolchildren have already begun the 2023-2024 school year.
The lawsuit's plaintiffs include two bookstores, Austin's BookPeople and West Houston's Blue Willow Bookshop, as well as the American Booksellers Association, the Association of American Publishers, the Authors Guild and the Comic Book Legal Defense Fund.
The Texas Attorney General's office said Thursday it would move to reverse the injunction and appeal the judge's decision. The office had not received the judge's written order or decision by Thursday afternoon, a spokesperson said.
A court representative for Albright did not respond to an inquiry about his comments during Thursday's hearing, reported by the plaintiffs' lawyers and on social media by at least one plaintiff.
"We are grateful for the court's swift action in deciding to enjoin this law, in the process preserving the long-established rights of local communities to set their own standards; protecting the constitutionally protected speech of authors, booksellers, publishers and readers; preventing the state government from unlawfully compelling speech on the part of private citizens; and shielding Texas businesses from the imposition of impossibly onerous conditions," the plaintiffs said in a joint statement after the hearing. "We look forward to reading the court's full opinion once it is issued."
The Texas Tribune is a nonpartisan, nonprofit media organization that informs Texans — and engages with them – about public policy, politics, government and statewide issues.
Federal judge issues temporary restraining order, says Texas law banning drag shows is "likely" unconstitutional
U.S. District Judge David Hittner heard from LGBTQ+ groups, businesses and a drag performer in a hearing this week, who argued Senate Bill 12 violated their First Amendment rights.
This article originally appeared in The Texas Tribune

U.S. District Judge David Hittner temporarily blocked a new state law Thursday from going into effect that would have criminalized sexually-oriented performances in front of children or effectively banned some public drag shows.
LGBTQ+ groups sued the Texas attorney general's office, hoping to stop authorities from enforcing Senate Bill 12, which was signed by Gov. Greg Abbott in June and was scheduled like most new laws to go into effect Friday.
In a two-day hearing earlier this week in Houston, a drag performer and entertainment businesses said Texas lawmakers' effort to regulate these shows was an unconstitutional attempt to stifle their freedom of expression. Though Hittner did not issue a final order on Thursday, he found the plaintiffs' argument compelling.
"Based on evidence and testimony presented at the hearing, the court finds there is substantial likelihood that SB 12 as drafted violated the First Amendment of the United States Constitution under one or more of the legal theories put forward by the plaintiffs," Hittner wrote in the temporary restraining order.
Hittner said allowing the law to take effect would likely cause "irreparable harm" to the plaintiffs. He issued the restraining order to maintain the status quo of the legal landscape while preparing a final decision — the restraining order does not guarantee a permanent injunction. He said his order could come two to four weeks after the hearing.
Hittner heard testimony earlier this week from LGBTQ+ groups, businesses and a performer, which were plaintiffs in one of two lawsuits against SB 12. They argued the law trampled on their First Amendment rights to perform and organize drag shows. They described drag as a healing, expressive and political form of performance art with historical connections to LGBTQ+ people.
"If allowed to take effect, SB 12 will make our state less free, less fair, and less welcoming for every artist and performer," said American Civil Liberties Union of Texas Attorney Brian Klosterboer in a statement following the judge's decision. "This temporary order is a much-needed reprieve for all Texans, especially our LGBTQIA+ and transgender community, who have been relentlessly targeted by our state legislature."
Defending the law, attorneys with the Texas attorney general's office said SB 12 was narrowly tailored to protect children from sexually-explicit performances. The new law did not explicitly ban drag shows, lawyers for the state said, and these performances should not be considered expressive or receive First Amendment protections.
However, shortly after signing the law, Abbott shared a story on social media about SB 12's passage and declared he had banned drag performances in public.
"The people of Texas were appalled to learn of an increasing trend of obscene, sexually explicit so-called 'drag' performances being marketed to families with children," said Paige Willey, the director of communications for the attorney general's office. "The Office of the Attorney General will pursue all legal remedies possible to aggressively defend SB 12, the state law that regulates such performances to protect children and uphold public decency."
Under the new law, business owners would have had to face a $10,000 fine for hosting sexually explicit performances in which someone is nude or appeals to the "prurient interest in sex." Performers caught violating the proposed restriction could be slapped with a Class A misdemeanor, which carries a maximum penalty of a year in jail and a $4,000 fine.
Texas is one of six states that have passed a bill restricting "adult" or drag performances, according to the Movement Advancement Project, a nonprofit that tracks legislation related to LGBTQ+ issues.
Legal challenges to similar legislation in Florida, Montana and Tennessee have successfully blocked these laws from going into effect. In June, a federal judge in Tennessee, appointed by former President Donald Trump, ruled the law is unconstitutional in its effort to suppress First Amendment-protected speech.
The Texas Tribune is a nonpartisan, nonprofit media organization that informs Texans — and engages with them – about public policy, politics, government and statewide issues.