Texas judge who doesn't want to perform gay marriage ceremonies hopes web designer's Supreme Court case helps her fight
McLennan County Justice of the Peace Dianne Hensley filed a lawsuit after a state agency warned her about refusing to marry gay couples. She hopes a recent U.S. Supreme Court case about religious freedom helps her cause.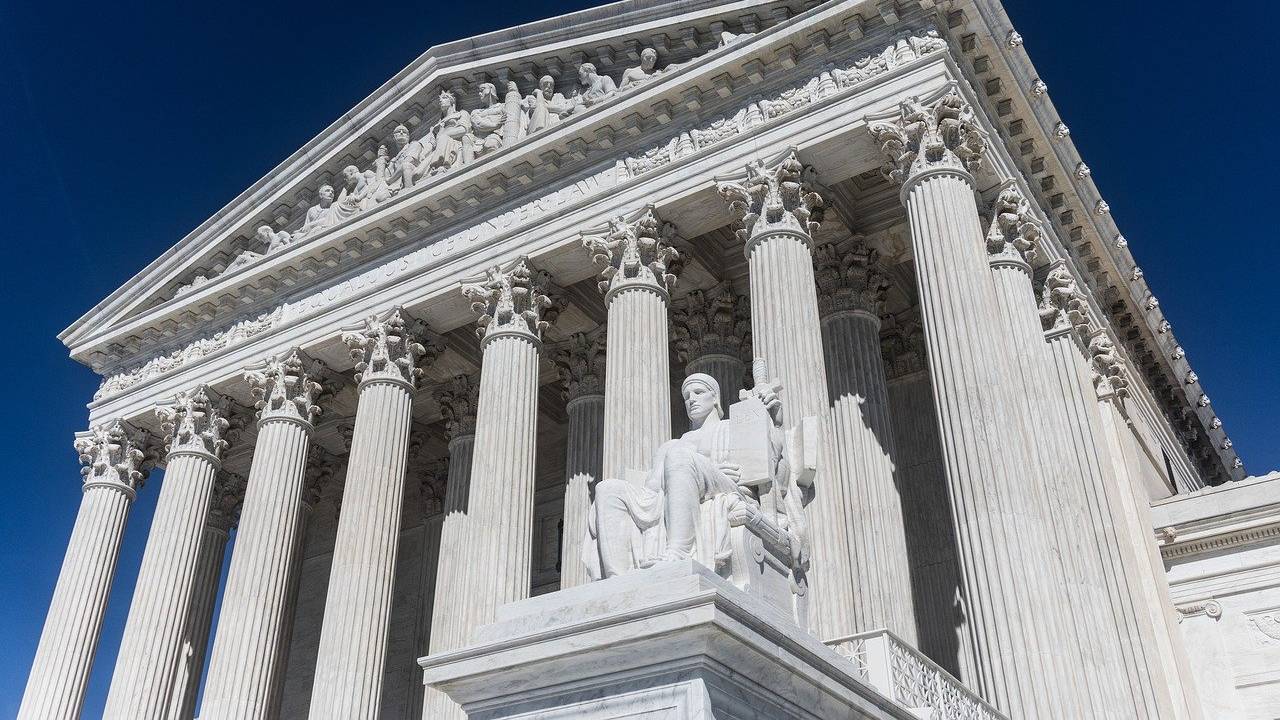 This article originally appeared in The Texas Tribune

Since Waco judge Dianne Hensley received a public warning from the State Commission on Judicial Conduct for refusing to perform same-sex marriages in 2019, she's waged a public battle against the state agency.
She's long claimed the governmental body violated state law by punishing her for actions taken in accordance with her religious faith. Now, she has submitted a brief arguing that the recent Supreme Court ruling in favor of a business owner who refused services to same-sex couples will help her case.
After Hensley was warned by the judicial conduct commission, she filed a lawsuit claiming the investigation and warning "substantially burdened the free exercise of her religion, with no compelling justification." She seeks damages of $10,000. She has been represented by the First Liberty Institute, a high-profile religious liberty legal group based in Plano. The legal group also has strong ties to suspended Texas Attorney General Ken Paxton.
Her lawsuit alleges that the commission violated her rights under the Texas Religious Freedom Restoration Act. Her lawsuit was dismissed by a lower appeals tribunal, but last month, the Texas Supreme Court said it will hear arguments on whether to revive the state judge's lawsuit.
This new brief, submitted last week by Hensley's legal team, argues that though the Supreme Court used the First Amendment and not state law in the 303 Creative LLC v. Elenis case, the decision is also applicable in her lawsuit. The First Amendment case decided last month said a Colorado web designer cannot be forced by the state to compromise her beliefs and serve same-sex couples.
"303 Creative was interpreting the First Amendment's Speech Clause rather than the Texas Religious Freedom Restoration Act. Its holding is nonetheless instructive because it rejects the idea of a 'compelling interest' in forcing wedding vendors to participate in same-sex and opposite-sex marriage ceremonies on equal terms," the brief states.
Neither Hensley nor her legal team at First Liberty Institute were available for comment Wednesday.
According to the Texas judicial commission's 2019 warning, Hensley referred gay couples who wanted her to preside over their marriage ceremony to other people who would officiate. The state's judicial code requires judges to conduct "extra-judicial activities" in ways that don't cast doubt on their impartiality on the bench. The commission issued a public warning, saying she cast doubt "on her capacity to act impartially to persons appearing before her as a judge due to the person's sexual orientation."
According to Dale Carpenter, chair of constitutional law at Southern Methodist University's Dedman School of Law, the U.S. Supreme Court case has little to do with Hensley's case, since one is dealing with private businesses, and Hensley is a government official acting in an official capacity. Carpenter has written extensively on the Colorado case and agreed with the 6-3 Supreme Court decision. He says the two cases are similar in that they include services to a same-sex couple, but "that's where the similarities end."
"The service in [Henley's] case is the service of a government official, so if 303 Creative had involved that government denying services to a same-sex couple, then that'd be a very different case," Carpenter maintained. "I don't think 303 helps the judge's case at all."
He believes this is the first of a "slew" of cases that will be coming through the state and country that will attempt to expand the reach of the Colorado case and when LGBTQ+ people can be denied certain services on First Amendment grounds.
"This is going to have to be worked through the judicial system, including trial courts and appellate courts, over a period of probably several years at this point because 303 Creative is going to lead us to see many, many more of these cases," Carpenter said.
Josh Blackman, a constitutional law professor at the South Texas College of Law Houston, says it's also important to understand that if the Texas Supreme Court were to rule in Hensley's favor, they "would have to expressly extend the holding of 303 Creative" to her case. This means that Hensley's case goes beyond the current bounds of what the SCOTUS decision says.
Johnathan Gooch, a spokesperson for Equality Texas and a University of Texas at Austin School of Law graduate reiterated Carpenter's points on the differences between the two cases, and pointed to Hensley's position as a purveyor of the law.
"The law of the land is marriage equality. It's as simple as that," Gooch said. "If judges and justices of the peace were empowered to only enforce the laws that they agreed with, we would quickly descend into anarchy."
Carpenter says the implications of Hensley's case are hard to predict, since the Texas Supreme Court has agreed to hear arguments only on whether to revive the lawsuit, not if the lawsuit has merit. He believes it will be a long time before Hensley's lawsuit has real effects.
Conversely, Ash Hall, an ACLU of Texas policy and advocacy strategist, believes that the case could be substantial, if the lawsuit is eventually won.
"If Judge Hensley were to actually win this case, it would basically gut a good portion of marriage equality that we got," Hall said. "Your ability to get married then would be dependent on your ZIP code and kind of what resources were around you."
LGBTQ+ activists aren't surprised by Hensley's attempt to use the SCOTUS case in her favor. Some say a continual onslaught of anti-LGBTQ+ bills passed in the Texas Legislature have left them numb.
"I have nothing to say anymore," said Verniss McFarland, founder and executive director of the Mahogany Project, which advocates for LGBTQ+ communities of color. "As a Black trans femme person, we are already on the margins. When something like this happens, it's just like: 'Oh, this again.'"
Hall says that the ACLU was not surprised by Hensley trying to use the 303 Creative case. They said once the SCOTUS decision was passed down, they all bolstered themselves, preparing for the lawsuits that they knew were on the way.
"Traditionally, that is what has happened: When the courts have ruled in a way that gives people an option to refuse service or discriminate against other people, you get a whole bunch of court cases pertaining to that to see how far they can take it," Hall said. "It's not surprising, just disappointing."
Disclosure: Equality Texas, Southern Methodist University and University of Texas at Austin have been financial supporters of The Texas Tribune, a nonprofit, nonpartisan news organization that is funded in part by donations from members, foundations and corporate sponsors. Financial supporters play no role in the Tribune's journalism. Find a complete list of them here.
The Texas Tribune is a nonpartisan, nonprofit media organization that informs Texans — and engages with them – about public policy, politics, government and statewide issues.
Texas consistently leads the nation in attacks on trans people. Here's how Houstonians are fighting back.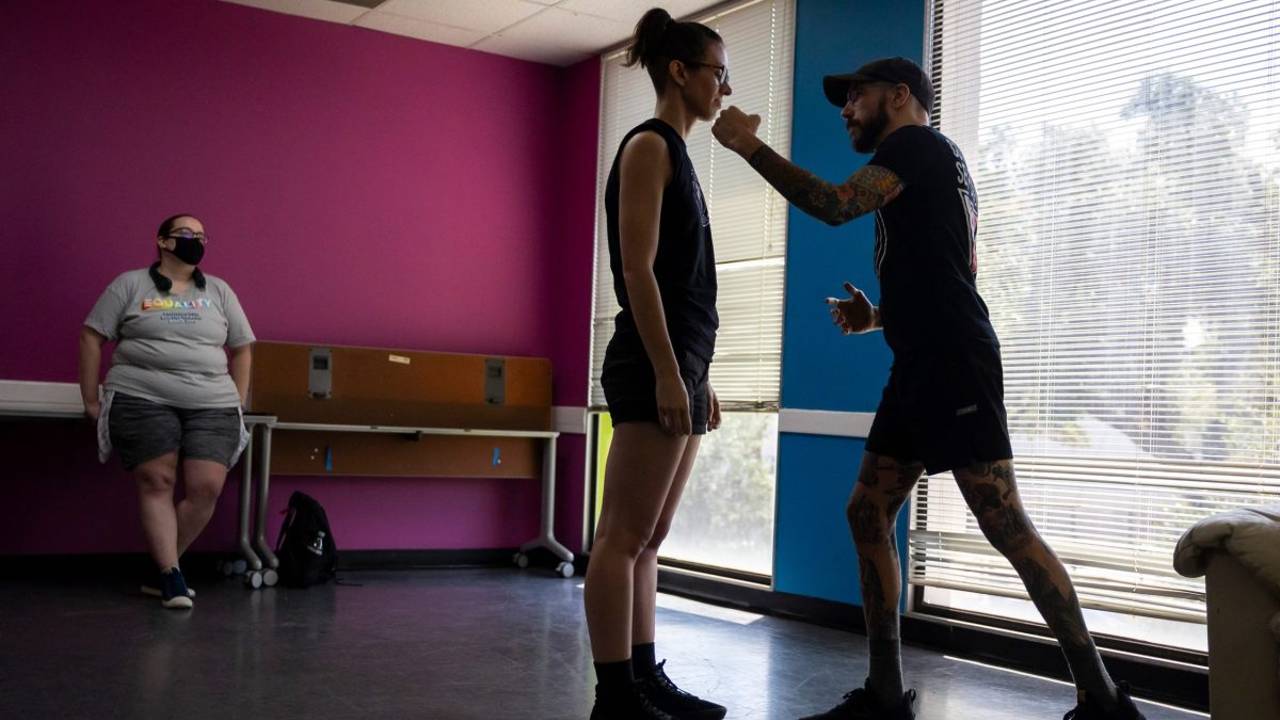 After attending the Houston Pride parade in June, Søren Beregan just wanted to dance. Beregan, a trans man, and his partner, who is nonbinary, were enjoying themselves at a Montrose-area nightclub when a man approached them.
"I'm better than you," the man said aggressively.
Caught by surprise, Beregan laughed it off. "In a way it felt almost affirming as a trans guy to have a cis guy feel threatened by me," he said, using a shortened form of the word cisgender, which means someone whose gender identity corresponds to their sex at birth. "But then later, I was like, wow, that sucks. It is scary to walk around in public … and know that there are people who are upset seeing you just living your life."
Although he didn't show it, Beregan felt helpless. In the past, when he was femme-presenting, he occasionally wore dresses and heels. "I was never taught how to fight. I was never taught how to defend myself. It was always 'have a guy around you,'" he said.
But since transitioning over a year ago, things are different. He wants to be self-sufficient at a time where there have been increased attacks and hateful rhetoric against his community statewide.
On a recent Saturday morning, Beregan was among roughly 20 attendees in a de-escalation and self-defense workshop at the Montrose Center aimed at training participants on how to defend themselves from a physical attack, in lieu of carrying a gun.
It's one of the ways that some trans Houstonians are taking matters into their own hands to protect themselves in Texas, a state that introduced more anti-LGBTQ+ and anti-transgender bills than any other state this year, and at a time when data shows anti-LGBTQ+ rhetoric is on the rise.
Texas lawmakers passed three bills this year that impact trans rights: Senate Bill 12, which bans "sexually oriented performances" – a term originally used to classify drag shows – in the presence of minors; Senate Bill 14, which bans medical care for trans youth to treat gender transitioning or gender dysphoria; and Senate Bill 15, which requires trans college athletes to compete on sports teams based on their biological sex. SB 14 and SB 15 went into effect on Sept. 1, while SB 12 awaits a final ruling from a federal judge in Houston after the ACLU of Texas challenged the law on behalf of several LGBTQ+ organizations.
"With all the anti-trans legislation in Texas, it's like we're the next target," said George Zemanek, the president of Transmasculine Alliance Houston. The group, which organized the weekend workshop, provides community support to anyone assigned female at birth who is questioning their gender or who identifies as non-binary, female-to-male or transmasculine – a term that includes both trans men and nonbinary people assigned female at birth who define their gender as masculine, or who seek medical transition towards masculinization.
Zemanek said the thinking behind the quarterly workshops was, "Let's do a physical safety training and let's talk about all these things, because it may become an issue."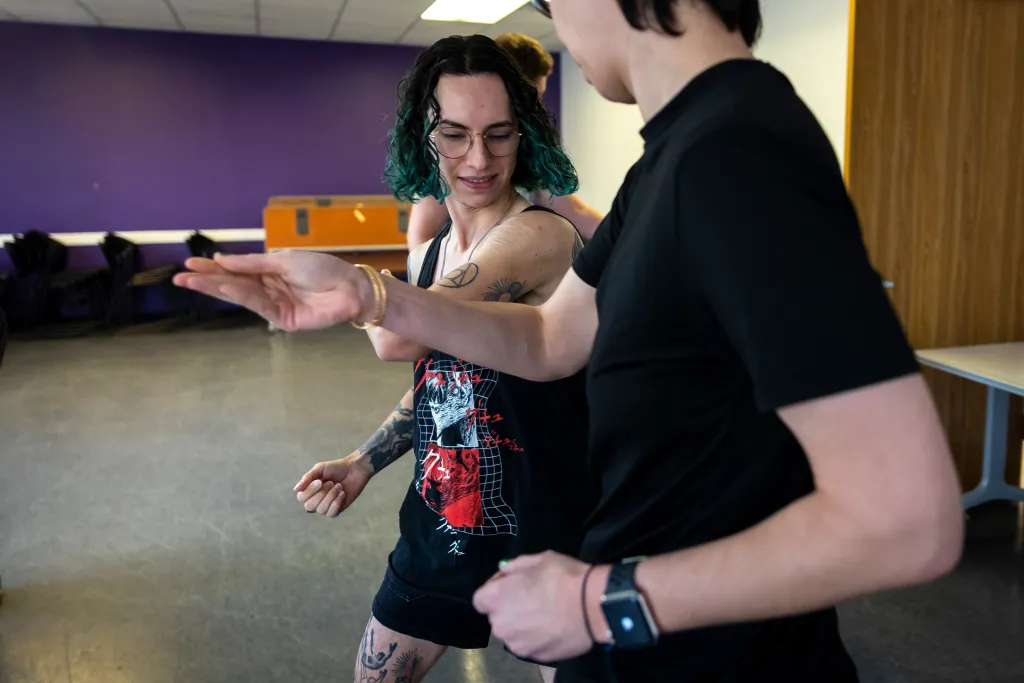 The secret weapon
Trainers from Third Ward Jiu-Jitsu, a nonprofit organization that aims to provide affordable and inclusive self-defense training,led the workshop, which focused on de-escalation tactics and skills such as dodging a punch, or how to twist away if someone grabs your wrist. Instructors also reminded attendees to remain vigilant and put their phones away in public.
"If you're just walking around with your head down like this the whole time, it is the perfect opportunity for someone to attack," said Andrew Degar, the cofounder of the group, while demonstrating.
A studious Beregan meticulously watched as the instructors broke down different techniques. "I'm a little guy and [when] I do that frame, how do I then quickly back out of that position so that I'm not then just gripped by this giant?" he asked Degar, physically demonstrating the scenario he had in mind.
Other participants haven't experienced physical attacks, but wanted to be proactive.
"I go to the University of Houston. I take public transit so I'm often out and about, so I thought knowing something about breaking away from grabs and getting away from people could be helpful," said 31-year old Ed Kneelan who took turns practicing with the other participants.
"Fortunately I haven't had anything fishy happen ever, but I know that can happen, so I think it's better to be prepared," he said.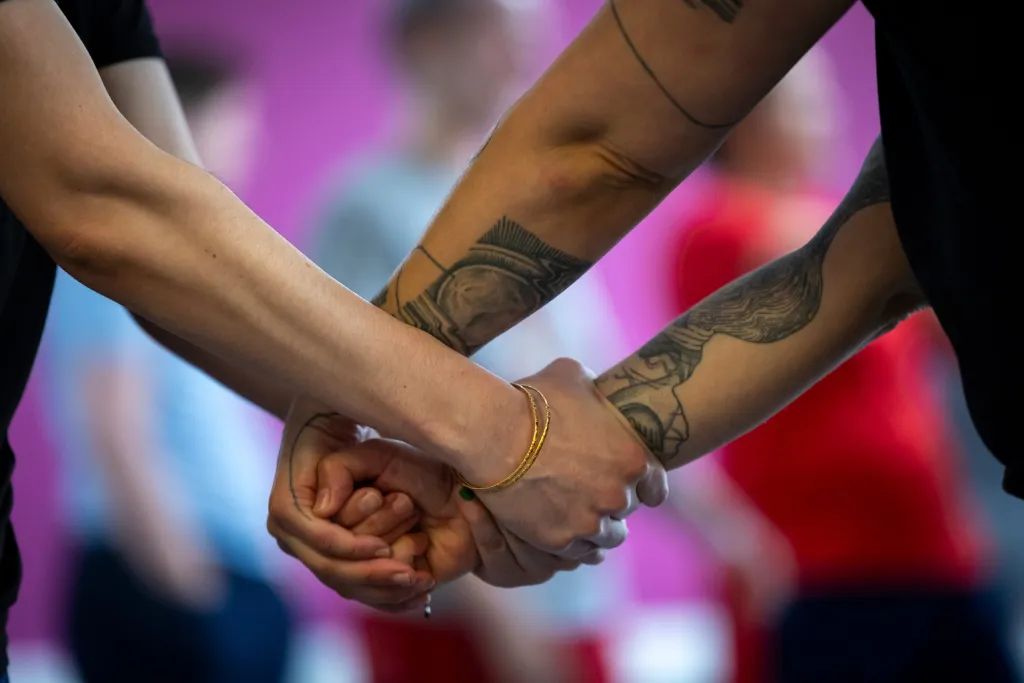 A proactive approach
By taking a proactive approach, Zemanek believes that it will empower the trans community to be aware and know what to do in situations like a public protest, where people may be at an increased risk of physical violence.
"I foresee that at some of these protests against anti-trans legislation, you're gonna start to see trans people getting arrested," he said. "Some of these protests can be pretty wild."
A spokesperson from GLAAD, an LGBTQ+advocacy organization, confirmed to the Landing that there have been 209 anti-LGBTQ incidents targeting drag events nationwide since early 2022. Texas consecutively had the most incidents and threats with 21 reported incidents so far this year, and 27 reported incidents in 2022, a representative said via email.

An April update on its 2022 analysis noted that there was an uptick in attacks beginning in Pride season that year, which is typically during June, and continuing through the midterm election cycle. At this year's Pride celebration in Houston, participants spoke to the Houston Landing about the apprehension they felt due to the wave of anti-trans legislation. "You never know, there's crazy people that do things that you don't expect," Carlos Gallardo told the Landing while celebrating Pride in Montrose.
It's not just physical attacks and threats that have rattled the trans community. A joint report from GLAAD and the Anti-Defamation League released in June found that anti-LBGTQ rhetoric and harassment has also increased within the last year, with more than 350 hate and extremist incidents recorded in the U.S.; Texas had the third most with 30 incidents.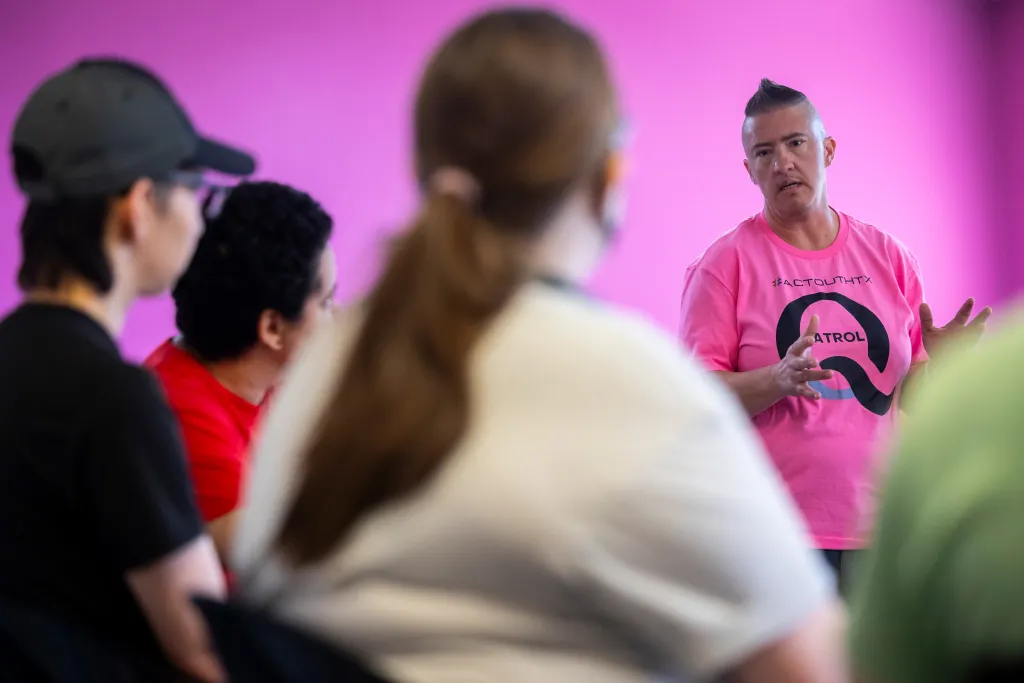 The return of community patrolling
The rise of anti-LGBTQ+ incidents over the last several years has motivated community activists like Ethan Ganz. He is the co-founder of the Montrose Residents Coalition, a group that is joining forces with the nonprofit Affinity Coalition To Overcome Unethical Theories HTX (ActOutHTX) to revive the work of a Montrose-area volunteer surveillance group called Q-Patrol, which launched in 1991 but dissolved in 2002 due to financial woes, newspaper archives show.
"I really think it's necessary now," he said to participants assembled in a circle following the training.
A group of citizens organized Q-Patrol shortly after the murders of Paul Broussard and Phillip Smith, two gay men who were killed outside a gay nightclub in Montrose. Their brutal deaths sparked civil unrest locally, led to national discussions and prompted the Houston Police Department to launch an undercover initiative, dubbed Operation Vice Versa, where officers masqueraded as gay men. Officers were attacked in multiple incidents and many people were arrested within two weeks, according to the website Houston LGBTQ History and ABC13.
Originally Q-Patrol worked in tandem with the police, but now, "That's not really what they're trying to do," Ganz said. "A lot of our people do not feel safe around the police," he added.
In the 1990s when the original Q-Patrol reigned, it was illegal to carry a handgun openly or concealed without a license, but open carry was made legal in 2021. Ganz still discourages open carry of any firearms, but said volunteers can carry a concealed weapon, mace or a taser at their discretion.
Beregan is uncomfortable carrying a gun and can't pocket his mace or pepper spray into most bars, so he views self-defense as his best weapon. After taking a few classes recently, he now feels better equipped to defend himself and plans to continue training with the Third Ward Jiu Jitsu's monthly LGBTQ+ focused self-defense classes. But he has no plans of joining Q-Patrol at this time.
Acknowledging their limits, Ganz said the goal of Q-Patrol is to help people before police need to get involved.
"So if we see somebody that's alone, we'll walk them to the car. We see someone drunk in the street, we might engage with them and see what we can do to help them. This is more about being seen engaging our community, taking care of each other." Ganz said they will also carry power banks to help people charge their phones to call a ride.
More training is needed in de-escalation, CPR, first aid, and, eventually, shooter response practice and Narcan training to ensure safety, Ganz said, but he anticipates Q-Patrol will hit the Montrose streets soon.
The Houston Landing is a nonprofit newsroom devoted to public service journalism for all Houstonians.
This article first appeared on the Houston Landing and is republished here with permission.
Federal judge bars Texas from enforcing book rating law
House Bill 900 requires book vendors to rate all their materials based on their depictions or references to sex before selling them to schools. Vendors say the law aims to regulate protected speech with "vague and over broad" terms.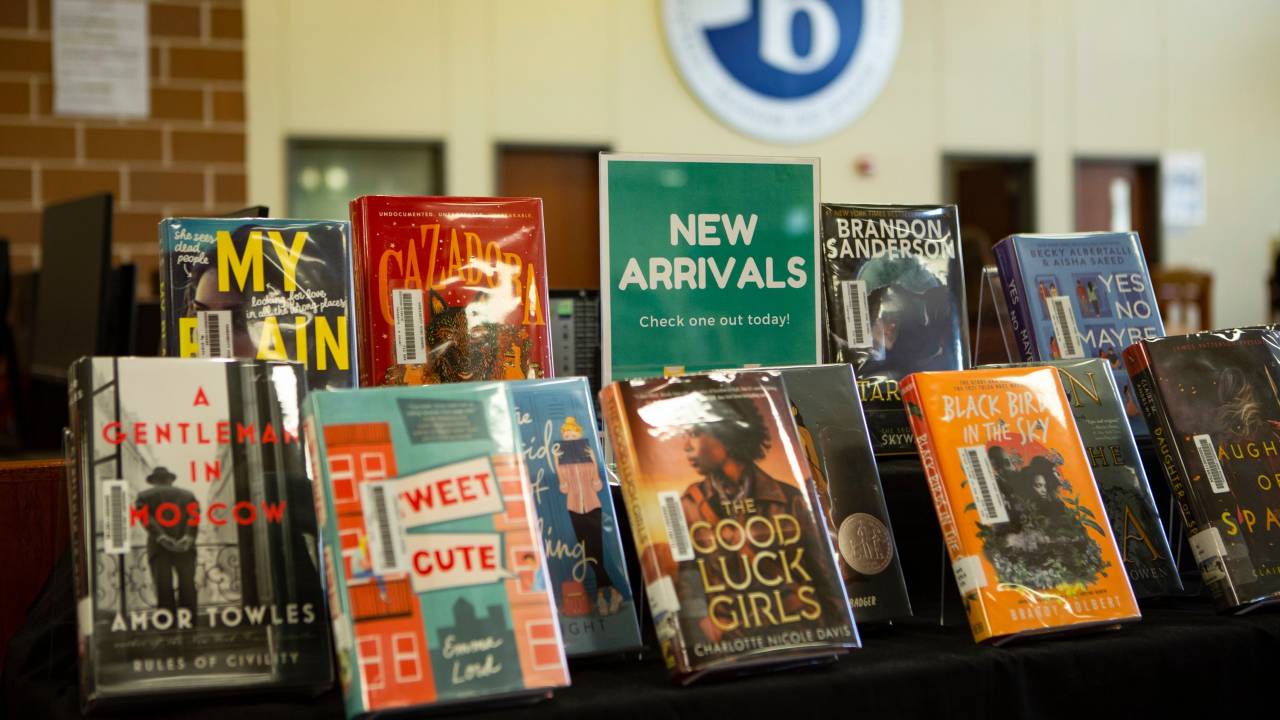 This article originally appeared in The Texas Tribune

A federal judge said Thursday he will stop a new Texas law aimed at keeping sexually explicit materials off of school library shelves on the eve of the law going into effect, according to state attorneys and lawyers for a group who sued over the proposal.
District Judge Alan D. Albright indicated during a hearing that he will grant a temporary injunction sought by a group of book groups and sellers, including two Texas bookstores, who sued the state over House Bill 900 in July, the group's lawyers said in a statement. Albright will issue a written order in one to two weeks; in the meantime, the state cannot enforce the law, according to the statement.
HB 900, which was approved during this year's regular legislative session, requires school library vendors to rate all their books and materials for appropriateness before selling them to schools based on the presence of sex depictions or references. It also requires vendors to rank materials previously sold to schools and issue a recall for those that are deemed sexually explicit and are in active use by a school.
The plaintiffs argue that the law violates their constitutional rights by targeting protected speech with its broad and vague language. The lawsuit further alleges HB 900 would force plaintiffs to comply with the government's views, even if they do not agree with them, and that the law operates as prior restraint, which is government action that prohibits speech or other expression before the speech happens. The vendors say it is impossible for them to comply with the rating system because of the sheer volume of materials they would need to review.
The law also calls for creating state school library standards that prohibit sexually explicit materials, requiring parental consent for students to check out materials classified by vendors as "sexually relevant" and giving the Texas Education Agency authority to review a vendor's rating. If the TEA disagrees with the vendor's rating and gives it a different one, the vendor must use the agency's rating. Vendors who do not will be added to a list of vendors that schools cannot buy library materials from.
During the bill's legislative hearings, librarians and legal experts shared concerns and worries that its language would ensnare books that are not inappropriate and, to the contrary, may be titles important for students whose lived experiences may not be reflected in other literature.
The proposal, from Rep. Jared Patterson, R-Frisco, arrived amid an ongoing debate about what materials are appropriate to be stocked in school and public libraries. Patterson and supporters of such regulations say libraries are infested with inappropriate books that must be vetted and removed.
However, skeptics of that panic and literary advocates counter that the books singled out by politicians often explore sexuality and race, topics that have been swept up in culture-war politics but remain important for youth who may not be comfortable talking about such matters with others.
Despite the concerns, HB 900 sailed through the legislative process before Gov. Greg Abbott signed it in June. It was set to go into effect Friday; however, the law's language suggests the new requirements won't have to be fulfilled immediately.
Most, if not all, of the state's roughly 5.4 million public schoolchildren have already begun the 2023-2024 school year.
The lawsuit's plaintiffs include two bookstores, Austin's BookPeople and West Houston's Blue Willow Bookshop, as well as the American Booksellers Association, the Association of American Publishers, the Authors Guild and the Comic Book Legal Defense Fund.
The Texas Attorney General's office said Thursday it would move to reverse the injunction and appeal the judge's decision. The office had not received the judge's written order or decision by Thursday afternoon, a spokesperson said.
A court representative for Albright did not respond to an inquiry about his comments during Thursday's hearing, reported by the plaintiffs' lawyers and on social media by at least one plaintiff.
"We are grateful for the court's swift action in deciding to enjoin this law, in the process preserving the long-established rights of local communities to set their own standards; protecting the constitutionally protected speech of authors, booksellers, publishers and readers; preventing the state government from unlawfully compelling speech on the part of private citizens; and shielding Texas businesses from the imposition of impossibly onerous conditions," the plaintiffs said in a joint statement after the hearing. "We look forward to reading the court's full opinion once it is issued."
The Texas Tribune is a nonpartisan, nonprofit media organization that informs Texans — and engages with them – about public policy, politics, government and statewide issues.
Federal judge issues temporary restraining order, says Texas law banning drag shows is "likely" unconstitutional
U.S. District Judge David Hittner heard from LGBTQ+ groups, businesses and a drag performer in a hearing this week, who argued Senate Bill 12 violated their First Amendment rights.
This article originally appeared in The Texas Tribune

U.S. District Judge David Hittner temporarily blocked a new state law Thursday from going into effect that would have criminalized sexually-oriented performances in front of children or effectively banned some public drag shows.
LGBTQ+ groups sued the Texas attorney general's office, hoping to stop authorities from enforcing Senate Bill 12, which was signed by Gov. Greg Abbott in June and was scheduled like most new laws to go into effect Friday.
In a two-day hearing earlier this week in Houston, a drag performer and entertainment businesses said Texas lawmakers' effort to regulate these shows was an unconstitutional attempt to stifle their freedom of expression. Though Hittner did not issue a final order on Thursday, he found the plaintiffs' argument compelling.
"Based on evidence and testimony presented at the hearing, the court finds there is substantial likelihood that SB 12 as drafted violated the First Amendment of the United States Constitution under one or more of the legal theories put forward by the plaintiffs," Hittner wrote in the temporary restraining order.
Hittner said allowing the law to take effect would likely cause "irreparable harm" to the plaintiffs. He issued the restraining order to maintain the status quo of the legal landscape while preparing a final decision — the restraining order does not guarantee a permanent injunction. He said his order could come two to four weeks after the hearing.
Hittner heard testimony earlier this week from LGBTQ+ groups, businesses and a performer, which were plaintiffs in one of two lawsuits against SB 12. They argued the law trampled on their First Amendment rights to perform and organize drag shows. They described drag as a healing, expressive and political form of performance art with historical connections to LGBTQ+ people.
"If allowed to take effect, SB 12 will make our state less free, less fair, and less welcoming for every artist and performer," said American Civil Liberties Union of Texas Attorney Brian Klosterboer in a statement following the judge's decision. "This temporary order is a much-needed reprieve for all Texans, especially our LGBTQIA+ and transgender community, who have been relentlessly targeted by our state legislature."
Defending the law, attorneys with the Texas attorney general's office said SB 12 was narrowly tailored to protect children from sexually-explicit performances. The new law did not explicitly ban drag shows, lawyers for the state said, and these performances should not be considered expressive or receive First Amendment protections.
However, shortly after signing the law, Abbott shared a story on social media about SB 12's passage and declared he had banned drag performances in public.
"The people of Texas were appalled to learn of an increasing trend of obscene, sexually explicit so-called 'drag' performances being marketed to families with children," said Paige Willey, the director of communications for the attorney general's office. "The Office of the Attorney General will pursue all legal remedies possible to aggressively defend SB 12, the state law that regulates such performances to protect children and uphold public decency."
Under the new law, business owners would have had to face a $10,000 fine for hosting sexually explicit performances in which someone is nude or appeals to the "prurient interest in sex." Performers caught violating the proposed restriction could be slapped with a Class A misdemeanor, which carries a maximum penalty of a year in jail and a $4,000 fine.
Texas is one of six states that have passed a bill restricting "adult" or drag performances, according to the Movement Advancement Project, a nonprofit that tracks legislation related to LGBTQ+ issues.
Legal challenges to similar legislation in Florida, Montana and Tennessee have successfully blocked these laws from going into effect. In June, a federal judge in Tennessee, appointed by former President Donald Trump, ruled the law is unconstitutional in its effort to suppress First Amendment-protected speech.
The Texas Tribune is a nonpartisan, nonprofit media organization that informs Texans — and engages with them – about public policy, politics, government and statewide issues.