Texas AG Ken Paxton pushes court to reconsider injunction halting investigations into affirming care
In the state's final brief to appeal a September injunction that halted the investigation into Texas parents of transgender children, Paxton argued that individual families must provide evidence of harm from the actions of the Department of Family and Protective Services.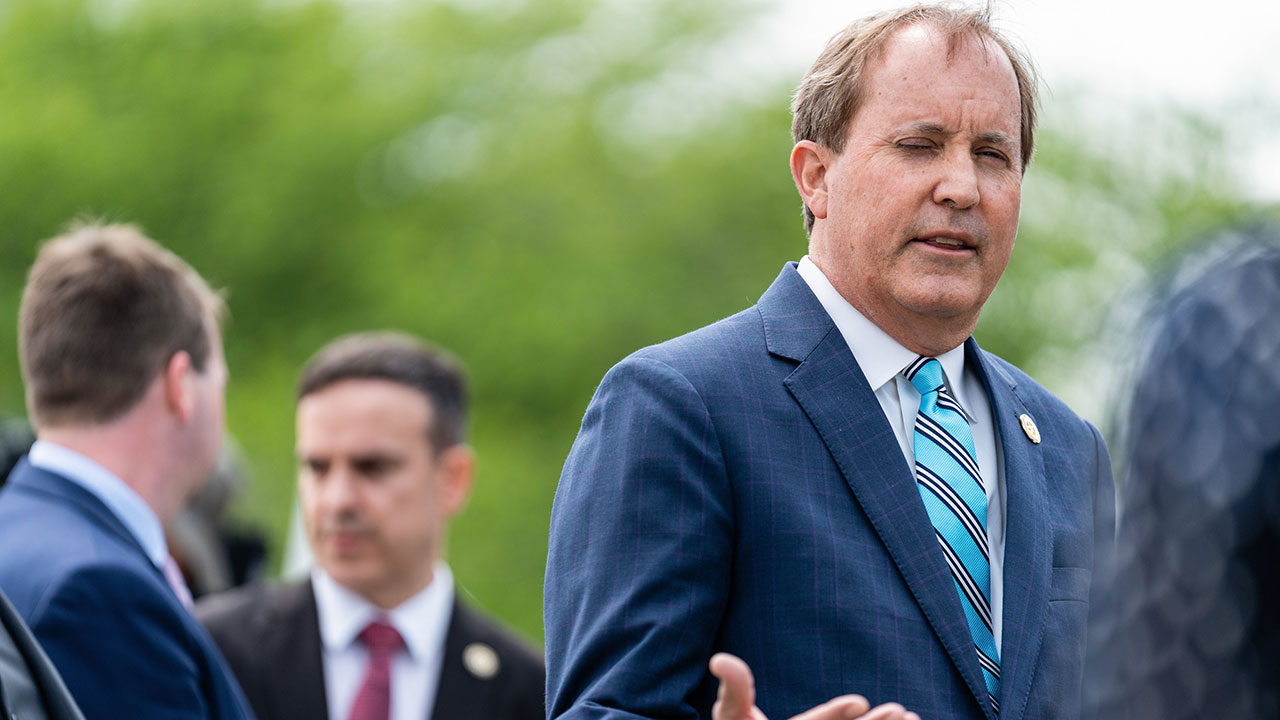 This article originally appeared in The Texas Tribune

Attorney General Ken Paxton, in an appeal, is asking the courts to lift an injunction that stopped the state from conducting child abuse investigations over transition-related medical care for transgender youth. Paxton argued that the families — belonging to PFLAG, an LGBTQ advocacy group — did not suffer injuries as a result of the Department of Family and Protective Services' investigations.
A June lawsuit against the state, filed by the American Civil Liberties Union and Lambda Legal representing the families of transgender youth, resulted in a temporary injunction which paused the DFPS investigations, ordered by Gov. Greg Abbott earlier last year.
Paxton filed the brief on Friday in response to the plaintiffs' request that the injunction be upheld in January. In his reply, Paxton sought to overturn that court-order injunction issued in September.
The 3rd Court of Appeals will determine if the injunction will hold up, either by hearing from both sides in oral arguments or simply ruling on the briefs filed. Until then, the injunctive relief will remain in place, according to Karen Loewy, senior counsel and director of constitutional law practice for Lambda Legal.
"There was nothing new about the State's arguments at all, and thus far, they've been rejected by every court that has heard them," Loewy said in an email.
If the court sides with Paxton, it's not clear if the DFPS investigations of parents of trans kids would resume. The agency declined to comment on the litigation.
Leading medical organizations across the country say transition-related medical care is the best way to provide care for transgender youth. It can involve social transitions, such as using a certain name or pronouns or wearing clothes that express one's gender identity. It can also include puberty blockers and hormone treatment. Surgery is rarely, if ever, performed on teenagers.
Paxton said the families have not experienced specific injuries stemming from these investigations, arguing that parents have not lost custody of their children as a result of the investigation and therefore that claim has no standing.
"Thus, [families] have not been injured and their suit is not ripe until their injury is imminent or has already occurred," Paxton wrote in his appeal.
PFLAG asserted that the state interfered with their parental rights, which are guaranteed in the Texas Constitution. Abbott's directive ordering DFPS to investigate families has instilled fear in LGBTQ youth who are afraid the state will separate them from their parents. Abbott's order even forced one family to flee the state.
Paxton also said that PFLAG, which has 600 members, shouldn't be allowed to stand in for families who could be investigated for child abuse. He said the individual families must participate in the lawsuit in order to provide evidence of injury by the particular investigations directed by Abbott.
Patrick Crimmins, a DFPS spokesperson, said the agency has received 16 reports to investigate through a hotline, 15 of which have led to investigation. Of those, 12 have been closed, three are open — though the agency is not pursuing them due to the injunction.
In February 2022, following a nonbinding legal opinion from Paxton, Abbott directed the DFPS to investigate parents who provide transition-related medical care to their transgender children.
One month later, a family of a transgender teen who was investigated by DFPS sued the state, which led to a district judge granting an injunction, blocking the state from continuing these investigations or opening new ones. The Texas Supreme Court has ruled that Abbott had no grounds to direct DFPS to investigate these families but overturned the statewide injunction on procedural grounds.
In September, Travis County District Judge Amy Clark Meachum granted an injunction, related to the June lawsuit, blocking investigations of PFLAG members who provide transition-related medical care to their transgender children.
Abbott and Paxton's offices did not respond to requests for comment for this story.
Sneha Dey contributed to this report.
The Texas Tribune is a nonpartisan, nonprofit media organization that informs Texans — and engages with them – about public policy, politics, government and statewide issues.
Under Katy ISD gender policy, student identities disclosed to parents 19 times since August
Public records obtained by the Houston Landing offer the first glimpse at how often the new, hotly contested policy has been used to disclose LGBTQ+ students' identities to parents — even if the students aren't ready.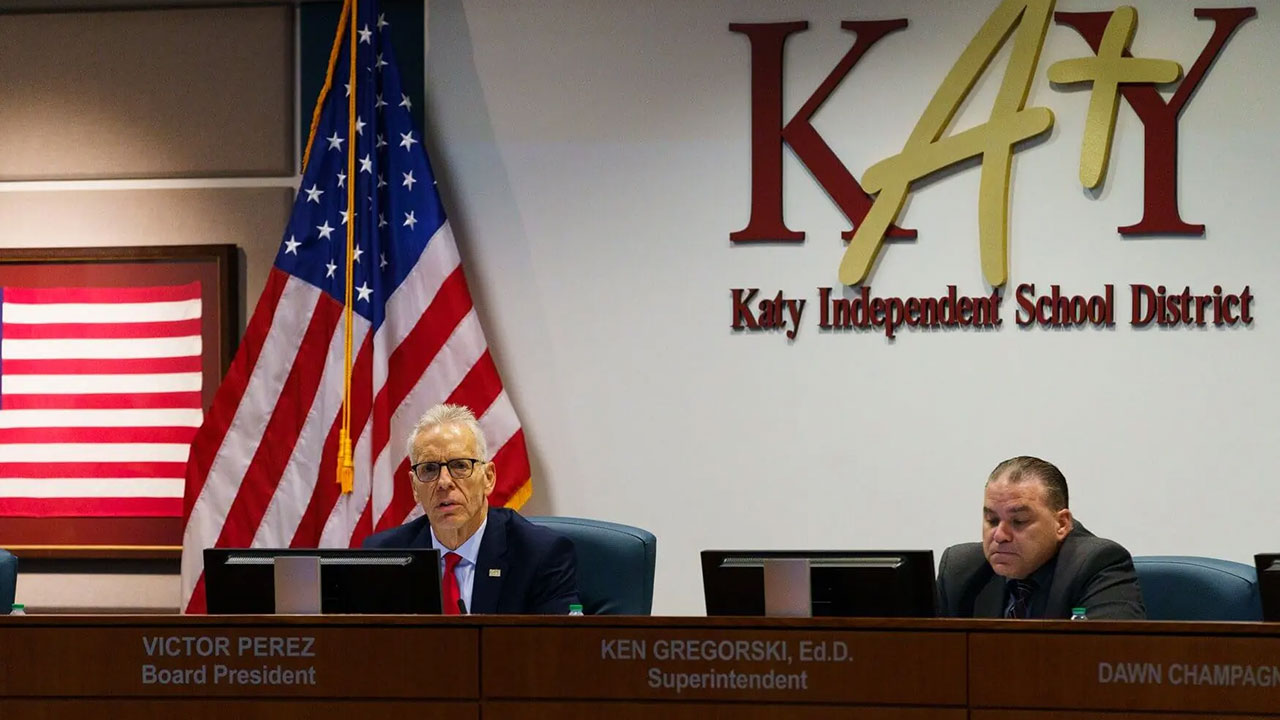 Since narrowly passing a controversial gender policy two months ago, Katy Independent School District has sent 19 notifications informing parents that their child identified themselves as transgender or requested to use different names or pronouns at school.
The number of parental notifications, obtained by the Houston Landing through a public records request, is the first glimpse at how often the new, hotly contested policy has been used to disclose LGBTQ+ students' identities to parents — even if the students aren't ready.
So far, the district averages a notification to a parent roughly once every three days.
The district's policy requires staff to inform parents if their student requests to use different pronouns or names, or if they identify themselves as transgender — and obtain written parental consent to comply with the request. It also prohibits employees from asking for students' preferred pronouns and discussing "gender fluidity," and requires students to use bathrooms that align with their sex assigned at birth.
Jarred Burton, a student leader at Tompkins High School's Sexuality and Gender Alliance, said the number of notifications already sent to parents is both depressing and surprising. Critics, including Katy parents, LGBTQ+ students and local advocates, have blasted the policy as a dangerous measure with the potential to expose students' gender identities to unsupportive parents, further harming a community that already faces a higher risk of mental health issues than their peers.
"It's just sad to see this actually happening," Burton said. "It shows that (the policy) is not a bluff."
Board members who supported the policy hailed it as a measure that would center parents' right to be informed about their child's gender identity and protect teachers from making uncomfortable decisions about concealing such information from parents.
"(Parents are) supposed to be looking after the health and welfare of their child," Board President Victor Perez said at a late August meeting. "Withholding that information from the parent, that is a great burden on staff."
It's unclear how many parents were already aware of their child's gender identity. District officials also did not make any board members available for an interview on the matter.
"The policy is intended to provide parents and guardians the opportunity to be made aware of their child's name change request, and the opportunity to grant or deny approval of said request," Katy spokesperson Nick Petito said in a statement Wednesday.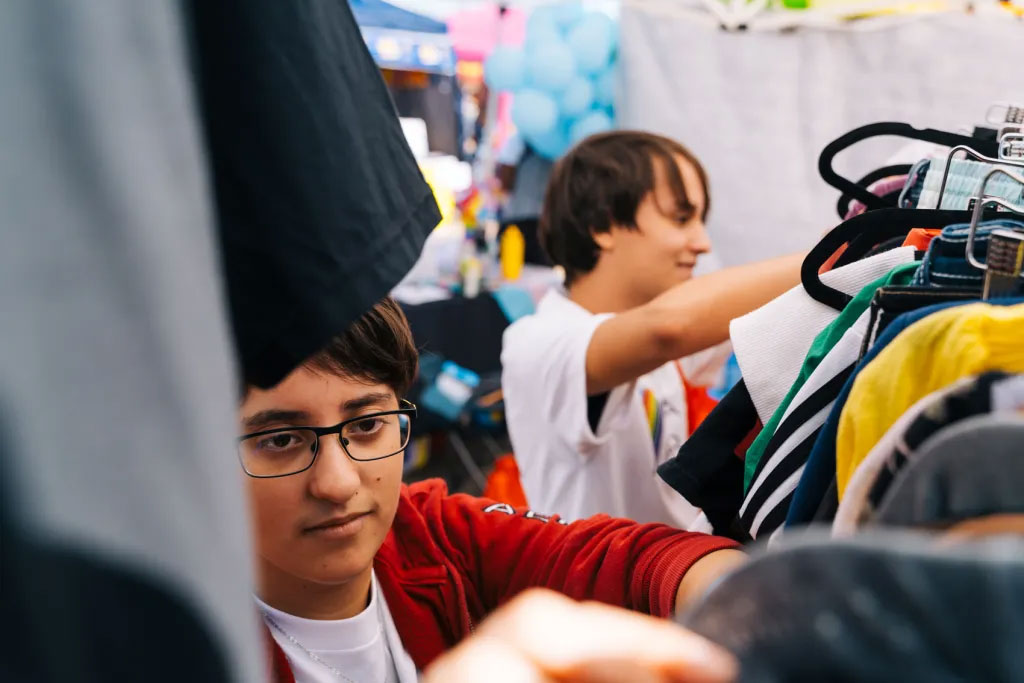 Ash Thornton, a transgender man and a junior at Tompkins High School, said the number of notifications being sent home will discourage LGBTQ+ students from feeling safe to explore their identities.
"It signals that it's something bad, them being transgender or expressing gender in a way that's different," Thornton said. "It definitely messes up student-teacher relationships."
Employees are not required to comply with a student's name or pronoun change even if a parent gives consent, the policy states.
One staff member on every campus is responsible for processing and sending notifications to parents and guardians, Petito said. The policy makes an exception for "cases of suspected abuse."
Students belonging to LGBTQ+ clubs have told the Landing the policy has caused their schools to become less of a safe space and has instilled fear among LGBTQ+ youth in Katy.
"There's just been this looming cloud of dread over a lot of people," Burton said in a September interview. "There's gonna be a lot of people that get in trouble by their parents or get hurt. … It just sometimes keeps me up at night a little bit because it's hard to imagine how much hate people can have to pass something like this."
The number of notifications sent to parents to date leaves Thornton to wonder what else is to come.
"It's only been two months and there's already 19, how many more people are going to be affected by even just the end of the semester?" he said.
The Houston Landing is a nonprofit newsroom devoted to public service journalism for all Houstonians.
This article first appeared on the Houston Landing and is republished here with permission.
Texas' ban on certain drag shows is unconstitutional, federal judge says
Senate Bill 12 would have prohibited performers from dancing suggestively or wearing certain prosthetics in front of children. Critics sued the state, saying it violated the First Amendment.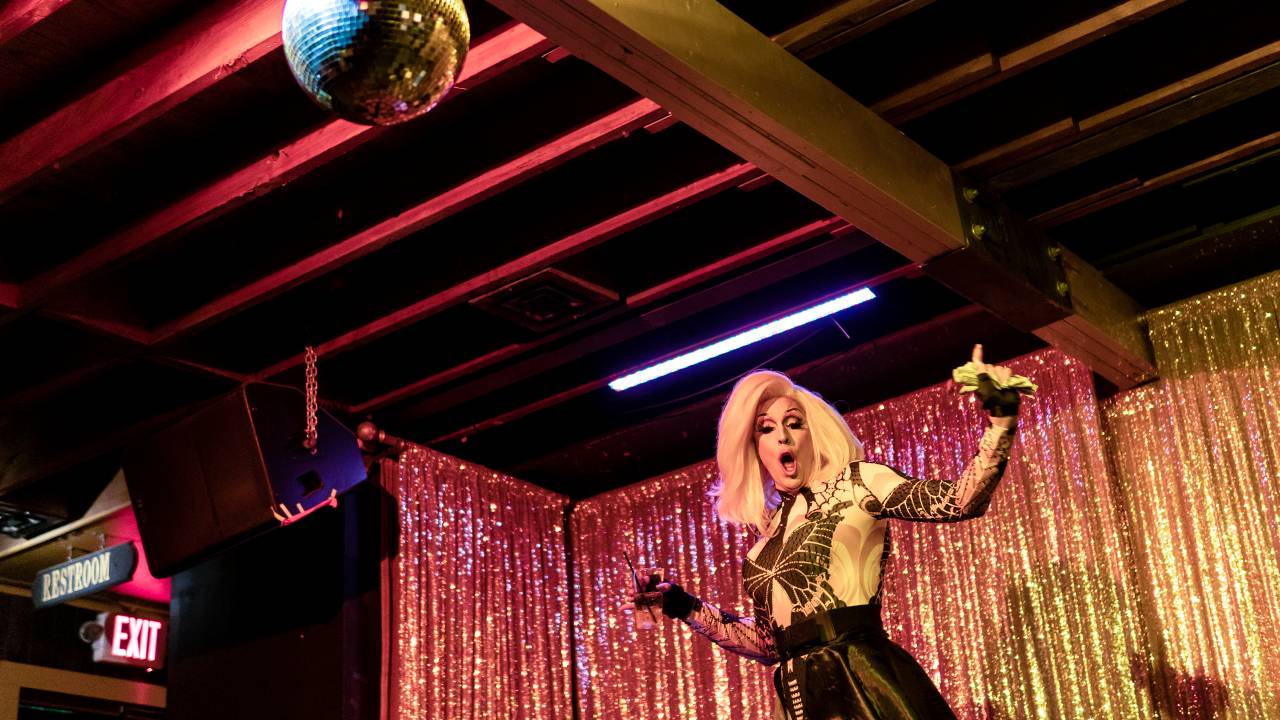 This article originally appeared in The Texas Tribune

Texas cannot enforce a new law that restricts some public drag shows, a federal judge said Tuesday in declaring the legislation unconstitutional.
U.S. District Judge David Hittner found Senate Bill 12 "impermissibly infringes on the First Amendment and chills free speech." The struck-down law prohibited any performers from dancing suggestively or wearing certain prosthetics in front of children.
Hittner ruled that language discriminated based on viewpoint and is unconstitutionally overbroad and vague.
"The Court sees no way to read the provisions of SB 12 without concluding that a large amount of constitutionally-protected conduct can and will be wrapped up in the enforcement of SB 12," the ruling reads. "It is not unreasonable to read SB 12 and conclude that activities such as cheerleading, dancing, live theater, and other common public occurrences could possibly become a civil or criminal violation."
The plaintiffs who sued the state celebrated the order, saying in statements shared by their lawyers that the decision affirmed their rights to express themselves.
"I am relieved and grateful for the court's ruling," drag performer Brigitte Bandit said. "My livelihood and community has seen enough hatred and harm from our elected officials. This decision is a much needed reminder that queer Texans belong and we deserve to be heard by our lawmakers."
Republican state Sen. Bryan Hughes, who authored SB 12, defended the bill and pledged to challenge the ruling. The Texas Attorney General's Office will appeal the ruling, a spokesperson said.
"Surely we can agree that children should be protected from sexually explicit performances. That's what Senate Bill 12 is about," Hughes said. "This is a common sense and completely constitutional law, and we look forward to defending it all the way to the Supreme Court if that's what it takes."
Critics of the bill, though, say that Republican lawmakers and officials this year have incorrectly — and unfairly — portrayed all drag performances as inherently sexual or obscene.
While SB 12 was originally billed as legislation that would prevent children from seeing drag shows, the final version did not directly reference people dressing as the opposite gender.
However, Republican leaders, including Gov. Greg Abbott, made it clear that drag shows were the bill's target — comments and history that Hittner wrote "the court cannot ignore."
Last month, Hittner temporarily blocked SB 12 from taking effect on Sept. 1 after a two-day hearing for a lawsuit filed against the state by a drag queen and LGBTQ+ groups.
LGBTQ+ Texans, advocates, artists and business groups who sued the state, argued that the law discriminates against the content of performances and restricts equally protected free expression that is protected under the First and 14th Amendments.
In Tuesday's 56-page ruling, Hittner noted a survey of court decisions "reveals little divergence from the opinion that drag performances are expressive content that is afforded First Amendment protection."
"Drag shows express a litany of emotions and purposes, from humor and pure entertainment to social commentary on gender roles," the ruling reads. "There is no doubt that at the bare minimum these performances are meant to be a form of art that is meant to entertain, alone this would warrant some level of First Amendment protection."
Other states have passed similar legislation restricting drag performance, which have also been struck down by federal courts.
In June, a federal judge in Tennessee, appointed by former President Donald Trump, ruled a law there was unconstitutional in its effort to suppress First Amendment-protected speech.
Bucking that trend, another Texas federal judge last week issued an opinion that supported drag show restrictions.
U.S. District Judge Matthew Kacsmaryk said that West Texas A&M University President Walter Wendler acted within his authority when he canceled a campus drag show. Kacsmaryk wrote that Free Speech jurisprudence had "not clearly established that all 'drag shows' are categorically 'expressive conduct.'"
Hittner acknowledged his Panhandle counterpart's ruling Tuesday. Hittner pointed to a letter in which Wendler explained his reasoning for banning the show, comparing drag to blackface and a slapstick sideshow.
"The president's sentiment reinforces this Court's opinion that while some people may find a performance offensive or morally objectionable, it does not mean the performance is not expressive or given First Amendment protection," he wrote. "Not all people will like or condone certain performances. This is no different than a person's opinion on certain comedy or genres of music, but that alone does not strip First Amendment protection."
LGBTQ+ advocates welcomed Hittner's decision Tuesday.
"Today's ruling is a celebration for the LGBTQ community and those who support free expression in the Lone Star State," GLAAD President and Chief Executive Officer Sarah Kate Ellis. "Texas now joins an increasing number of states whose discriminatory and baseless bans on drag performances are being recognized as unconstitutional and an attack against everyone's freedoms."
William Melhado contributed to this story.
The Texas Tribune is a nonpartisan, nonprofit media organization that informs Texans — and engages with them – about public policy, politics, government and statewide issues.
Texas consistently leads the nation in attacks on trans people. Here's how Houstonians are fighting back.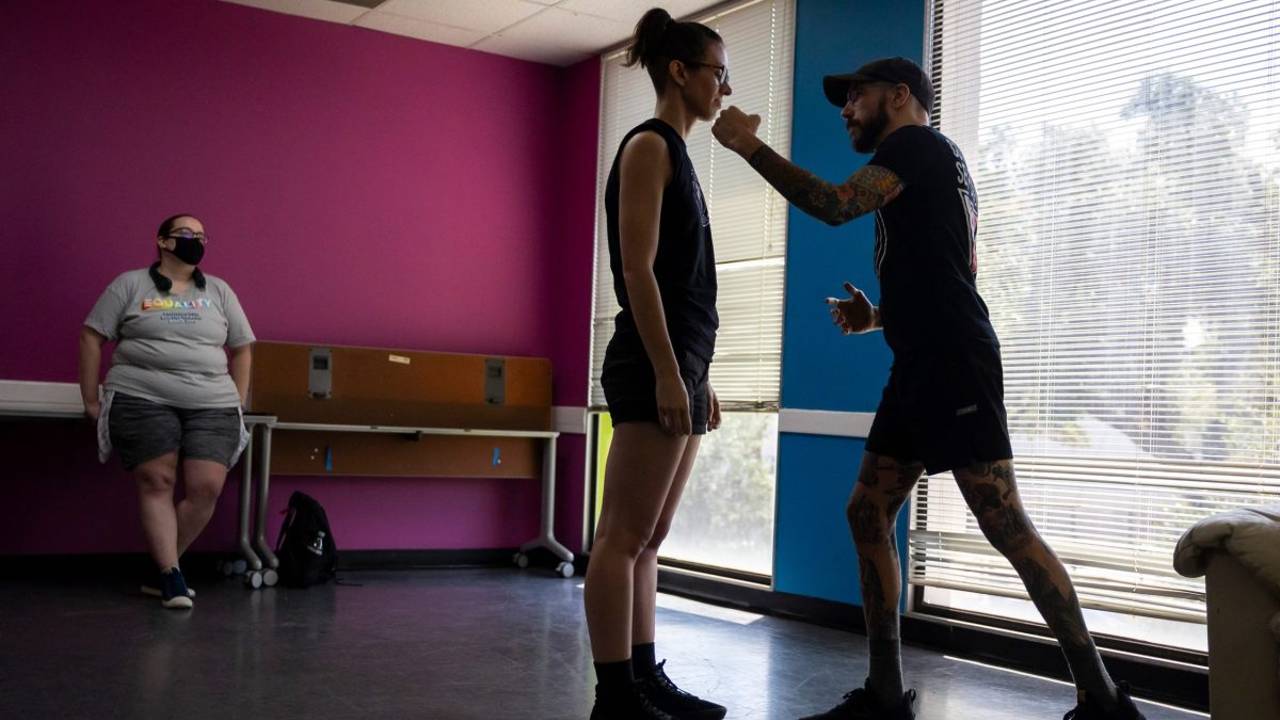 After attending the Houston Pride parade in June, Søren Beregan just wanted to dance. Beregan, a trans man, and his partner, who is nonbinary, were enjoying themselves at a Montrose-area nightclub when a man approached them.
"I'm better than you," the man said aggressively.
Caught by surprise, Beregan laughed it off. "In a way it felt almost affirming as a trans guy to have a cis guy feel threatened by me," he said, using a shortened form of the word cisgender, which means someone whose gender identity corresponds to their sex at birth. "But then later, I was like, wow, that sucks. It is scary to walk around in public … and know that there are people who are upset seeing you just living your life."
Although he didn't show it, Beregan felt helpless. In the past, when he was femme-presenting, he occasionally wore dresses and heels. "I was never taught how to fight. I was never taught how to defend myself. It was always 'have a guy around you,'" he said.
But since transitioning over a year ago, things are different. He wants to be self-sufficient at a time where there have been increased attacks and hateful rhetoric against his community statewide.
On a recent Saturday morning, Beregan was among roughly 20 attendees in a de-escalation and self-defense workshop at the Montrose Center aimed at training participants on how to defend themselves from a physical attack, in lieu of carrying a gun.
It's one of the ways that some trans Houstonians are taking matters into their own hands to protect themselves in Texas, a state that introduced more anti-LGBTQ+ and anti-transgender bills than any other state this year, and at a time when data shows anti-LGBTQ+ rhetoric is on the rise.
Texas lawmakers passed three bills this year that impact trans rights: Senate Bill 12, which bans "sexually oriented performances" – a term originally used to classify drag shows – in the presence of minors; Senate Bill 14, which bans medical care for trans youth to treat gender transitioning or gender dysphoria; and Senate Bill 15, which requires trans college athletes to compete on sports teams based on their biological sex. SB 14 and SB 15 went into effect on Sept. 1, while SB 12 awaits a final ruling from a federal judge in Houston after the ACLU of Texas challenged the law on behalf of several LGBTQ+ organizations.
"With all the anti-trans legislation in Texas, it's like we're the next target," said George Zemanek, the president of Transmasculine Alliance Houston. The group, which organized the weekend workshop, provides community support to anyone assigned female at birth who is questioning their gender or who identifies as non-binary, female-to-male or transmasculine – a term that includes both trans men and nonbinary people assigned female at birth who define their gender as masculine, or who seek medical transition towards masculinization.
Zemanek said the thinking behind the quarterly workshops was, "Let's do a physical safety training and let's talk about all these things, because it may become an issue."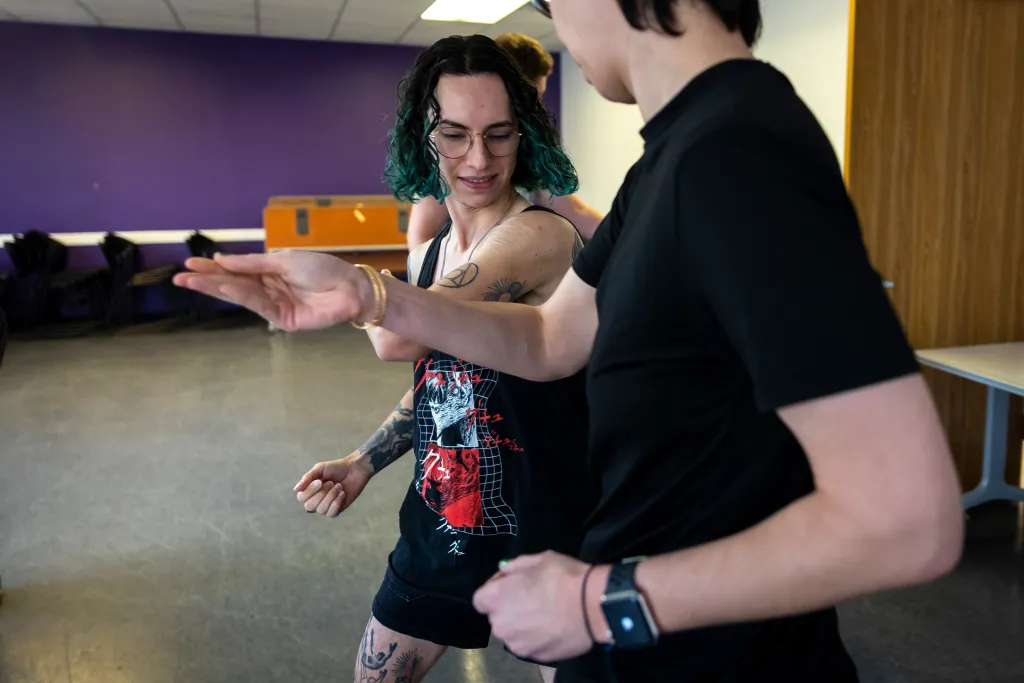 The secret weapon
Trainers from Third Ward Jiu-Jitsu, a nonprofit organization that aims to provide affordable and inclusive self-defense training,led the workshop, which focused on de-escalation tactics and skills such as dodging a punch, or how to twist away if someone grabs your wrist. Instructors also reminded attendees to remain vigilant and put their phones away in public.
"If you're just walking around with your head down like this the whole time, it is the perfect opportunity for someone to attack," said Andrew Degar, the cofounder of the group, while demonstrating.
A studious Beregan meticulously watched as the instructors broke down different techniques. "I'm a little guy and [when] I do that frame, how do I then quickly back out of that position so that I'm not then just gripped by this giant?" he asked Degar, physically demonstrating the scenario he had in mind.
Other participants haven't experienced physical attacks, but wanted to be proactive.
"I go to the University of Houston. I take public transit so I'm often out and about, so I thought knowing something about breaking away from grabs and getting away from people could be helpful," said 31-year old Ed Kneelan who took turns practicing with the other participants.
"Fortunately I haven't had anything fishy happen ever, but I know that can happen, so I think it's better to be prepared," he said.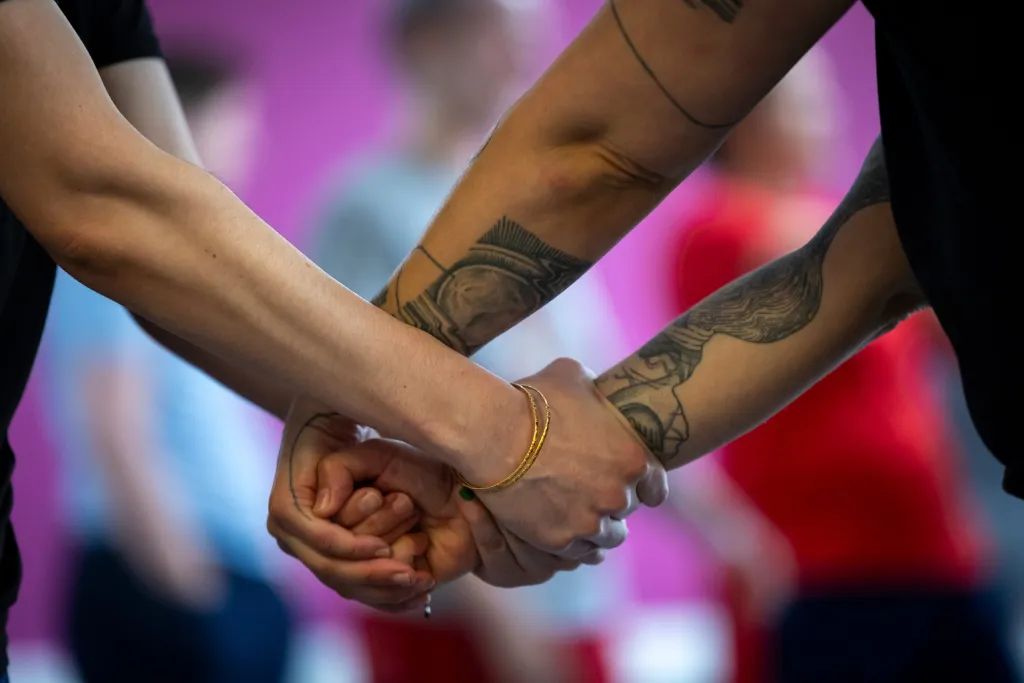 A proactive approach
By taking a proactive approach, Zemanek believes that it will empower the trans community to be aware and know what to do in situations like a public protest, where people may be at an increased risk of physical violence.
"I foresee that at some of these protests against anti-trans legislation, you're gonna start to see trans people getting arrested," he said. "Some of these protests can be pretty wild."
A spokesperson from GLAAD, an LGBTQ+advocacy organization, confirmed to the Landing that there have been 209 anti-LGBTQ incidents targeting drag events nationwide since early 2022. Texas consecutively had the most incidents and threats with 21 reported incidents so far this year, and 27 reported incidents in 2022, a representative said via email.

An April update on its 2022 analysis noted that there was an uptick in attacks beginning in Pride season that year, which is typically during June, and continuing through the midterm election cycle. At this year's Pride celebration in Houston, participants spoke to the Houston Landing about the apprehension they felt due to the wave of anti-trans legislation. "You never know, there's crazy people that do things that you don't expect," Carlos Gallardo told the Landing while celebrating Pride in Montrose.
It's not just physical attacks and threats that have rattled the trans community. A joint report from GLAAD and the Anti-Defamation League released in June found that anti-LBGTQ rhetoric and harassment has also increased within the last year, with more than 350 hate and extremist incidents recorded in the U.S.; Texas had the third most with 30 incidents.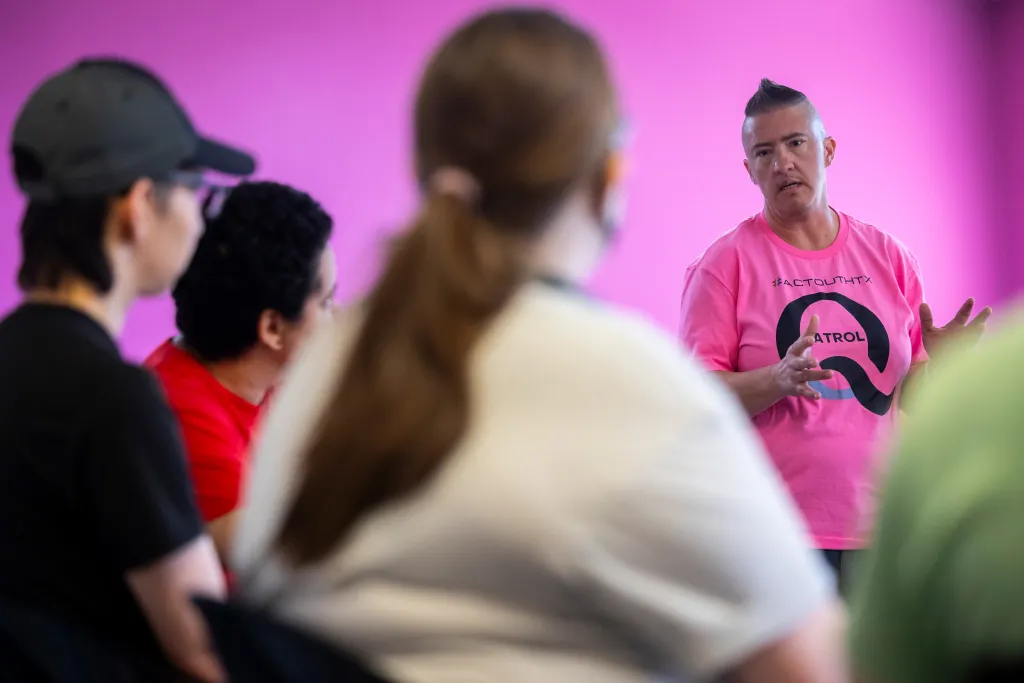 The return of community patrolling
The rise of anti-LGBTQ+ incidents over the last several years has motivated community activists like Ethan Ganz. He is the co-founder of the Montrose Residents Coalition, a group that is joining forces with the nonprofit Affinity Coalition To Overcome Unethical Theories HTX (ActOutHTX) to revive the work of a Montrose-area volunteer surveillance group called Q-Patrol, which launched in 1991 but dissolved in 2002 due to financial woes, newspaper archives show.
"I really think it's necessary now," he said to participants assembled in a circle following the training.
A group of citizens organized Q-Patrol shortly after the murders of Paul Broussard and Phillip Smith, two gay men who were killed outside a gay nightclub in Montrose. Their brutal deaths sparked civil unrest locally, led to national discussions and prompted the Houston Police Department to launch an undercover initiative, dubbed Operation Vice Versa, where officers masqueraded as gay men. Officers were attacked in multiple incidents and many people were arrested within two weeks, according to the website Houston LGBTQ History and ABC13.
Originally Q-Patrol worked in tandem with the police, but now, "That's not really what they're trying to do," Ganz said. "A lot of our people do not feel safe around the police," he added.
In the 1990s when the original Q-Patrol reigned, it was illegal to carry a handgun openly or concealed without a license, but open carry was made legal in 2021. Ganz still discourages open carry of any firearms, but said volunteers can carry a concealed weapon, mace or a taser at their discretion.
Beregan is uncomfortable carrying a gun and can't pocket his mace or pepper spray into most bars, so he views self-defense as his best weapon. After taking a few classes recently, he now feels better equipped to defend himself and plans to continue training with the Third Ward Jiu Jitsu's monthly LGBTQ+ focused self-defense classes. But he has no plans of joining Q-Patrol at this time.
Acknowledging their limits, Ganz said the goal of Q-Patrol is to help people before police need to get involved.
"So if we see somebody that's alone, we'll walk them to the car. We see someone drunk in the street, we might engage with them and see what we can do to help them. This is more about being seen engaging our community, taking care of each other." Ganz said they will also carry power banks to help people charge their phones to call a ride.
More training is needed in de-escalation, CPR, first aid, and, eventually, shooter response practice and Narcan training to ensure safety, Ganz said, but he anticipates Q-Patrol will hit the Montrose streets soon.
The Houston Landing is a nonprofit newsroom devoted to public service journalism for all Houstonians.
This article first appeared on the Houston Landing and is republished here with permission.