Texas Senate panel advances bill that would hinder transgender kids' access to puberty blockers and hormone therapies
Senate Bill 14 would ban doctors from providing kids with transition-related treatments that medical groups recommend for children with gender dysphoria.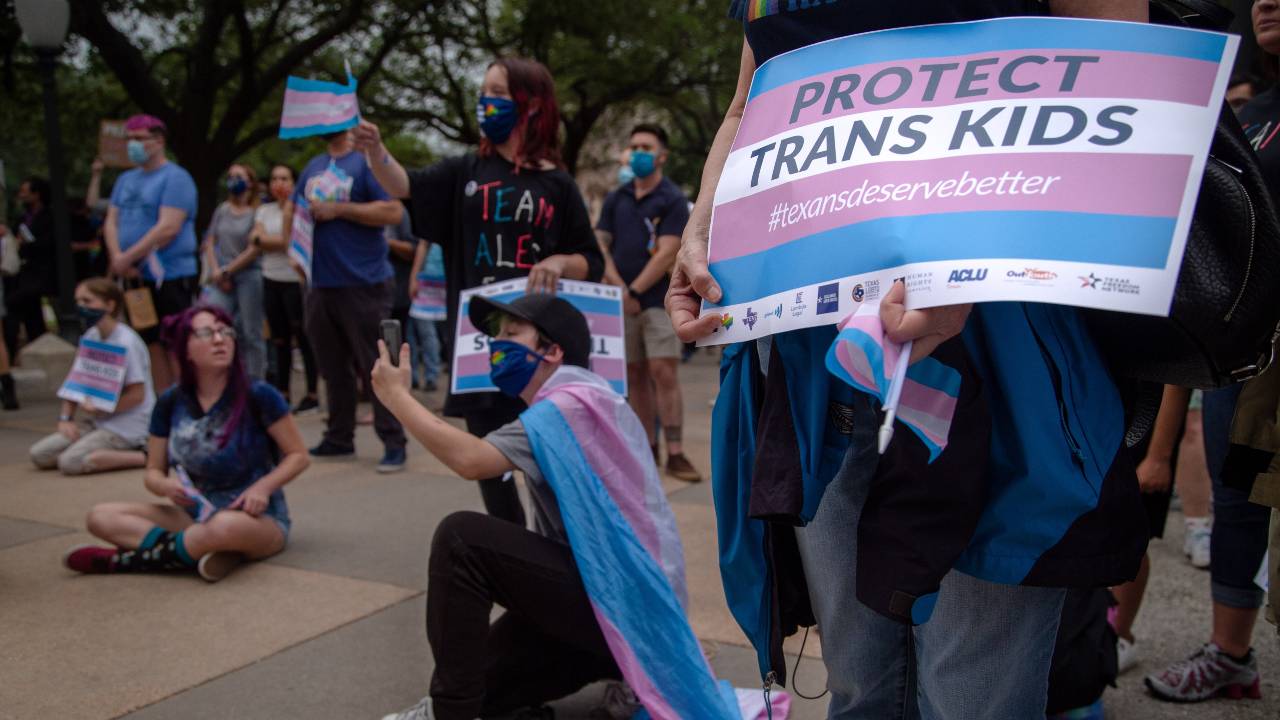 This article originally appeared in The Texas Tribune

The Texas Senate will likely soon consider a bill that would bar physicians from providing transition-related treatments — like puberty blockers and hormone therapies — to transgender Texas kids.
The Senate State Affairs Committee on Monday advanced Senate Bill 14 in a party-line vote, with all Republican members supporting the measure. A priority piece of legislation for Lt. Gov. Dan Patrick, the bill would ban therapies that major medical groups recommend for kids with gender dysphoria, the distress someone can feel when their physical body does not align with their gender identity. SB 14 would also prohibit transition-related surgeries for minors, though medical experts say such procedures are rarely, if ever, performed on children.
The committee passed the measure in a 7-3 voice vote, but an eighth Republican registered a vote in support in writing, a legislative staffer later said. The vote came shortly after LGBTQ advocacy groups and hundreds of people rallied outside the Capitol against the bill and several others that would affect queer Texans. Several openly LGBTQ state representatives — including Democratic Reps. Jolanda Jones, Venton Jones, Christian Manuel and Jessica González — vowed to protect the community through their legislative work in the House.
"You have a friend and supporter in me," Jolanda Jones said. "I am a part of the family and I will vote to protect us all because if you come for one of us, you come for all of us."
The bill would have to get through the Senate and the House before it could become law. At least 10 of Texas' 31 state senators have formally supported the bill.
SB 14 would also ban health care facilities that offer the targeted treatments from receiving public money and require the state medical board to revoke the license of physicians providing this care.
Puberty blockers are a type of medical treatment that delays puberty. They are provided to children who aren't transgender and have been an approved medical treatment for kids for decades. SB 14 specifically bans them for transition-related purposes, though allows them as a treatment for what's called precocious puberty — when puberty changes occur too soon in a child, such as those younger than 10.
The committee vote Monday came four days after lawmakers heard several hours of testimony about the bill. During the Thursday hearing, Republican state Sen. Donna Campbell of New Braunfels claimed that some medical professionals are causing children to doubt whether they are happy with their gender assigned at birth and are purposefully misguiding parents, creating what she called a "social contagion." She said her bill is needed to protect families from this "cottage industry" preying on kids and their families.
"If there comes a time when a profession such as the medical profession cannot regulate itself to protect patients, protect children, then the government needs to step in," Campbell said.
But a number of Texas medical groups, including the Texas Pediatric Society and Texas Psychological Association, testified against the bill last week.
"A blanket ban on these medical treatments is a very blunt instrument for the state to use and prohibits treatment options that are critical for the health and well-being of a transgender youth with gender dysphoria," said Louis Appel, president of the Texas Pediatric Society.
The Texas Medical Association — which has previously opposed similar legislation — testified on the bill last week but did not take a position in support or opposition.
Major national medical associations, like the American Medical Association and the American Psychiatric Association, support providing trans youth with social support and health care treatments — which can include puberty blockers and hormone therapies — that affirm their gender identity.
During the Thursday hearing and throughout this year's legislative session, the bill's opponents and LGBTQ advocates have repeatedly said SB 14 and similar bills would hurt trans youths' health — particularly their mental well-being.
"Research has consistently found that access to this medical care reduces the rates of suicide ideation and attempts in trans and nonbinary youth," said Evelyn Smith, a social worker student and member of the National Association of Social Workers' Texas Chapter. "This proposed legislation strips the rights of families to direct their own health care and jeopardizes the livelihood and mental health of youth. Medical decisions should be left in the hands of families and medical professionals, not the government."
Disclosure: Texas Medical Association has been a financial supporter of The Texas Tribune, a nonprofit, nonpartisan news organization that is funded in part by donations from members, foundations and corporate sponsors. Financial supporters play no role in the Tribune's journalism. Find a complete list of them here.
The Texas Tribune is a nonpartisan, nonprofit media organization that informs Texans — and engages with them – about public policy, politics, government and statewide issues.
Federal judge bars Texas from enforcing book rating law
House Bill 900 requires book vendors to rate all their materials based on their depictions or references to sex before selling them to schools. Vendors say the law aims to regulate protected speech with "vague and over broad" terms.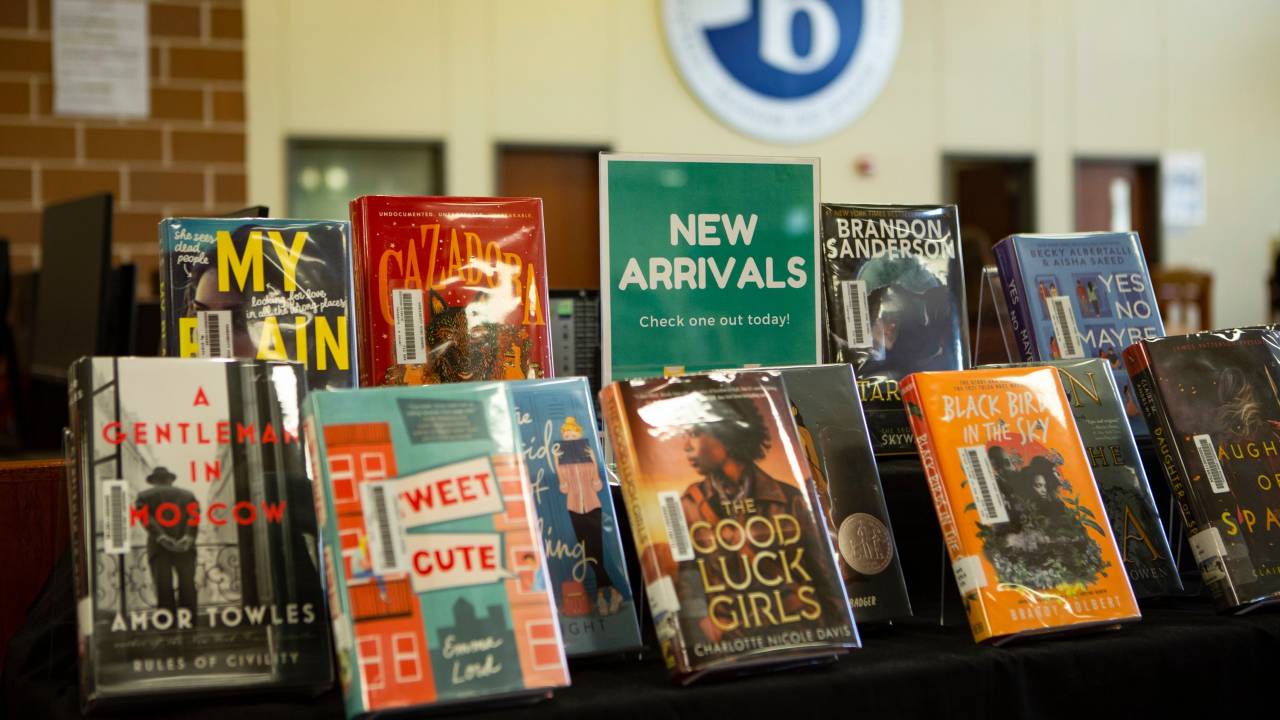 This article originally appeared in The Texas Tribune

A federal judge said Thursday he will stop a new Texas law aimed at keeping sexually explicit materials off of school library shelves on the eve of the law going into effect, according to state attorneys and lawyers for a group who sued over the proposal.
District Judge Alan D. Albright indicated during a hearing that he will grant a temporary injunction sought by a group of book groups and sellers, including two Texas bookstores, who sued the state over House Bill 900 in July, the group's lawyers said in a statement. Albright will issue a written order in one to two weeks; in the meantime, the state cannot enforce the law, according to the statement.
HB 900, which was approved during this year's regular legislative session, requires school library vendors to rate all their books and materials for appropriateness before selling them to schools based on the presence of sex depictions or references. It also requires vendors to rank materials previously sold to schools and issue a recall for those that are deemed sexually explicit and are in active use by a school.
The plaintiffs argue that the law violates their constitutional rights by targeting protected speech with its broad and vague language. The lawsuit further alleges HB 900 would force plaintiffs to comply with the government's views, even if they do not agree with them, and that the law operates as prior restraint, which is government action that prohibits speech or other expression before the speech happens. The vendors say it is impossible for them to comply with the rating system because of the sheer volume of materials they would need to review.
The law also calls for creating state school library standards that prohibit sexually explicit materials, requiring parental consent for students to check out materials classified by vendors as "sexually relevant" and giving the Texas Education Agency authority to review a vendor's rating. If the TEA disagrees with the vendor's rating and gives it a different one, the vendor must use the agency's rating. Vendors who do not will be added to a list of vendors that schools cannot buy library materials from.
During the bill's legislative hearings, librarians and legal experts shared concerns and worries that its language would ensnare books that are not inappropriate and, to the contrary, may be titles important for students whose lived experiences may not be reflected in other literature.
The proposal, from Rep. Jared Patterson, R-Frisco, arrived amid an ongoing debate about what materials are appropriate to be stocked in school and public libraries. Patterson and supporters of such regulations say libraries are infested with inappropriate books that must be vetted and removed.
However, skeptics of that panic and literary advocates counter that the books singled out by politicians often explore sexuality and race, topics that have been swept up in culture-war politics but remain important for youth who may not be comfortable talking about such matters with others.
Despite the concerns, HB 900 sailed through the legislative process before Gov. Greg Abbott signed it in June. It was set to go into effect Friday; however, the law's language suggests the new requirements won't have to be fulfilled immediately.
Most, if not all, of the state's roughly 5.4 million public schoolchildren have already begun the 2023-2024 school year.
The lawsuit's plaintiffs include two bookstores, Austin's BookPeople and West Houston's Blue Willow Bookshop, as well as the American Booksellers Association, the Association of American Publishers, the Authors Guild and the Comic Book Legal Defense Fund.
The Texas Attorney General's office said Thursday it would move to reverse the injunction and appeal the judge's decision. The office had not received the judge's written order or decision by Thursday afternoon, a spokesperson said.
A court representative for Albright did not respond to an inquiry about his comments during Thursday's hearing, reported by the plaintiffs' lawyers and on social media by at least one plaintiff.
"We are grateful for the court's swift action in deciding to enjoin this law, in the process preserving the long-established rights of local communities to set their own standards; protecting the constitutionally protected speech of authors, booksellers, publishers and readers; preventing the state government from unlawfully compelling speech on the part of private citizens; and shielding Texas businesses from the imposition of impossibly onerous conditions," the plaintiffs said in a joint statement after the hearing. "We look forward to reading the court's full opinion once it is issued."
The Texas Tribune is a nonpartisan, nonprofit media organization that informs Texans — and engages with them – about public policy, politics, government and statewide issues.
Federal judge issues temporary restraining order, says Texas law banning drag shows is "likely" unconstitutional
U.S. District Judge David Hittner heard from LGBTQ+ groups, businesses and a drag performer in a hearing this week, who argued Senate Bill 12 violated their First Amendment rights.
This article originally appeared in The Texas Tribune

U.S. District Judge David Hittner temporarily blocked a new state law Thursday from going into effect that would have criminalized sexually-oriented performances in front of children or effectively banned some public drag shows.
LGBTQ+ groups sued the Texas attorney general's office, hoping to stop authorities from enforcing Senate Bill 12, which was signed by Gov. Greg Abbott in June and was scheduled like most new laws to go into effect Friday.
In a two-day hearing earlier this week in Houston, a drag performer and entertainment businesses said Texas lawmakers' effort to regulate these shows was an unconstitutional attempt to stifle their freedom of expression. Though Hittner did not issue a final order on Thursday, he found the plaintiffs' argument compelling.
"Based on evidence and testimony presented at the hearing, the court finds there is substantial likelihood that SB 12 as drafted violated the First Amendment of the United States Constitution under one or more of the legal theories put forward by the plaintiffs," Hittner wrote in the temporary restraining order.
Hittner said allowing the law to take effect would likely cause "irreparable harm" to the plaintiffs. He issued the restraining order to maintain the status quo of the legal landscape while preparing a final decision — the restraining order does not guarantee a permanent injunction. He said his order could come two to four weeks after the hearing.
Hittner heard testimony earlier this week from LGBTQ+ groups, businesses and a performer, which were plaintiffs in one of two lawsuits against SB 12. They argued the law trampled on their First Amendment rights to perform and organize drag shows. They described drag as a healing, expressive and political form of performance art with historical connections to LGBTQ+ people.
"If allowed to take effect, SB 12 will make our state less free, less fair, and less welcoming for every artist and performer," said American Civil Liberties Union of Texas Attorney Brian Klosterboer in a statement following the judge's decision. "This temporary order is a much-needed reprieve for all Texans, especially our LGBTQIA+ and transgender community, who have been relentlessly targeted by our state legislature."
Defending the law, attorneys with the Texas attorney general's office said SB 12 was narrowly tailored to protect children from sexually-explicit performances. The new law did not explicitly ban drag shows, lawyers for the state said, and these performances should not be considered expressive or receive First Amendment protections.
However, shortly after signing the law, Abbott shared a story on social media about SB 12's passage and declared he had banned drag performances in public.
"The people of Texas were appalled to learn of an increasing trend of obscene, sexually explicit so-called 'drag' performances being marketed to families with children," said Paige Willey, the director of communications for the attorney general's office. "The Office of the Attorney General will pursue all legal remedies possible to aggressively defend SB 12, the state law that regulates such performances to protect children and uphold public decency."
Under the new law, business owners would have had to face a $10,000 fine for hosting sexually explicit performances in which someone is nude or appeals to the "prurient interest in sex." Performers caught violating the proposed restriction could be slapped with a Class A misdemeanor, which carries a maximum penalty of a year in jail and a $4,000 fine.
Texas is one of six states that have passed a bill restricting "adult" or drag performances, according to the Movement Advancement Project, a nonprofit that tracks legislation related to LGBTQ+ issues.
Legal challenges to similar legislation in Florida, Montana and Tennessee have successfully blocked these laws from going into effect. In June, a federal judge in Tennessee, appointed by former President Donald Trump, ruled the law is unconstitutional in its effort to suppress First Amendment-protected speech.
The Texas Tribune is a nonpartisan, nonprofit media organization that informs Texans — and engages with them – about public policy, politics, government and statewide issues.
Texas ban on puberty blockers and hormone therapy for trans kids will go into effect despite legal fight
The state attorney general's office appealed a state district court injunction that said the new prohibitions deprive trans kids of "necessary, safe, and effective medical treatment."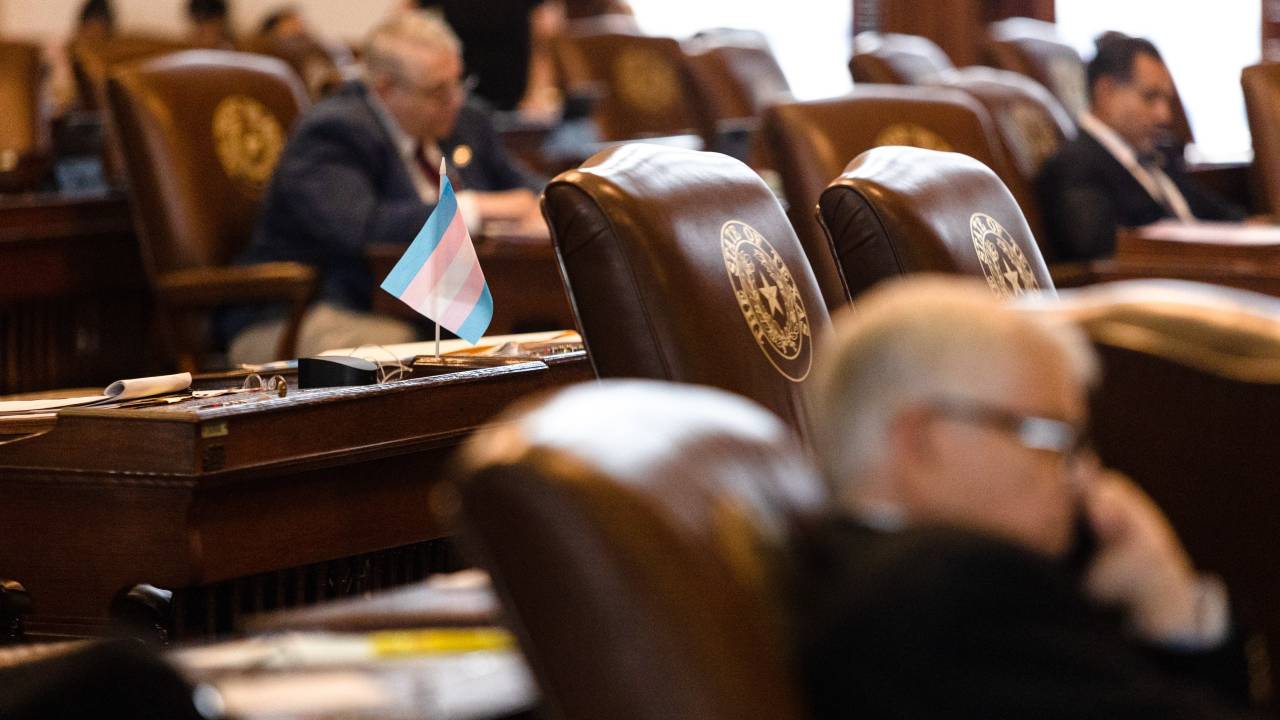 This article originally appeared in The Texas Tribune

A Texas law banning transgender youth from accessing puberty blockers and hormone therapy will go into effect next week after the state attorney general's office filed to block a judge's temporary injunction against Senate Bill 14.
In her decision Friday, state district court Judge Maria Cantú Hexsel wrote that SB 14 "interferes with Texas families' private decisions and strips Texas parents … of the right to seek, direct, and provide medical care for their children."
In response, the attorney general's office filed an appeal with the Texas Supreme Court, a move that automatically pauses Cantú Hexsel's injunction and will allow the law to go into effect Sept. 1. The attorney general's office said such medical treatments are "unproven" and "pushed by some activists in the medical and psychiatric professions" in a statement announcing the appeal Friday evening.
Texas lawmakers passed SB 14 during this year's regular legislative session, in addition to several other pieces of legislation affecting the lives of LGBTQ+ people.
Texas families and doctors sued the state in July with the hope of blocking the law. They argued SB 14 violates the Texas Constitution because it strips parents' rights to make decisions about their child's health care and discriminates against transgender youth by prohibiting access to this population specifically.
Cantú Hexsel's injunction would have blocked the state attorney general's office, the Texas Medical Board and the Texas Health and Human Services Commission from enforcing the law. She wrote that transgender youth and their families would "suffer probable, imminent, and irreparable injury" if SB 14 went into effect while the legal battle ensues. A trial is set to begin May 6.
The judge indicated the lawsuit would likely succeed. Agreeing with the plaintiffs, she said that SB 14 was unconstitutional because it violated parents' rights to make decisions about their children, infringed on doctor's freedom to practice medicine and discriminated against transgender youth by withholding access to health care.
"This Act was passed because of, and not in spite of, its impact on transgender adolescents, depriving them of necessary, safe, and effective medical treatment," the judge wrote.
In a hearing last week, medical experts testified to the efficacy of transition-related care in alleviating mental health issues associated with gender dysphoria — a medical term for the distress someone experiences when their gender identity doesn't match their body.
Defense attorneys called doctors and other experts to discredit the existing evidence that supports the use of puberty blockers and hormone treatments on transgender youth diagnosed with gender dysphoria. They argued the risks of these drugs — and transition-related surgeries, which are rarely performed on children — outweigh the benefits.
In the larger medical community, there is less debate over the use of these treatments. Leading medical associations like the American Academy of Pediatrics and the American Medical Association support the use of transition-related care for people under 18.
Alex Sheldon, executive director of GLMA, an association of LGBTQ+ health professionals that is one of the plaintiffs, hailed Cantú Hexsel's ruling before the attorney general's office appealed it.
"This ruling stands as a testament to the unwavering dedication of Texas families and the medical expertise of GLMA's health professional members, who with each testimony have clearly demonstrated that gender-affirming care is evidence-based, life-saving care," Sheldon said in a statement Friday. "Although this was just one battle of many, we remain steadfast in our commitment to fight for the rights of trans youth and health care providers offering gender-affirming care in Texas and throughout the nation."
Texas lawmakers joined 19 other states attempting to ban the use of transition-related care. The prohibition is popular among Republican voters in Texas — over 85% of whom support some restrictions on this health care, according to an April poll by the Texas Politics Project.
Similar to Texas' law, restrictions to transition-related care in other states have faced legal challenges in recent months.
In June, a federal judge ruled that Arkansas' ban on gender-affirming care for minors is unconstitutional because it violates the due-process and equal-protection rights of transgender children and their families. Federal judges in Florida, Kentucky and Tennessee have also blocked those states' laws from going into effect. An appeals court intervened to allow Tennessee to implement its ban, and the Kentucky federal judge lifted the injunction he issued, allowing the law to go into effect.
The Texas Tribune is a nonpartisan, nonprofit media organization that informs Texans — and engages with them – about public policy, politics, government and statewide issues.