Montana on track to make history with election of two transgender candidates
Zooey Zephyr and SJ Howell, two transgender candidates, are running in safe Democratic districts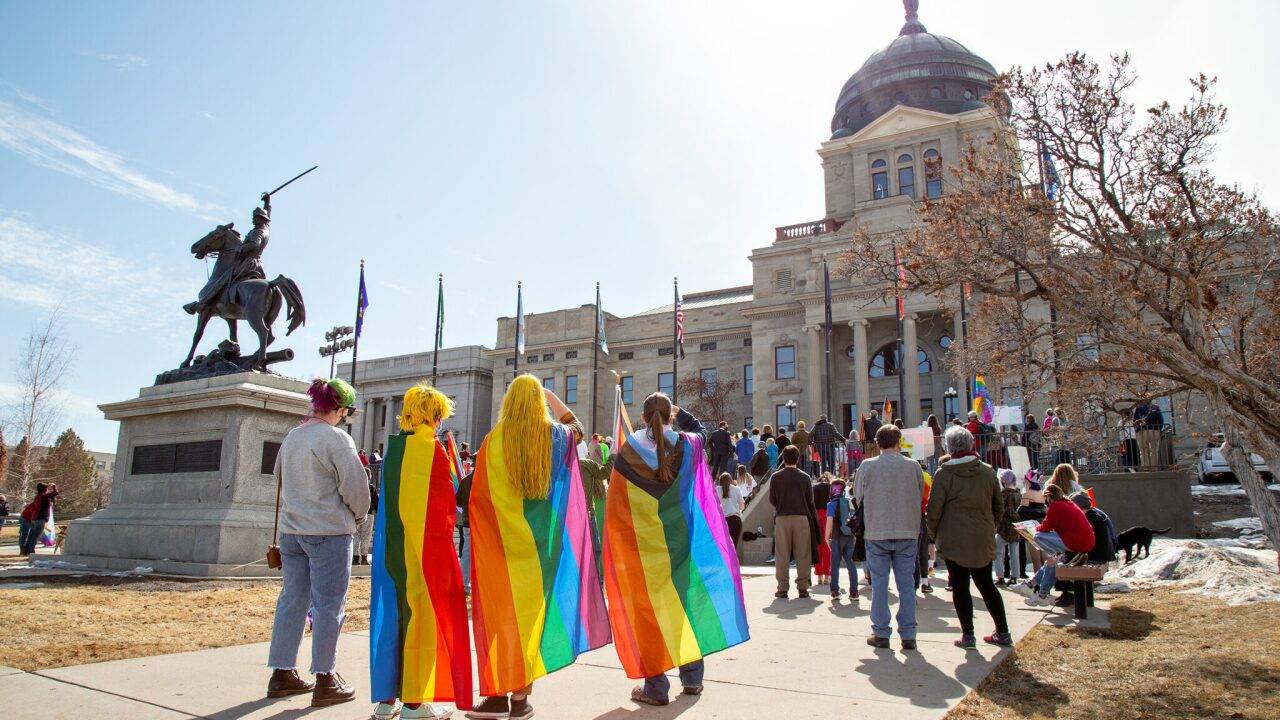 After waking up at 6:30 AM and confirming that she was still leading in the Democratic primary for House District 100, Zooey Zephyr got a bacon breakfast burrito and a café au lait from her local coffee shop.
While the café au lait is her standard for days that are not sweltering, the breakfast burrito was a treat, as following Tuesday's primary election, Zephyr, 33, became one step closer to becoming one of the first two openly transgender candidates elected to the Montana Legislature.
Zephyr and SJ Howell, a transgender non-binary candidate for Missoula's House District 95, will both be on the ballot in November.
Their run for office comes at a pivotal time for the transgender community as more and more bills that advocates say are detrimental for LGBTQ folks are being introduced at state legislatures across the country, including Montana. The Human Rights Campaign, a LGBTQ advocacy group and LGBTQ political lobbying organization, went as far as to label 2021 "the worst year for anti-LGBTQ legislation in recent history."
With Zephyr's district located in a decidedly blue slice of central Missoula, her path to victory seems clear — in 2020, Rep. Andrea Olsen, D-Missoula, won the seat with 82% of the vote. And the district has voted Democrat in the last four elections, although before the lines were redrawn in 2014, Republicans dominated between 2003 and 2013.
"I am feeling good, I am obviously excited, primarily I feel awash in gratitude for the people who helped me, for the people who voted for me, for Missoula … there's a lot to do, there's a lot to plan for, but right now I am just overwhelmed with gratitude," Zephyr told the Daily Montanan in a phone interview.
On Tuesday, Zephyr, who has spent much of her career working for the University of Montana, beat her primary opponent David Severson 1,188 to 832, according to preliminary numbers from the Montana Secretary of State's Office. She will face Republican Sean Patrick McCoy and Libertarian Michael Vanecekin in November.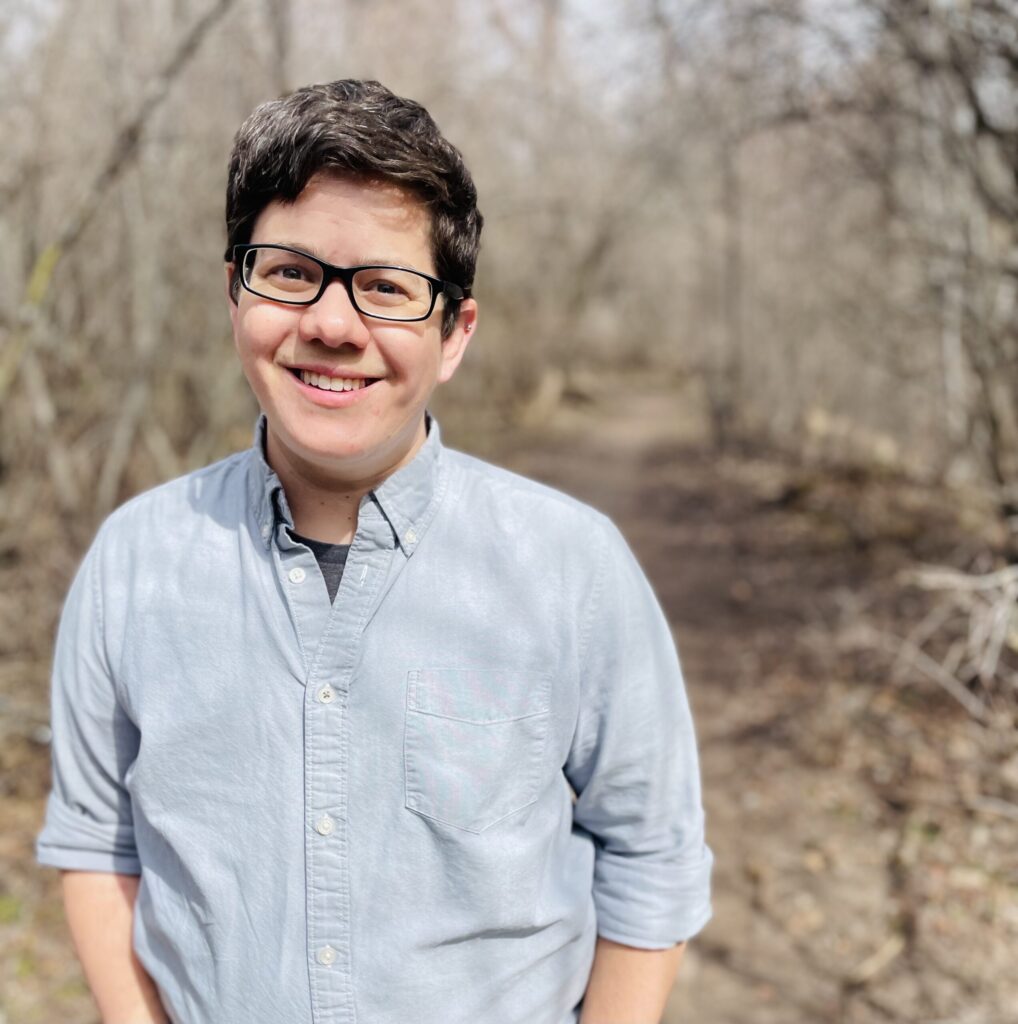 Howell, 41, did not have a primary opponent and will be up against Republican Lauren Subith and Libertarian J.C. Windmueller in the general.
Howell is the executive director of Montana Women Vote, a nonprofit advocacy group, and is also in a secure Democratic district. Between 2003 and 2021, voters in the district only elected a Republican to the office once, but Howell said they are ready to dig in going into the general.
"I certainly don't take the general election for granted. I am excited to get to work; I've been knocking on doors already," Howell said.
If Zephyr and Howell win in November, Montana will be the second state to have elected multiple transgender people to a state legislature — New Hampshire currently has three transgender women in its House of Representatives.
There is a difference between legislators having a conversation about you compared to having a conversation with you.S.J. Howell, candidate, Montana Legislature
In total, 11 openly LGBTQ candidates ran for office in this year's Montana primary, with six advancing to the general election. For Montana and across the country, LGBTQ candidates make up a minuscule amount of elected officials. There are 1,040 "out" LGBTQ elected officials nationwide — only eight of whom are transgender — which amounts to .2% of all elected officials, according to the LGBTQ Victory Institute. And in Montana, there are just six out LGBTQ elected officials, according to the institute's Out for America Map, which tracks out LGBTQ elected officials nationally.
Both Montana candidates advocated for LGBTQ rights at the Capitol during the last session. On Wednesday, they spoke about the importance of having transgender voices in the Legislature after multiple bills were passed last session that affected the trans community.
"It's big for Montana. What feels really exciting to me is that we are sort of going from zero to two, which in a lot of ways feels like a big exponential step forward," Howell said. "I feel that there is a difference between legislators having a conversation about you compared to having a conversation with you, and I think it changes the tone of the debate; I think we both have the intention of getting in and fighting hard for the rights of queer and trans Montanans."
The Legislature took up bills limiting how transgender youth can participate in sports, putting more restrictions in place for updating a gender marker on birth certificates and restricting gender-affirming care for trans youth. While the last of the three failed to pass out of the state house, the other two passed and are currently being challenged in court.
Republicans at the time defended the bills as necessary safeguards for protecting children.
For Zephyr, it's all about representation. Zephyr decided to run after watching Senate Bill 280, which changed transgender Montanans' ability to update their birth certificates, pass the Senate 26-24.
"I remember it passed by one vote, and I thought, I know I could change that heart, I know I could be the difference between a yes and a no there. It would have only taken one person to protect my community from discrimination," Zephyr said. "We will be the best defense there is against this particular brand of hate."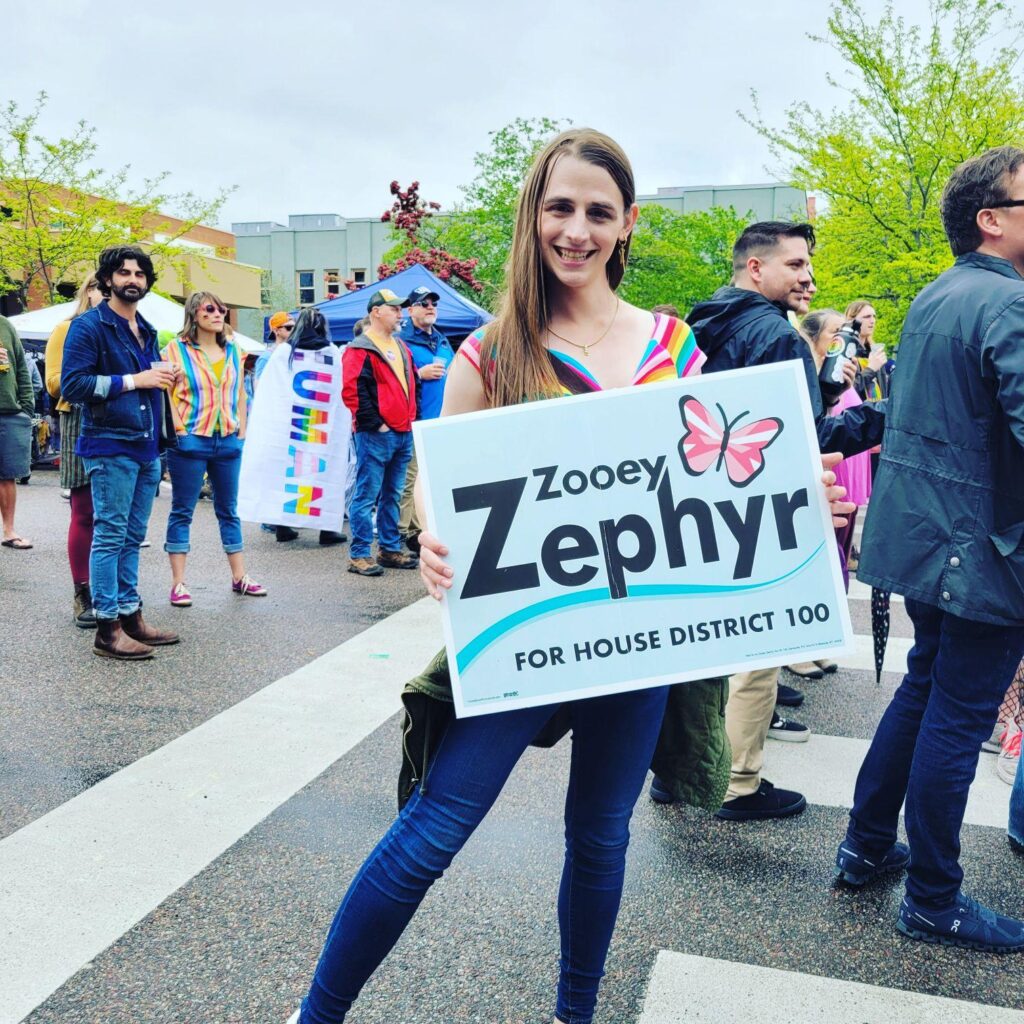 One of the reason's SB280 was so impactful for Zephyr is prior to the passage of the bill, she was able to update her own birth certificate.
"The office of vital records told me as far as the state of Montana is concerned 'we are updating a 30-year clerical error.' It was one of those moments that felt like a full recognition of who I am … it meant an extra layer of safety and acknowledgment of who I am," Zephyr said.
Bills that affect people who are transgender and the rest of the LGBTQ community have proliferated beyond Montana. A spokesperson for the Human Rights Campaign said in an email that it is tracking 341 bills across the country it views as harmful toward LGTBQ people; of those bills, more than 143 are anti-trans, including more than 40 healthcare bans, 76 sports bans, and 15 "bathroom bills."
An analysis by NBC News found that the annual number of anti-LGBTQ bills filed in state legislatures across the U.S. increased from 41 bills in 2018 to 238 in the first three months of 2022.
However, during the same period, more LGBTQ candidates have filed to run for office.
"We coined it the rainbow wave. We've seen a number of candidates run and win. And this year, in particular, we have about 50 candidates from the trans community running for office up and down the ballot across the country," said Ceasar Toledo, deputy political director at the LGBTQ Victory Fund — a political action committee that focuses on increasing the number of openly LGBTQ public official. The fund endorsed both Howell and Zephyr in their races this year.
Surveys by the Trevor Project, an LGBTQ youth suicide prevention and crisis intervention organization, outlined how these types of bills and the debates surrounding them negatively impact transgender youth. One survey found that of the 35,000 LGBTQ youth questioned, 42% had considered suicide within the prior year. And another found that two-thirds of LGBTQ youth surveyed said debates about anti-trans legislation had negatively impacted their mental health.
Shawn Reagor, director of equality at the Montana Human Rights Network, said the organization has seen a recent uptick in reports of vandalism and harassment toward the LGBTQ community, which he attributed to increased activity by white supremacist and militia groups in the state.
But Reagor said more LGBTQ representation in the Legislature will help combat those attacks.
"We know that when people are able to build relationships with transgender and nonbinary community members, they are significantly less likely to vote against the needs of the community and make statements that further misunderstanding of who trans and nonbinary people are," he said. "Not only do Howell and Zooey represent role models for the community, but they also provide an important opportunity for other legislators and the state as a whole to further get to know some of the wonderful trans and nonbinary people that live in Montana."
Toledo said having LGBTQ voices present during debates on bills impacting their communities "humanizes the policy." He added, "It's those voices at the table that can be the difference."
And in general, Reagor said he is excited about the likely wins by Zephyr and Howell.
"As a trans person, I am incredibly proud and excited at the possibility that our community could be represented in the state Capitol by great leaders like Zooey and Howell. After the attacks during the last legislative session, I am thrilled to see trans candidates run for office and receive this level of support," he said. "They are smart, hard-working, and have a deep understanding of the needs of our state."
Bryce Bennett, a former Democratic lawmaker and first openly gay man elected to the Legislature, echoed Reagor's message.
"For the first time in Montana history, young people coming to terms with their gender identity will look to their Legislature and see people like Zooey Zephyr and SJ Howell who know their story, their struggles, and the bright possibilities ahead. When they get to the Legislature, the day of people talking about trans people will be over; they will finally have to talk with them. That is why representation is so incredibly powerful," Bennett said in a text message to the Daily Montanan.
The Daily Montanan is a nonprofit, nonpartisan source for trusted news, commentary and insight into statewide policy and politics beneath the Big Sky.
This story was originally published by the Daily Montanan and is republished under Creative Commons license CC BY-NC-ND 4.0.