Spencer's Launches New Pride Collection in Partnership with ACLU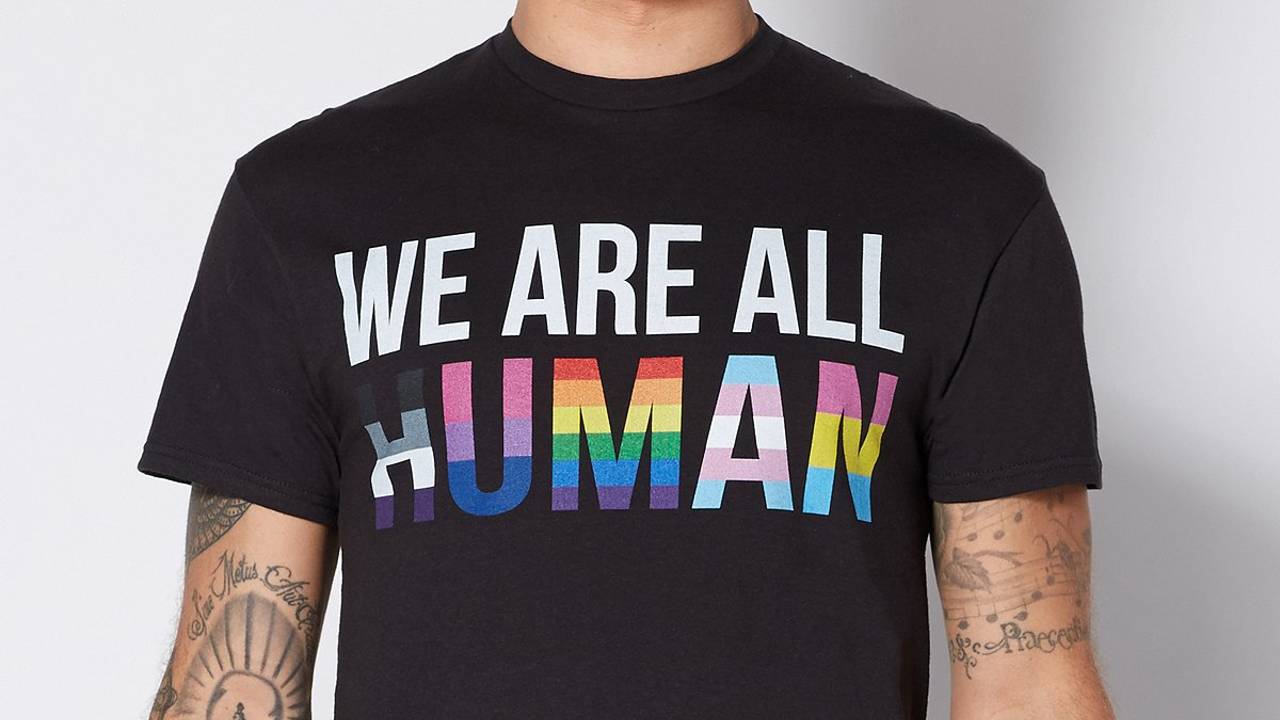 Spencer's announced that for the second consecutive year, over 680 retail locations will support the American Civil Liberties Union (ACLU) to raise awareness and funds to fight for social justice, civil liberties, and LGBTQ+ rights through a round up program that raised over $320,000 last year alone.
"Giving back is always in style, and Spencer's is proud to continue our partnership with the ACLU who embrace and support our core value 'We Are All Human,'" said Steven Silverstein, CEO and President of Spencer's. "Now more than ever, we continue to be loud and proud, celebrating our guests' individuality and attitude regardless of sexual orientation, gender, race, and background, because together we can put a stop to hate and inequality."
Guests can round-up any purchase from June 10 through June 19 to support ACLU's mission to defend and expand civil liberties including the right of LGBTQ+ people to live free from fear and discrimination. Spencer's announced that they will match up to $50,000 in donations for 2022.
The retailer has been a go-to source for PRIDE merchandise and a fierce champion of authenticity from day one, encouraging guests and associates to come as they are without judgment. This year, the PRIDE collection is bigger and better than ever and is complemented by the ACLU round-up program. Merchandise within the PRIDE collection include skirts, tees, tanks, jerseys, shorts, buttons, flags, masks, jewelry and more.
UK to Issue Commemorative Pride Coin
Featuring evocative artwork, the coin encompasses the very essence of Pride's history in the UK and marks the first time we have celebrated the UK's LGBTQ+ community on a UK coin. Made with support from Pride in London, this release is not only a celebration of Pride UK but also a numismatic tribute to the indomitable spirit of the UK's LGBTQ+ community.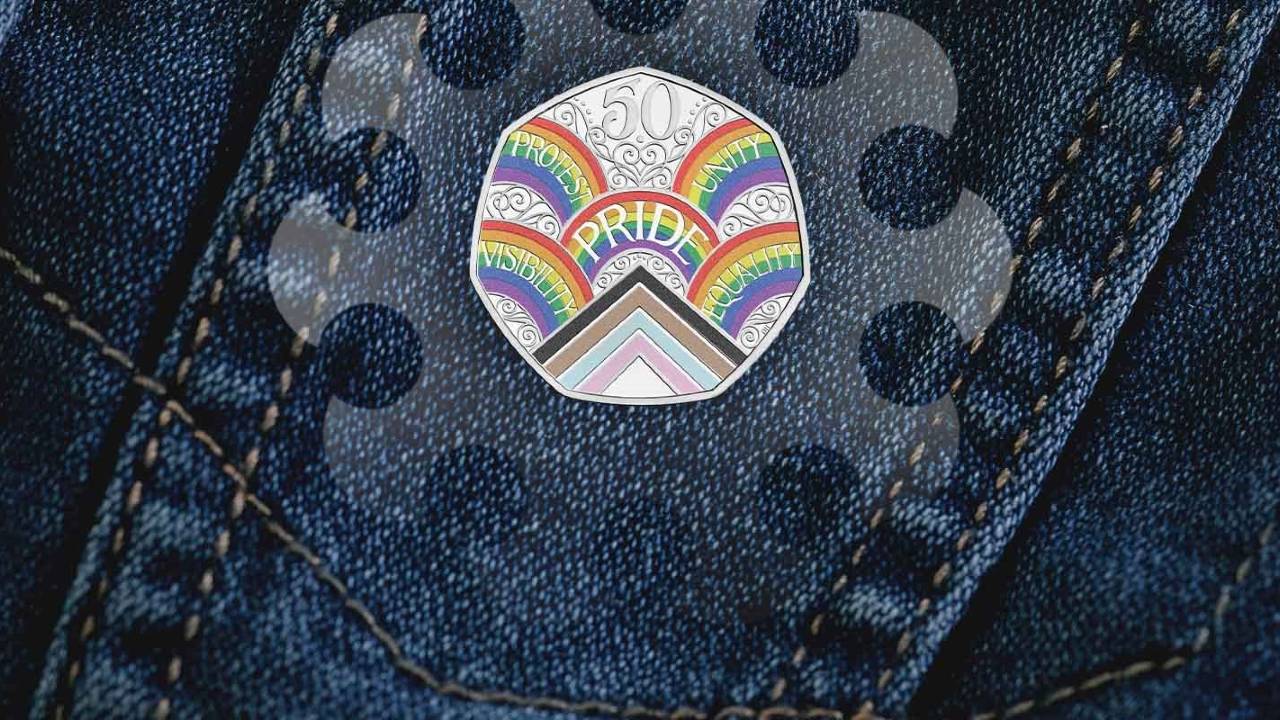 The UK Royal Mint revealed a commemorative 50 pence coin to celebrate the 50th anniversary of Pride UK. This coin marks the first time Britain's LGBTQ+ community has been celebrated on official UK coinage, and forms part of The Royal Mint's wider commitment to diversity and inclusion.
The coin has been designed by Dominique Holmes, an east London artist, writer, and LGBTQ+ activist with a varied artistic background that includes tattoo artistry. The coin design features Pride in London's values of Protest, Visibility, Unity, and Equality in rainbows. With state-of-the-art color printing technology, the iconic colors of the Pride progression flag are recreated with special-edition color versions of the silver and BU coins.
Since the first official Pride UK event in 1972, the Pride UK movement has been one of significant political and cultural importance. Now in its 50th year, Pride UK is more popular than ever and continues to fight against societal oppression and stand up for rights of the LGBTQ+ community.
Asad Shaykh, Director of Marketing and Communications at Pride in London said, "It was a privilege to visit The Royal Mint as part of our partnership and see our coin being made.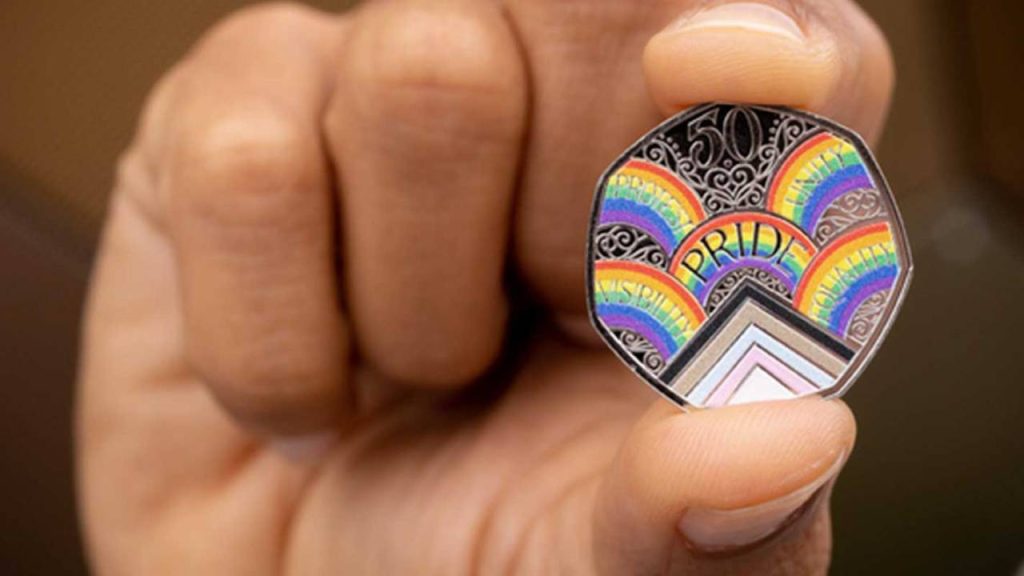 "It humbles me greatly that the words that I coined for the brand, PROTEST, VISIBILITY, UNITY & EQUALITY – will be on an actual coin, opposite the Queen. This queer brown immigrant has come a long way, powered by hope, love and this city. Nowhere in the world had this been possible, except the UK. Pride in London feels very proud today."
Clare Maclennan, Director of Commemorative Coin at The Royal Mint said, "The 50th Anniversary of Pride UK is a milestone celebration, and it is a privilege to mark 50 years of progress with this 50p coin. This is the first ever UK coin dedicated to Britain's LGBTQ+ community, with color printing technology capturing the spirit of Pride UK with its iconic rainbow colors.
"It was an honour to host representatives from Pride in London at The Royal Mint recently to strike their own coins as part of the launch and discuss with them our commitment to diversity and inclusion within the business and show how we are reinventing for the future."
As part of the launch, The Royal Mint will make a financial contribution to London LGBT Community Pride. The 50p will not enter circulation but will be available to purchase via The Royal Mint website this summer. The range includes gold, silver, and brilliant uncirculated versions.
The launch of the new LGBTQ+ coin forms part of The Royal Mint's wider commitment to equality, diversity, and inclusion. Alongside D&I training for all employees, a network of D&I Champions has been established to support The Royal Mint's wider vision of celebrating differences for an inclusive future.
This commitment also extends to an LGBTQ+ society for employees at The Royal Mint; established last year. Named 'Enfys', the Welsh word for Rainbow, the group has hosted Q+A sessions, shared their personal stories and encouraged visibility and allyship amongst employees.
Say It Loud: Dockers® Releases 2022 Pride Collection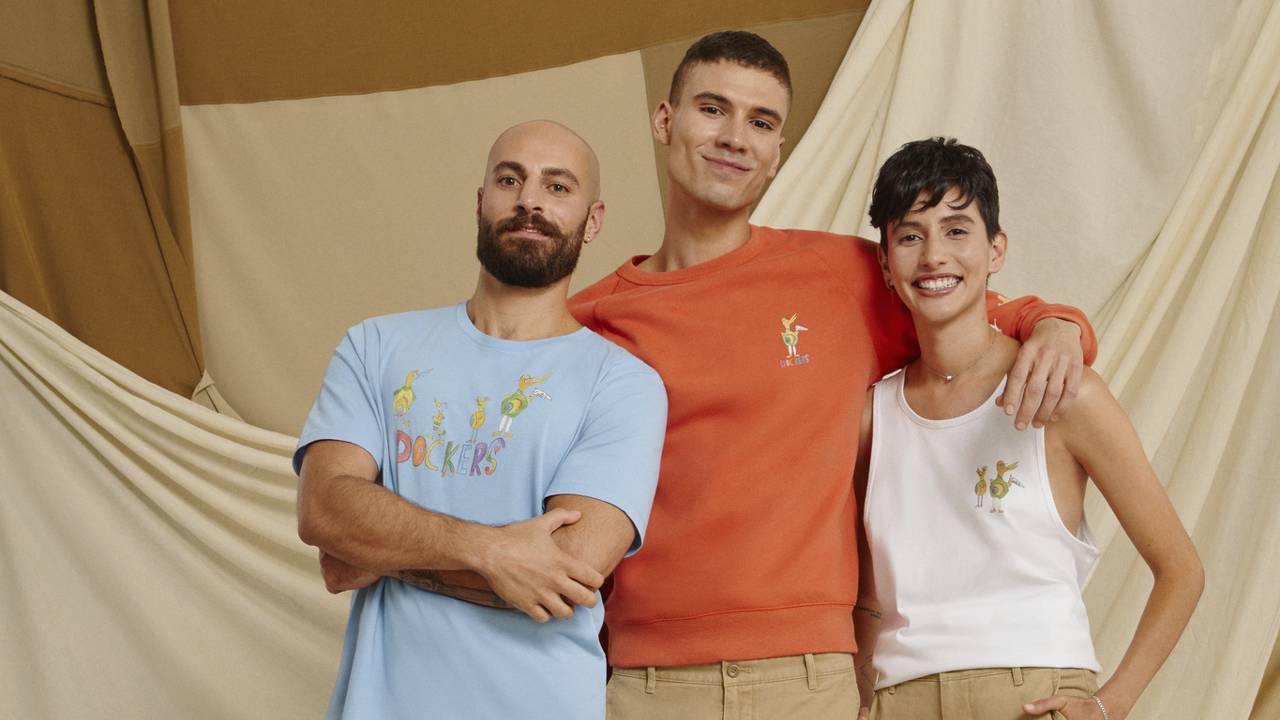 When it comes to self-expression, personal style offers an important opportunity to showcase individuality. And while clothing choice is just one piece of individual identity, those clothes can have the power to help everyone look and feel like their best and most authentic self. That's what the Dockers brand strives to provide in each of its designs, and in celebration of Pride 2022, the brand is excited to release its 7th Pride collection to date.
Available starting May 16th, Dockers is launching its latest Pride collection titled "Say It Loud" to honor the LGBTQ+ community. This colorful collection takes inspiration from the rich history of activism and acceptance in San Francisco, the birthplace of Dockers, and each item features unique drawings created by Bay Area-based artist and Dockers partner Richard Ceely.
"The artwork is meant to inspire all people to let their love soar, and to remind us that we're all birds of a feather in pursuit of a life well lived," says Ceely. "When I was first brainstorming designs I was out on my deck, and the birds around my house really had a lot to say that morning – and they were saying it loud. Listening to those birds sounded like the joyful greeting of a new day full of possibilities, and I wanted to convey that positive energy with this design."
The capsule features five new styles including a garment dyed hooded sweatshirt, graphic tees in both blue and white colorways, a summer-ready white tank top and a versatile pair of khaki shorts that reflect the signature California cool Dockers vibe. Through these gender-neutral styles, "Say It Loud" aims to evoke a joyful celebration of who you truly are, because everyone deserves to feel confident in their skin.
"We were so excited to work with Richard on this collection to celebrate Pride this year, as he is a local artist and long-time friend of the Dockers brand" says Lisa Relth, Director of Design at Dockers. "His colorful and imaginative paintings burst with irreverent positivity and whimsical personality, beautifully infusing some of Dockers' most beloved casual staples with the joy that characterizes Pride."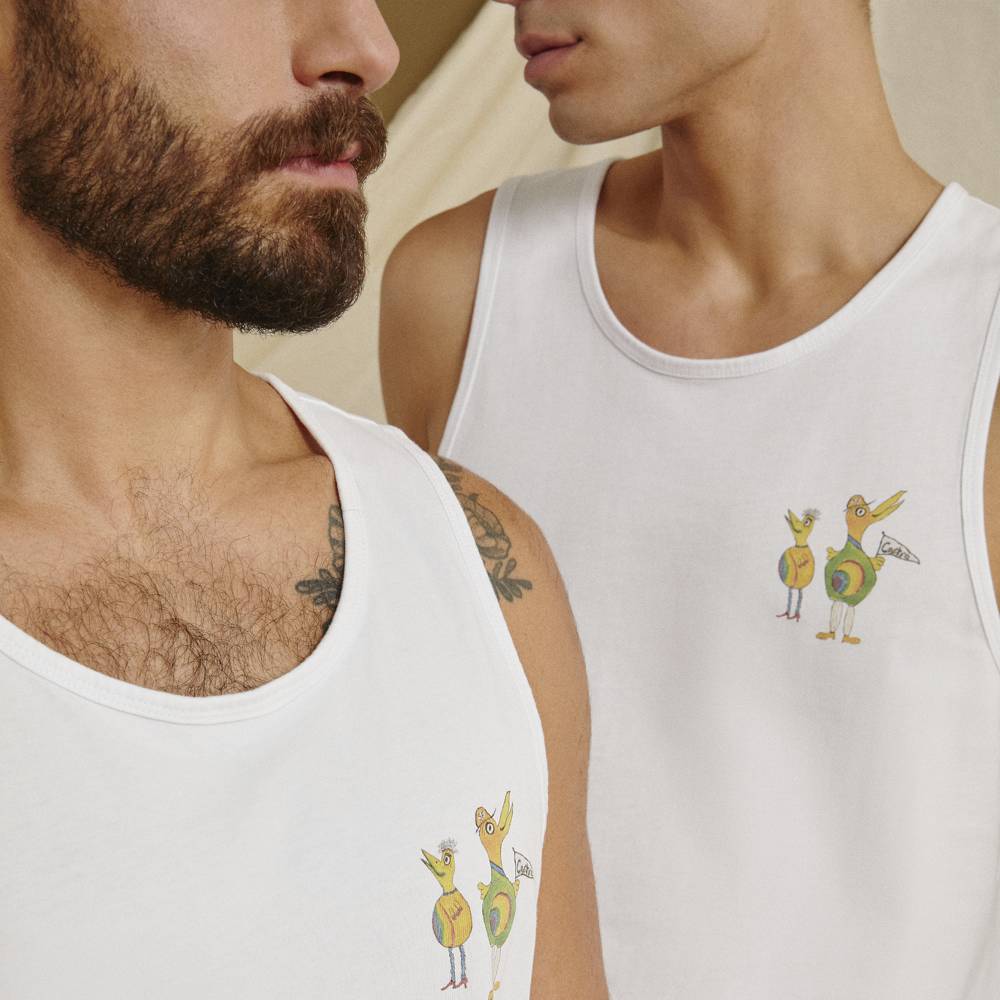 In addition to the product collection, Dockers continues its long-standing partnership with Stonewall Community Foundation in the hopes of sparking positive change for the LGBTQ+ community that lasts far beyond the month of June. The brand is proud to support Stonewall's incredible work amplifying LGBTQ+ voices and addressing key issues through community grants and consulting.
As part of the Levi Strauss & Co. portfolio, the Dockers brand has a rich history of supporting LGBTQ+ rights dating back to its inception in 1986. LS&Co. was the first prominent business to take action in addressing the HIV/AIDS epidemic and the first Fortune 500 company to extend benefits to same sex partners. The company continues to support the LGBTQ+ community through financial commitments and political action in support of same-sex marriage, along with other relevant policy matters. Dockers remains committed to recognizing LGBTQ+ individuals and supporting their rights to equality in all walks of life.
The Dockers "Say It Loud" collection will be available for purchase on online through the end of June.
Skittles, GLAAD Bring Back Pride Packs
For the third year in a row, Skittles limited-edition Pride packs will support GLAAD's ongoing advocacy efforts to help illustrate the future of LGBTQ+ acceptance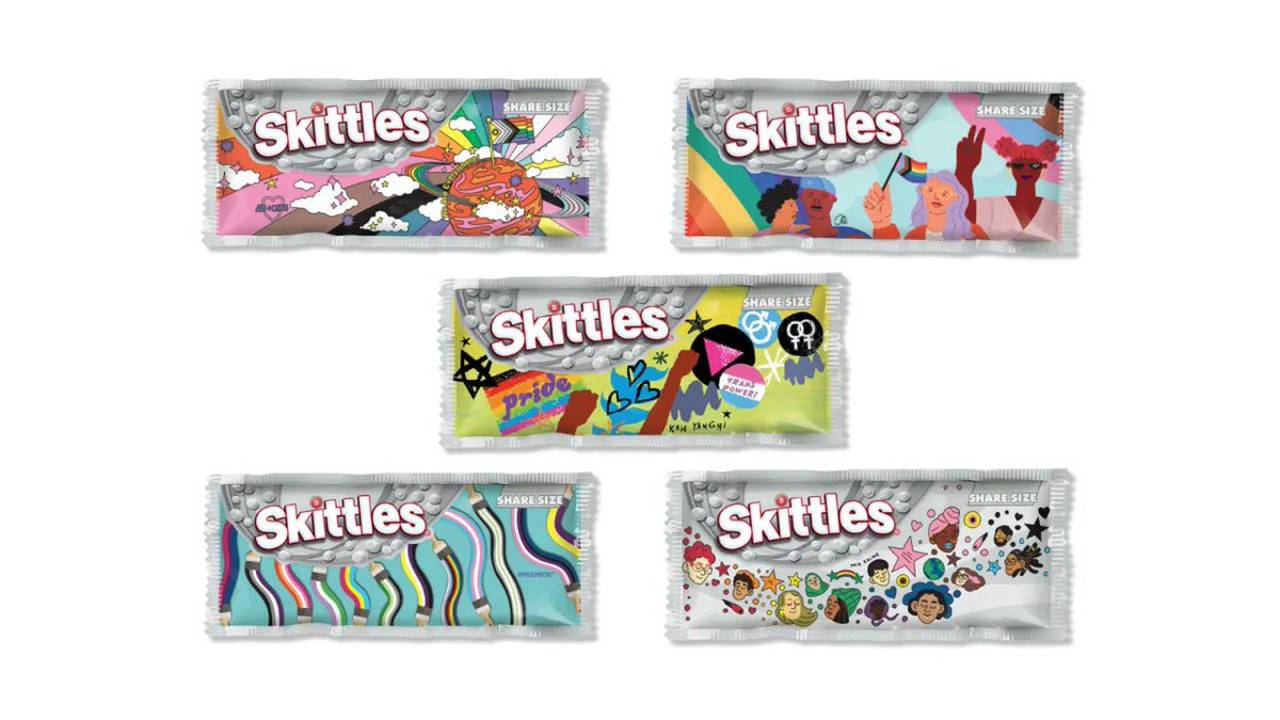 As part of its ongoing mission to increase LGBTQ+ visibility and celebrate those within the community, Skittles is teaming up with GLAAD for the third year in a row to give up its signature rainbow during Pride to celebrate the one that matters most. The brand's annual Pride packs – which have historically been all-gray to represent the brand's cemented efforts of support – will get a splash of color in 2022 thanks to six talented artists within the LGBTQ+ community who crafted original designs that represent how they "see the rainbow" every day.
Each of the Skittles five unique Pride packs will have a QR code on its outer packaging that, when scanned, will lead people to a virtual studio where they can learn more about the artists, their work and the inspiration behind their illustrations. Each of the six talented artists use their beautifully thought-provoking works of art to increase visibility, help others feel seen and advocate for pivotal issues within the community.
"At Mars we believe that in the world we want tomorrow society is inclusive. The Skittles brand, which is a proud part of Mars, is committed to advocating for the LGBTQ+ community both within our own organization and throughout the world," said Justin Hollyn-Taub, Senior Director, Mars Wrigley. "While Pride Month is a time to reflect, self-educate and celebrate, we know that long-term sustained support and allyship is key in building a more inclusive and diverse society. Mars and Skittles are proud to partner with GLAAD for the third year in a row this June, and year-round, as we deepen our commitment to support increased visibility and acceptance for the LGBTQ+ community."
In its journey to build a more equitable, diverse, and inclusive workplace, Mars has created 12 global LGBTQ+ Associate resource groups across its confectionary, food, and pet care businesses. The resource groups empower thousands of Mars Associates to work together to advocate on behalf of the LGBTQ+ community and to support the Mars business and each other with resources and education.
For every Skittles Pride pack purchased, $1 will be donated, up to $100,000, to GLAAD's culture-changing work and programs, including its ongoing efforts to accelerate acceptance and combat anti-LGBTQ+ discrimination. Beyond June, the Skittles brand supports GLAAD throughout the year with a focus on moments that shine a spotlight on visibility, including the annual GLAAD Media Awards and Spirit Day.
"GLAAD is proud to continue our ongoing partnership with Skittles in its efforts to celebrate, support and increase visibility for the LGBTQ community," said John McCourt, Deputy Vice President, Strategic Partnerships at GLAAD. "We hope the artists' stories that Skittles shares inspire our community and our allies. Amplifying LGBTQ art and artists helps further GLAAD's mission to accelerate acceptance."
The limited-edition Pride packs will be available to purchase in 4oz Share Size Packs and 15.6oz Sharing Size Stand Up Pouches at select retailers nationwide from May – June.