Arizona's anti-trans bills meet resistance among Republicans
Hesitation on some fronts may do little to stop the state's remaining proposed anti-trans and anti-LGBTQ+ bills.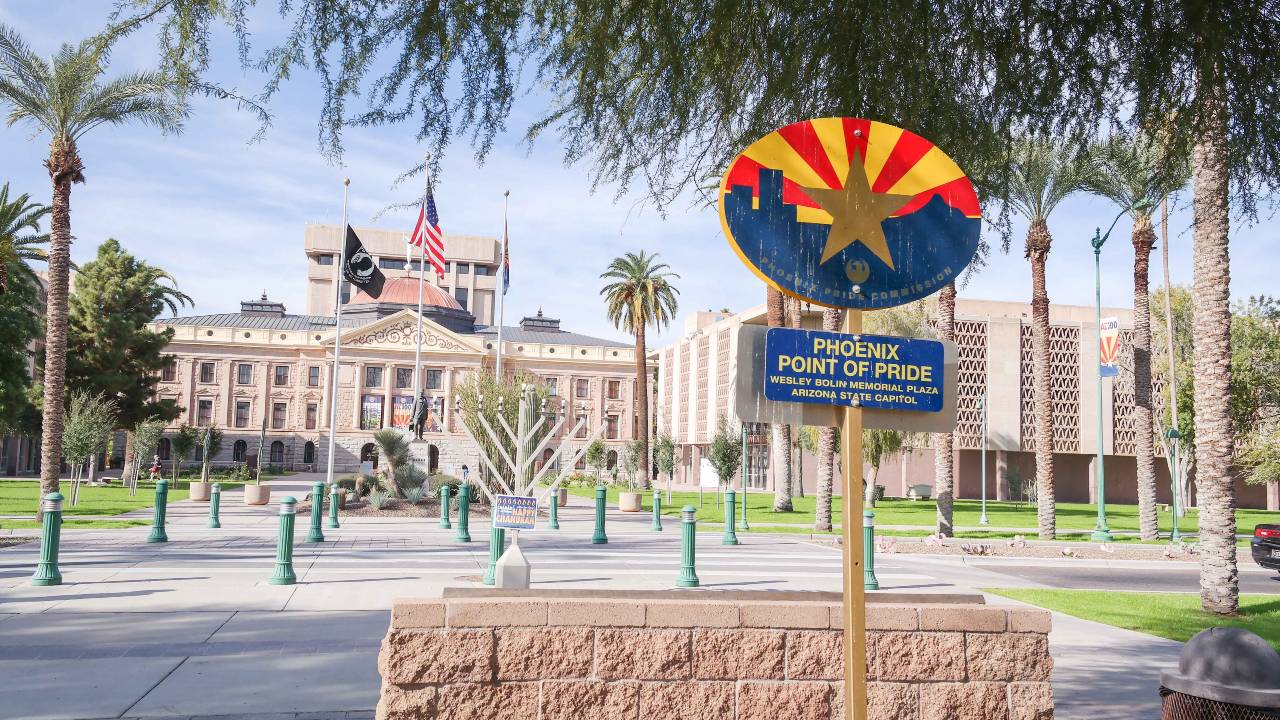 This story was originally published by The 19th

Republican lawmakers in Arizona filed 17 anti-LGBTQ+ bills, including 12 anti-transgender bills, at the start of this year's legislative session — more than almost any other state in the country. But those efforts recently met some resistance from within their own party.
Last week, Republicans stalled, killed or amended several proposed anti-trans bills, including a bathroom bill and legislation that would block state identification documents from ever using nonbinary gender markers, which failed after Republican House Speaker Russell "Rusty" Bowers broke away from the rest of his party and voted against it last Thursday. Another bill to ban gender-affirming care for minors was amended by a state Republican lawmaker to exempt certain types of care.
Bridget Sharpe, the Human Rights Campaign's Arizona state director, attributed those moves to testimony from LGBTQ+ advocates and families of trans kids. The LGBTQ+ rights advocacy group helps families prepare their testimony and coaches them on talking points about the bills being discussed, she said. The organization did not arrange direct meetings with every Republican who has gone against their party on the bills, Sharpe said.
"I see a slight change … I think a little bit more thoughtfulness is going into these arguments," she said, comparing rhetoric and some Republican lawmaker's handling of anti-trans and anti-LGBTQ+ bills to last year.
Still, Sharpe and the rest of the HRC's Arizona branch are currently focused on countering the state's bill to ban trans students from playing in sports that match their gender identity, which has passed the Senate and is now before the state House, and the bill to ban gender-affirming care for minors.
LGBTQ+ rights organization Freedom for All Americans' vice president of government affairs, Hannah Willard, described the original scope of the ban on gender-affirming care as "one of the most extreme bills" seen so far this year.
That legislation, known as Senate Bill 1138, originally called for a ban on all gender transition procedures for trans youth under 18, including hormone therapy and puberty-suppressing drugs, both of which are the most widely recommended approach for gender-affirming care for trans people. 
But as SB 1138 entered the Senate health and human services committee, state Sen. Tyler Pace changed course and voted to block that broad scope of the original bill, which mirrored language seen in many states including Alabama, Oklahoma and Wisconsin.  
At a committee hearing earlier this month, Pace explained his vote and why he ultimately proposed an amendment that exempted hormone therapy and puberty blockers from the ban. That remains in the current version of the bill.  
"The testimonies we heard today about the many people who are using these avenues of medical treatments to save lives, to improve lives," he said at the time. "I don't want to stop those great things that are going on." Through a spokesperson, he declined to comment further.
The only part of the bill that Pace said during the hearing he could support is a ban on "genital reassignment" surgeries for minors. World Professional Association for Transgender Health recently released a draft of new guidelines expected to be published this spring suggesting minors wait until they are 17 or 18 for genital surgeries. 
As more states bring anti-LGBTQ+ bills this year, Willard said it's important to remember that there are very few bills that don't have explicit effects on transgender people.
"The vast majority of bills filed this session are explicitly targeting trans people in some form of fashion. That is also true in states like Tennessee and Arizona that are seeing extremely high numbers of anti-LGBTQ+ bills filed overall," she said.
Another bill limiting bathroom access in public schools stalled in the House education committee after committee chairwoman Rep. Michelle Udall, a Republican, held the bill without voting against it. Sharpe attributes that decision in part to a meeting last Monday with Udall and three parents of transgender children affiliated with Arizona HRC. Udall's office did not respond to calls and emails for comment. 
Traveling to state capitols to testify against anti-trans and anti-LGBTQ+ bills has become a familiar trial for many trans advocates and parents of trans kids across the country, as more bills have been introduced following last year's record-setting outpouring of legislation. 
One Arizona family, who recently traveled to testify against the proposed restrictions on gender-affirming care and trans youth sports participation, said those bills directly impact their family by making them feel like the state may not be safe for their son.
Lizette Trujillo, who lives in Tucson with her husband, José, and her son, Daniel, has traveled to the state capitol with her family five times this year to testify against anti-trans bills. The drive takes about an hour and 45 minutes, and the family stays with Lizette's sister the night before hearings, since some start at 8 a.m.
Going as a family is important to Trujillo, who wants lawmakers to see a Mexican-American mother supporting her transgender son alongside her husband, who is a Mexican immigrant and U.S. citizen. She wants them to understand the intersectionality of experiences of those who oppose the bills.
"I feel like it's really important for our legislators to see that trans youth are supported in families … and that there's also families of color that are showing up," she said.
Daniel, 14, gave his own testimony for the first time in January with his parents alongside him. Although he said the experience was "super stressful and exhausting," it was important to him to advocate for other trans kids in the state, including his own friends. He testified against the state's proposed ban against trans students playing in sports that match their gender identity, and later against SB 1138, the now-amended bill to ban gender-affirming care.
"It's all these people that are just against who I am as a person," he said. "A 14 year old, there's not much I can do. Besides going and testifying or trying to educate people," he said. Despite the stress, he thinks he would still do it again, he said.
Daniel said that being able to transition has helped his mental health and helped him focus in school, especially since it's alleviated his gender dysphoria, or psychological and emotional stress caused when gender and physicality don't match. He did not start puberty blockers until after he turned 11, his mom said, after the family found an affirming pediatrician and after Daniel had already been socially transitioning for several years.
Although some of the proposed legislation is likely to pass through Arizona's House and Senate, it still needs approval from Republican Gov. Doug Ducey.
Last year, the governor vetoed a bill that would have restricted schools from teaching about gender identity and gender expression without parental consent, which advocacy groups like the Human Rights Campaign denounced amid last year's sweep of anti-LGBTQ+ legislation. In lieu of supporting the bill, Ducey issued a more limited executive order that reaffirmed the state's preexisting rules on sex education and required sex education lessons to be shared online for parents' approval. 
In 2019, the governor also signed a bill to repeal a law that had barred instruction in K-12 public schools that promoted homosexuality. 
Ducey's potential for dismissing anti-LGBTQ+ bills that make it to his desk would follow the path of two other Republican governors last year: Arkansas Gov. Asa Hutchinson, who vetoed the state's ban on gender-affirming care and approved other bills, and North Dakota Gov. Doug Burgum. 
Still, Trujillo is still worried about legislation passing and potentially affecting her son.
"No parent wants to live in a state that would set laws to discriminate against their child," she said over text.
The 19th is an independent, nonprofit newsroom reporting at the intersection of gender, politics and policy.