CBD With Heart
This LGBTQ+ woman-owned online CBD shop is serving up CBD love, one drop at a time.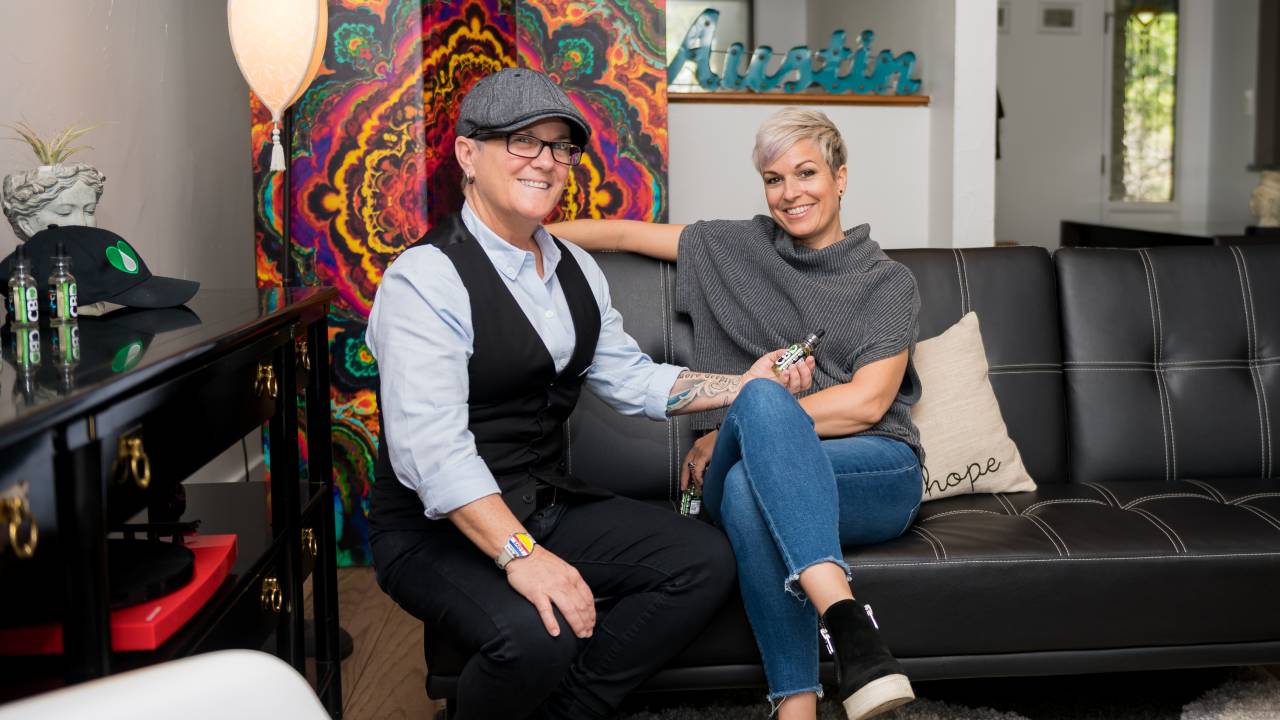 One morning, Lakeway couple and Today I Am Well CBD co-founders, Misty Hillin and Tammy Stanley's 6-year-old dog Lucky could barely get up off the floor. When the vet told them Lucky would need extensive surgery on her leg and would not be able to jump or run much anymore, they decided to look for an alternative to surgery and pain medication. The couple found a pet-friendly brand of cannabidiol (CBD) oil, a compound found in cannabis plants, and decided to give it a shot. For Lucky, it was the difference between night and day. "After three days of giving her two 10MG doses per day with her food, Lucky was a different dog," says Hillin, "She was happy, out of pain, running, jumping, and moving as if she was a puppy!"
Lucky was not alone. According to The 2020 CBD Survey by SingleCare, a third of Americans have used CBD. More than 60 percent of people who use CBD, do so for pain management. While almost 50 percent use CBD for anxiety and stress, and 42 percent use it for sleep and insomnia. Other common uses of CBD include arthritis, depression, migraines and headaches, other mental health conditions, digestive issues, acne and skin care and general health benefits. It should be noted that while it has shown some initial promise treating a variety of ailments, CBD still relatively new and clinically unproven.
CBD Comes to Texas
On June 10, 2019, Governor Greg Abbott signed Texas House Bill 1325 into law. That bill amended the state's Agriculture Code to allow the production, manufacture, retail sale, and inspection of industrial hemp crops and products. It did so by creating a distinction between hemp, which is now legal, and marijuana, which is still illegal. While both refer to the same plant – Cannabis sativa L – the difference is the concentration of delta-9 tetrahydrocannabinol, more commonly known as THC.
Hemp is now specifically defined as "the plant Cannabis sativa L. and any part of that plant, including the seeds of the plant and all derivatives, extracts, cannabinoids, isomers, acids, salts, and salts of isomers, whether growing or not, with a delta-9 tetrahydrocannabinol concentration of not more than 0.3 percent on a dry weight basis," and consumable hemp products, such as oils, lotions, tinctures, and other health products, are subject to regulation under the Texas Health and Safety Code. In short, if it has a THC concentration of 0.3 percent or less, it's hemp and now legal in Texas. If the THC content is higher than 0.3 percent, it's marijuana, and classified as a controlled substance and still illegal in the state.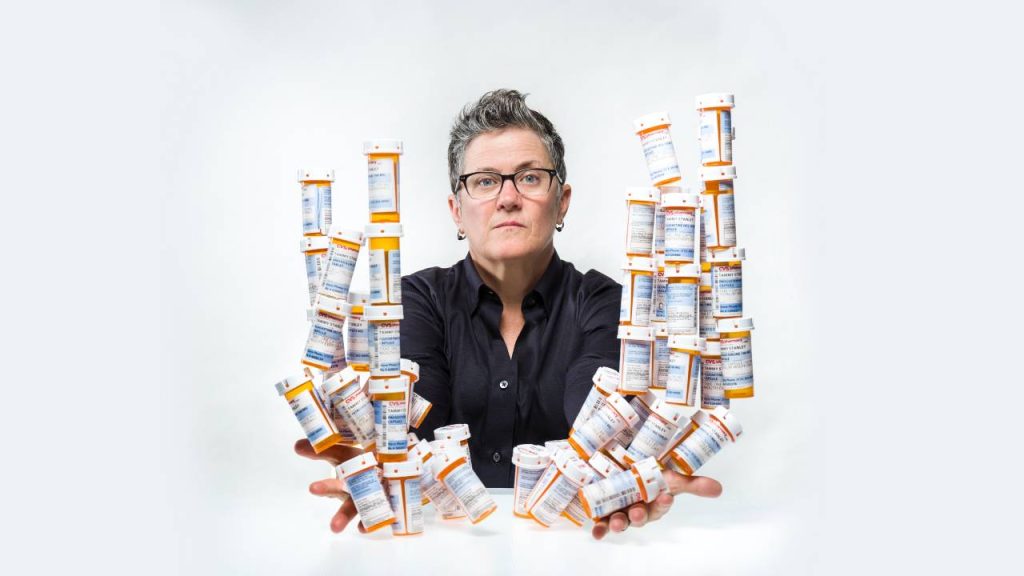 In the Beginning
While their experience with Lucky set them on the path towards setting up a CBD shop, it was not necessarily their first step. "My journey with anxiety and menopause led me on a path to find alternatives to the prescription drugs I had been taking for 2 years – Prozac, Clonopin, Xanax and 2 kinds of hormones," explained Stanley. "These drugs helped me through a rough time and I am grateful for that, however, they created an anxiety of their own for me to manage. I did not see this routine as sustainable and decided to begin researching CBD and started taking it to see if it helped in the ways I needed for the symptoms I was experiencing."
"In the beginning, I would take it only when I felt the symptoms I was trying to relieve," says Stanley. "Then, as I researched CBD and learned more about it natural anti-inflammatory properties I began to take it daily, like I would a vitamin or supplement. In a few days I realized my symptoms … which I cannot tell you because I cannot say what CBD does for me or that it will do anything for you … were not coming on as often or with such intensity."
"I was already trying different brands of CBD when Lucky hurt her leg. When I saw how well that particular brand worked for her I decided to (try) it. The quality of the CBD was far superior to all brands I had tried, which meant I could take less and still feel the benefits," Stanley continued. "Naturally, we decided to look into the source of the hemp that was used to to make that CBD oil. We found the USDA organic certified hemp farm in Colorado. We know where our hemp grows, how it is harvested, who harvests it. The CBD is extracted by the same people and it is shipped from that farm directly to us in Austin Texas."
One of the biggest obstacle of establishing a "marijuana-related business" or MBR is setting up a bank account. The legal ambiguity for CBD under state and federal law has made it a "high-risk" product to many banks and payment processors, subject to enhanced scrutiny for risk assessment.
"It is difficult to start a relationship with a Texas bank and there are many fees attached to these types of accounts," explained Hillin. "We also had to secure a separate merchant account to process our online sales. We incur many fees to do business online, however, it is the way we all do business now so we have to offer our products for online sales. We would actually prefer people buy it from us directly because we get to interact more with our customers and educate them about CBD and hear their stories of success using CBD."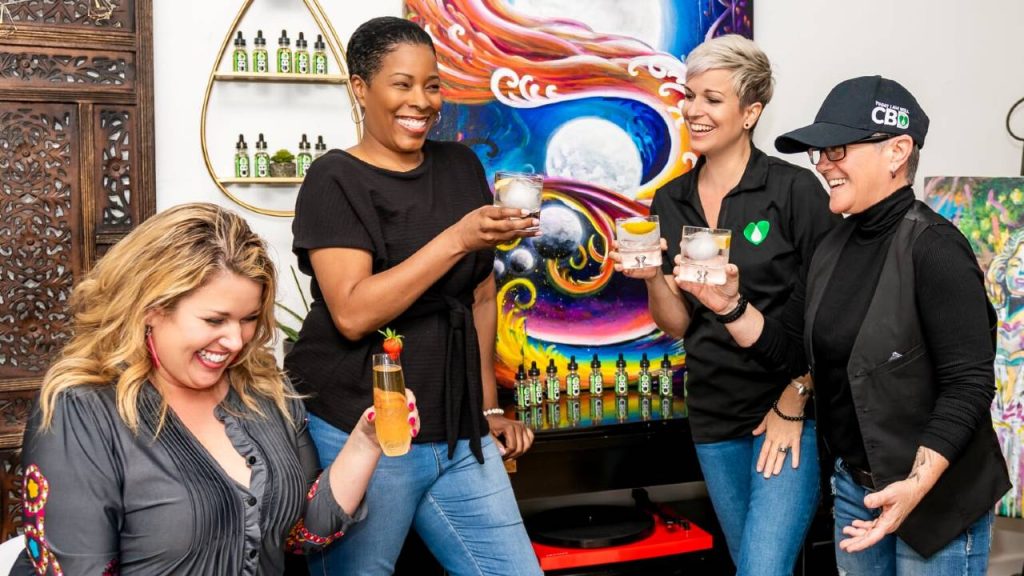 COVID-19
Like other businesses, Today I Am Well CBD was also impacted by the continuing health crisis. The couple started to promote their first line of products at the end of 2019, just as the coronavirus was starting to emerge. "In Nov and Dec 2019 we hosted a series of CBD mocktail parties," explained Stanley. "The parties were invitation only and required a willingness to take a dose of CBD upon arrival and gives us feedback throughout the evening. It was so much fun and we made 'mocktails' using CBD, sparkling water and non-alcoholic spirits. Then COVID hit and we had to cancel our parties and re-direct our marketing efforts to our website for sales."
"Luckily, we were approved for online sales in April 2020 so we are now able to do online sales and make local deliveries. We deliver in most of downtown Austin (78701) and in the 78734, 78738 ZIP codes," Hillin added. This is a good thing considering a recent survey shows that 45 percent of CBD users have increased their use of CBD since the global coronavirus pandemic started and 26 percent of current CBD users are stocking up on CBD products due to potential shortages from COVID-19.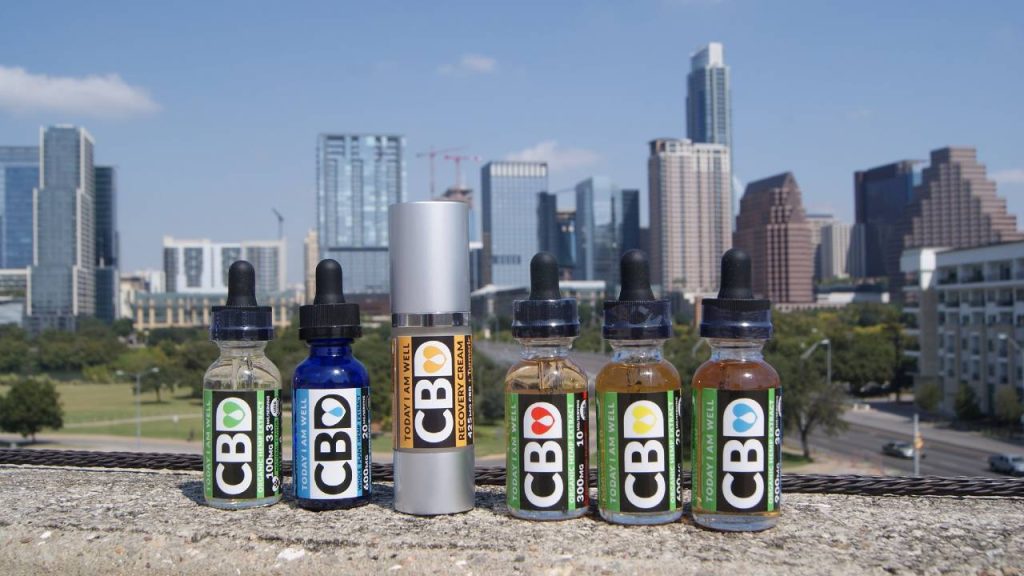 Family of Products
Today I Am Well CBD products include CBD oils flavored with essential oils: cinnamon, mint, and lemon. Each one is available in different doses as well: 300mg, 600mg, and 900mg. They also offer a pet-friendly 'natural' flavor in 100mg and 300 mg dosages. Just like humans, animals have an endocannabinoid system that responds to CBD, but animals cannot have the essential oil flavoring.
"My personal favorite is our Mint CBD which is flavored with peppermint oil," says Stanley. "Peppermint oil is known for it's own anti-flammatory properties and I can feel the cooling effects when I put the oil under my tongue. (Anyone, experiencing hot flashes can appreciate a cooling feeling.) I also love the burst of flavor from our CBD flavored with cinnamon oil, known to increase circulation and reduce stress, as well as the zesty flavor that comes from our CBD with lemon oil, known to elevate your mood and stimulate your immune system."
They recently added two new products to their product line — a Water Soluble CBD and a Recovery Cream. The Water Soluble CBD is dissolvable in any liquid, making it easier to add to any beverage, juice, or smoothie. The Recovery Cream combines CBD with turmeric and other natural anti-inflammatories and pain relievers into a cream to provide targeted relief to inflamed joints and muscles.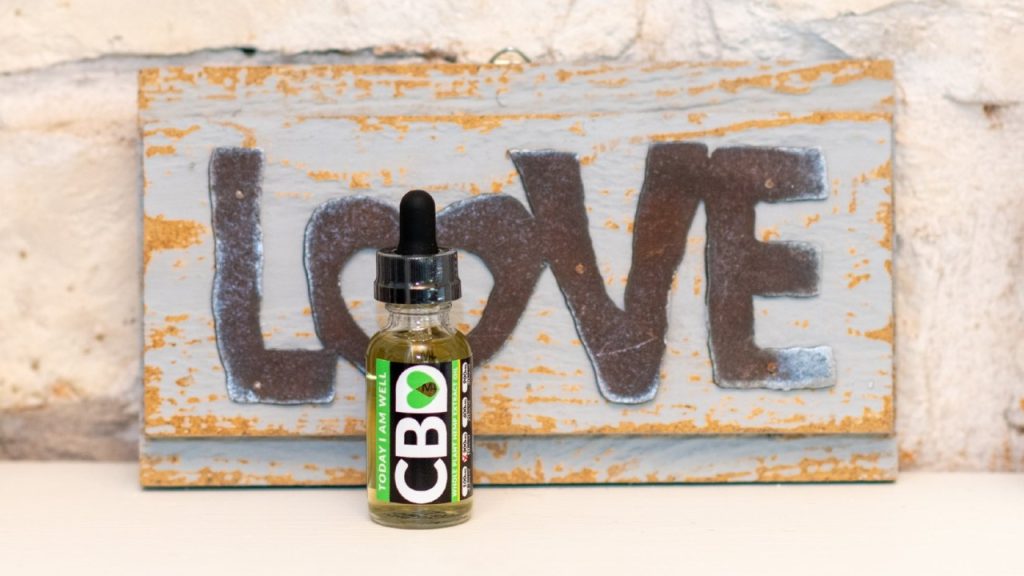 "Today I Am Well CBD was started in the spirit of sharing what works for us on our wellness journey," explained Hillin. "We had our own personal journey of discovery to find a CBD that we could trust, which for us meant that we know where it is grown and how it is grown. We know it is harvested and extracted. We have met the team and we know they are people of integrity who also want to share the wellness that hemp can provide with others. We know that a lot of love and passion goes into these CBD products and we can feel it everytime we take a dose. What makes Today I Am Well CBD unique is that we care. We want customers to understand what they are taking and how to take it and how to incorporate it into their daily lives. We keep our products simple, easy to use and affordable, so more people have access to it."
FYI … Lucky still takes CBD 2 times a day, sometimes more if she's anxious.

Say Hello to Ziggy's Naturals
Jordyn Pollack always wanted to own his own business. Now, he, along with his father and brother, are running a CBD company with a focus on quality and customer service.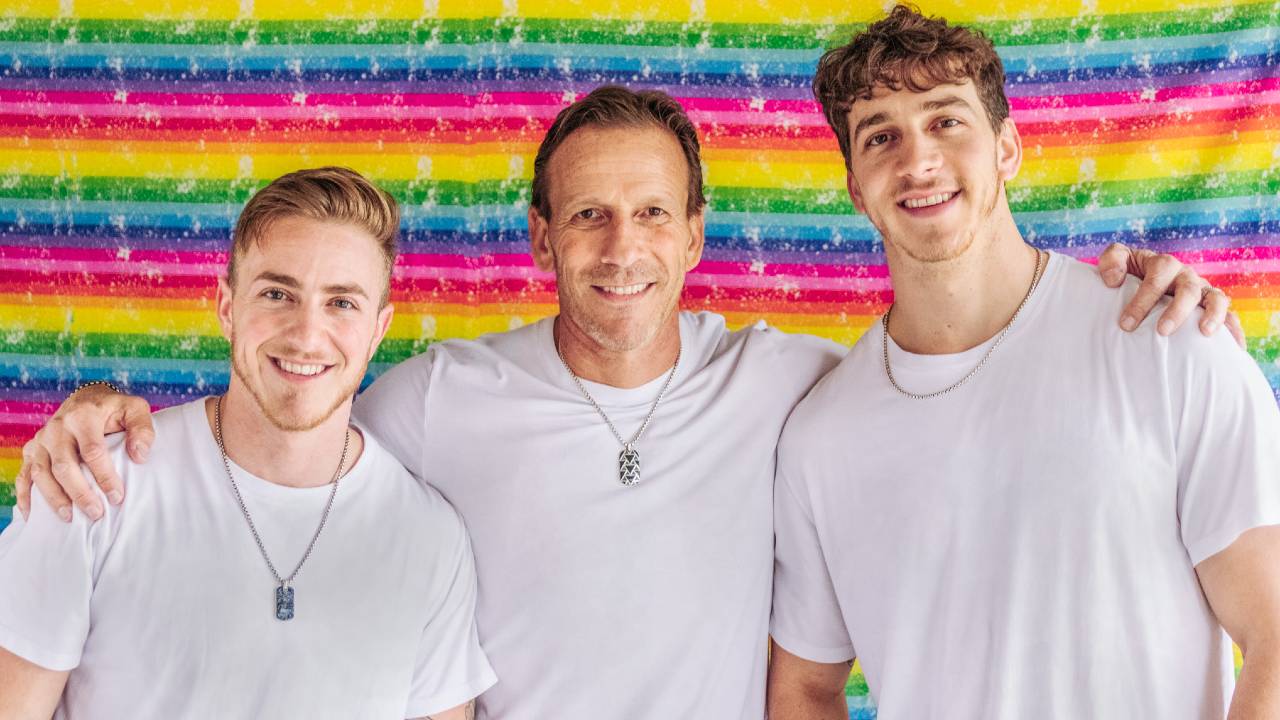 It all started several years ago, over the holidays. Jordyn Pollack's father sat both him and his brother, Jake, down and asked each of them for ten ideas for a business they could start together. "My father has been in his own business for as long as I can remember," Jordyn explained, adding that their father was all about the saying 'if I only knew then what I know now'. "He wanted to take his knowledge from years in business and give it to us. At the same time, he wanted to learn from our knowledge about the millennial generation, what we like and the type of consumers we were."
"Our first goal was to venture into something where we could really help people," explained Jordyn. He had been working in the cannabis industry, first on the payroll side of the business, then in medical cannabis. "I was always into the plant and how it can help people in so many different ways." With this foundation and the ongoing growth in the industry, Jordyn and his brother decided that this would be where they focused their business.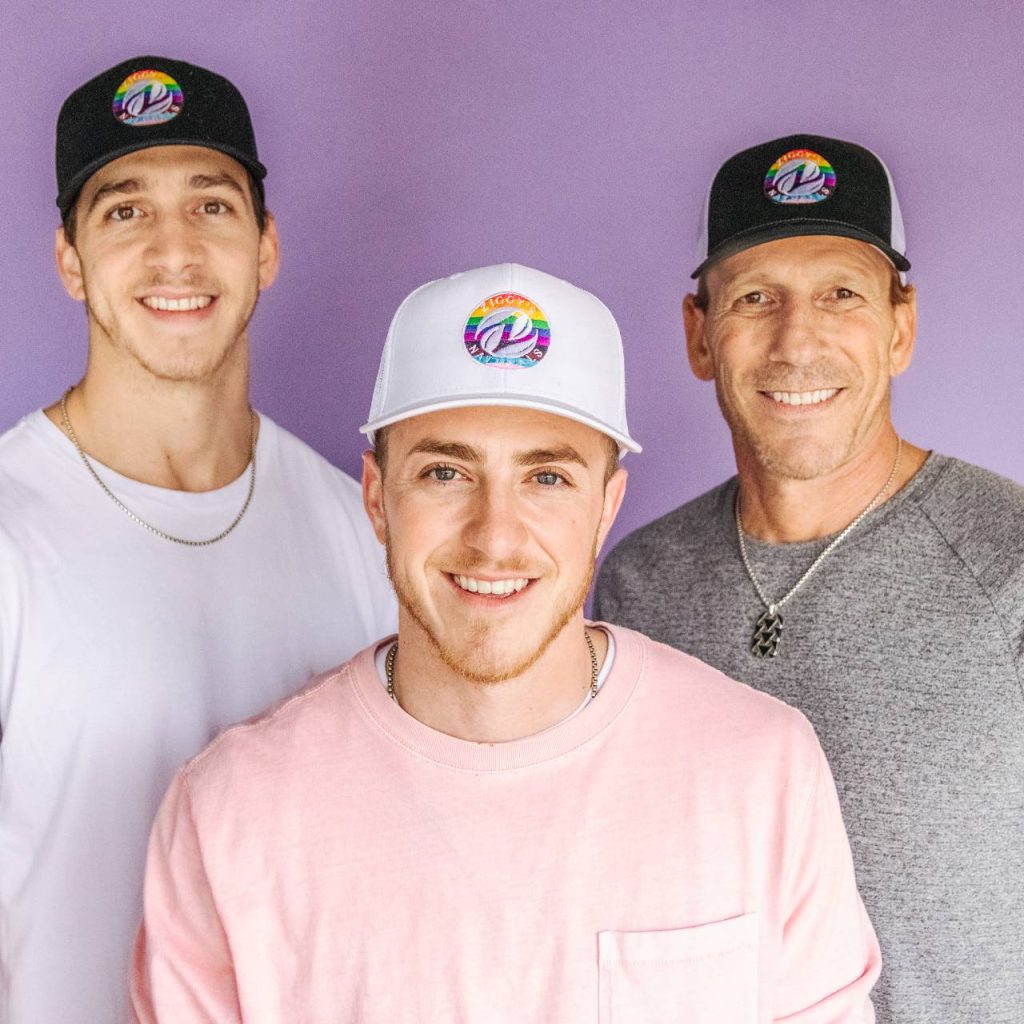 Their first attempts at creating a line of edibles faced roadblocks from the start, with bureaucratic red tape making entry into actual cannabis products difficult. "We then started considering what else we could do in the industry where we could really help people. After an extensive amount of legwork and research, we decided that producing a line of CBD products was the way to go," Jordyn explained, "We partnered up with one of the best hemp farmers in the country, worked on our branding and Ziggy's Naturals was born. At first it was just my father and I running the business, but a short time later my brother joined the business as well."
And that was the start of Ziggy's Naturals, a family-owned and operated business, started three years ago, by Jordyn, his father Marc, and his brother. "I am really excited about the direction our company is heading. We are continuing to establish new relationships to help grow our social media marketing. We are adding new products to provide a wider array of choices," explained Jordyn. "We have also made a very strong push into the LGBTQ+ community. Being a transgender man, and understanding the challenges faced by others that identify as LGBTQ+, as well as the benefits I have seen myself from the use of our products, we have chosen to do extensive marketing to that community and to support various LGBTQ+ organizations around the country."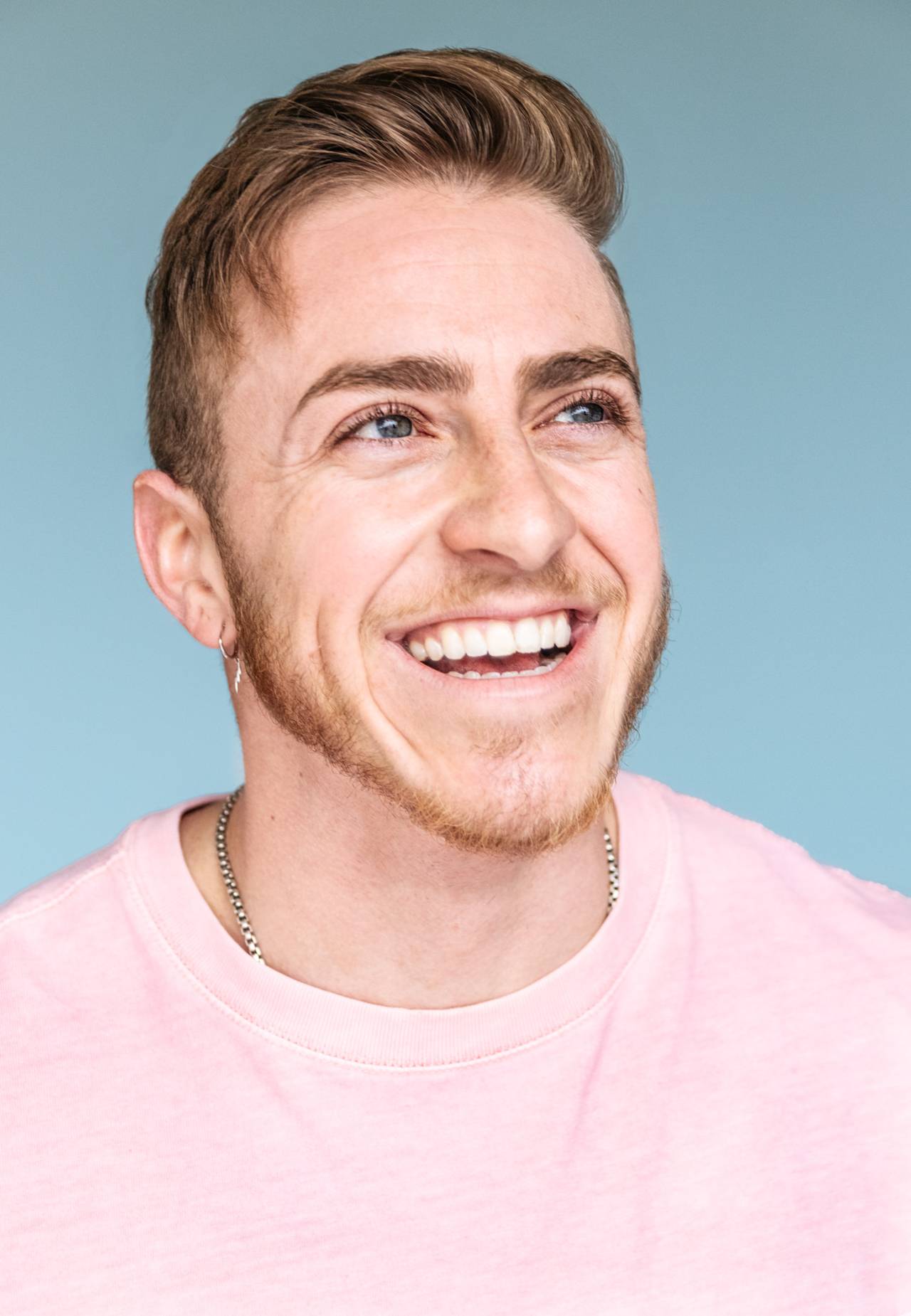 "We have partnered up with one of the finest hemp farming operators in the state of Colorado. They have an extremely environmentally friendly operation and produce a very pure, clean and consistent line of full spectrum CBD products for us," says Jordyn, "We believe in complete transparency and all of our products are 3rd party tested so that our clients have access to exactly what is contained in the products we sell, Each product has a QR code that will take the customer directly to the lab report for that product."
"We are selling our products throughout the country and look forward to continuing to grow our market share in this very competitive business. We pride ourselves at providing some of the best CBD products in the country and the highest level of customer service and satisfaction to all our clients. We strive every day to provide the best customer service possible and do our best to make every client feel like they are our most important customer."
What was the biggest obstacles to launching your CBD?
The biggest obstacle we initially faced in this business was establishing merchant relationships with credit vendors that enabled us to take payments on our e-commerce platform. These companies were very difficult to find several years ago and that created a bit of a roadblock for getting our website up and running with a full e-commerce platform. In terms of marketing, there are still a lot of restrictions that prevent us from being able to advertise wherever we want. Definitely a challenge. Finally, complying with regulations is very important to us and there are many. Fortunately, my father, who is also my partner, is an attorney and makes sure we are always doing things by the book.
What makes Ziggy's Naturals unique from your competitors?
We are different from other CBD companies because we do not just market to the LGBTQ+ community, we are a part of it. Being co-founded by a transgender man, and family owned, I really separate us from others. We also treat all our customers like family. We do not ever want them to look anywhere else for their CBD products.
How has the pandemic affected your business?
The pandemic has definitely made it difficult to do any outside sales or attend any conventions around the country. Despite that, our website sales have been very good during the past year. I believe a lot of people have been under a lot of pressure, stress and anxiety which may have led to an increase in business.
What is your vision for the future of Ziggy's Naturals?
Our goal is to continue to grow Ziggy's Naturals to become one of the most well-respected CBD brands in the country. We want to keep expanding in the LGBTQ+ market and to get involved with initiatives to help support that community. This is an extremely competitive business, and our vision is to continue to make changes as appropriate to outpace our competition.
Anything coming up soon that we should keep an eye out for?
We are adding some new products to our line in the very near future. We are extremely excited about them and believe they will be very successful. We also continued to add great partners in the LGBTQ plus community throughout the country that help support and grow our brand. Keep an eye on our website and social media to learn more about all of this soon.
---
Win a Care Package from Ziggy's Naturals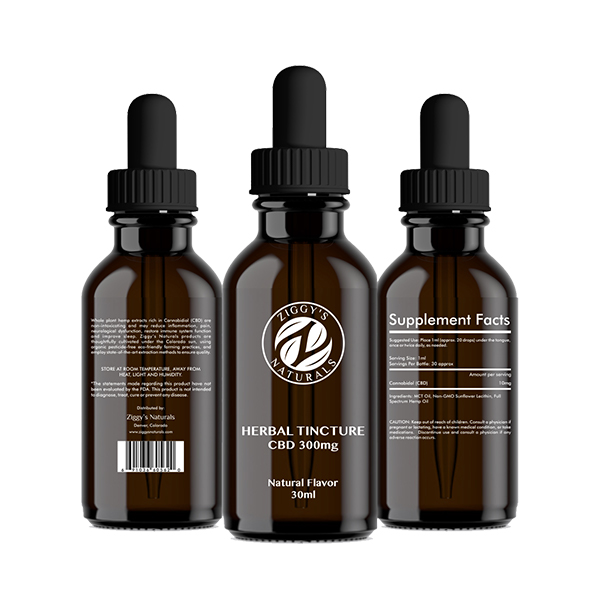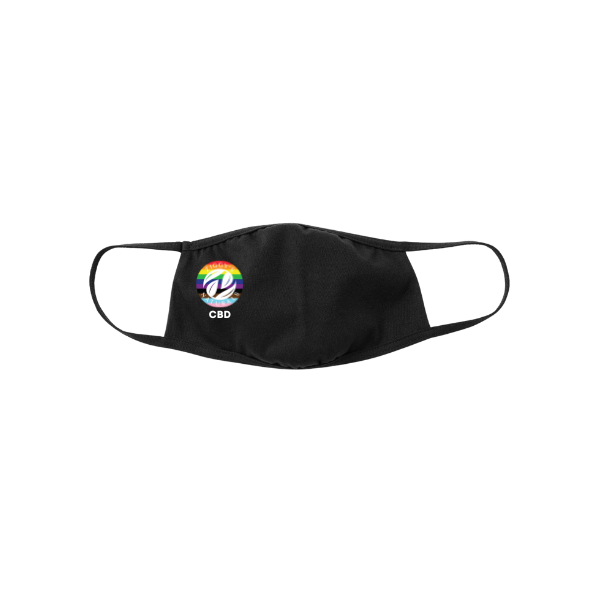 TDoV GIVEAWAY ALERT! In honor of the International Transgender Day of Visibility on WEDNESDAY, MARCH 31, 2021, Ziggy's is giving away 10 Care Packages, each featuring a 300mg Tincture and Pride Face Mask (a $55 retail value).
Check out our post on Instagram at www.gaytx.co/tdovzn for giveaway details and to enter.